Are you looking for some trendy tortoise nails to try out?  If so, you've come to the right post!
Tortoise nails have been really trendy lately!  They're in style no matter what time of year it is!  They also go with a lot of different outfits, which makes that a really fun mani to try out!
Whether I'm going to a salon or doing them myself, it's so fun to get inspiration!  That's why I wanted to put together a collection of my favorite designs, so you can figure out what style you want to try!  Below you will find everything from french tips to intricate designs!
The best Tortoise nails that are perfect for your next mani!
If you're looking for more nail inspiration, check out our page that's dedicated to all things nail art!  We have designs for all holidays and seasons!  It's a great page to check out if you don't know what's trending!
1) Tortoise & White Tips by Sarah 
Image and nail art via @heluviee
2) Touch of Daisy by Eeka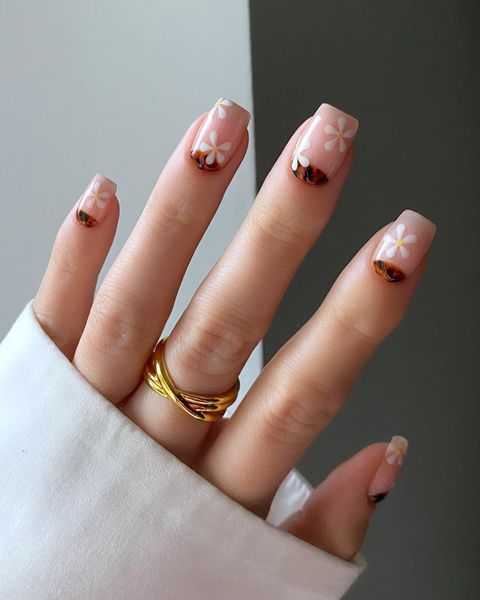 Image and nail art via @eekabeauty
3) Half Tortoise by Amy
Image and nail art via @amyle.nails
4) Blue Cuffs by Chloë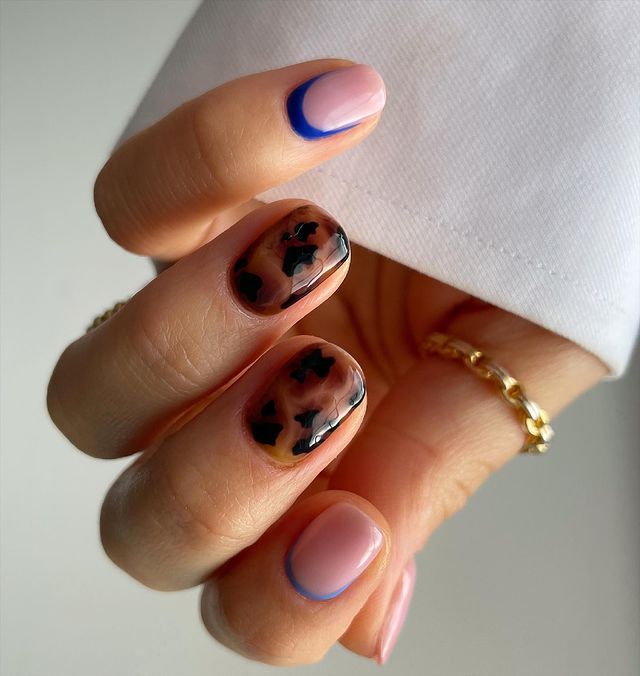 Image and nail art via @beautybychloemayboyce
5) Pearls by Aistë
Image and nail art via @heygreatnails
6) Gold stripe by Get Tipsy Nails
Image and nail art via @gettipsy_nails
7) Tangerine Tortoise by Charlotte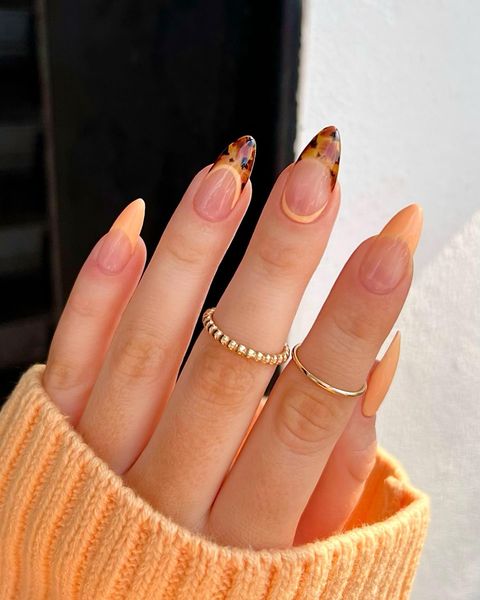 Image and nail art via @charsgelnails_
8) Tortoise & Pastels by Daisy May
Image and nail art via @nailsbydaisymay
9) Velvet Tort by Aistė
Image and nail art via @heygreatnails
10) Touches of Red by Pardon My French Nail Bar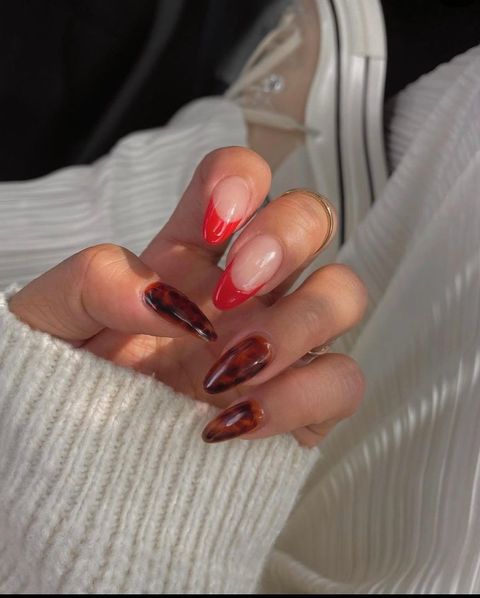 Image and nail art via @pardonmyfrenchnailbar
11) Tortoise Tips by Aistė
Image and nail art via @heygreatnails
12) Tortoise Swirls by Amy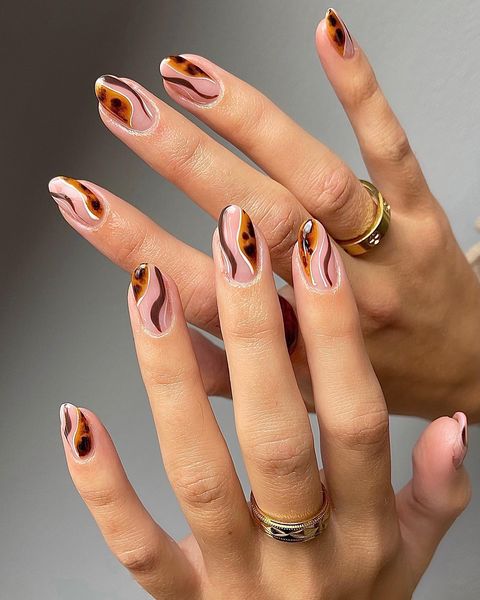 Image and nail art via @beautyworksbyamy
13) Bottega & Tort by Bry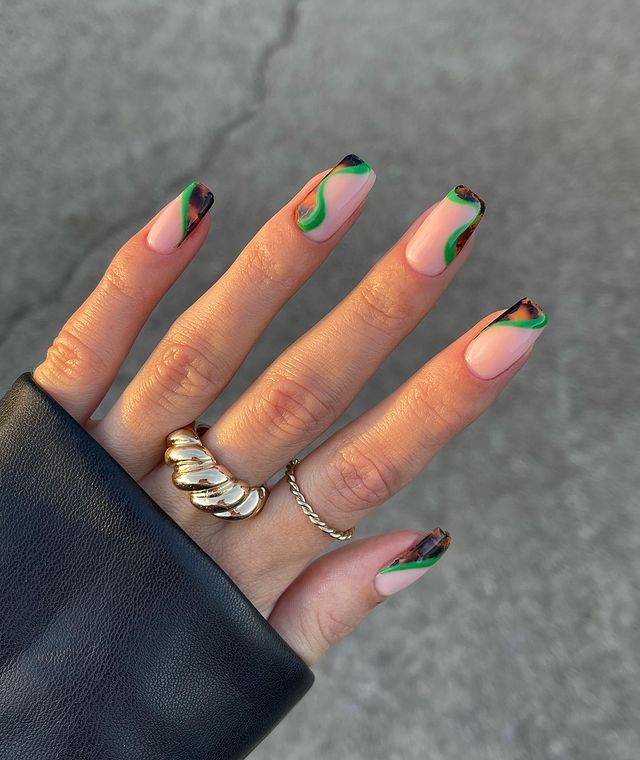 Image and nail art via @gelsbybry
14) Hints of gold by Dayanna 
Image and nail art via @disseynails
15) Classic Tort by Anna 
Image and nail art via @annagracenails_
16) Abstract Tortoise by Aimee
Image and nail art via @allnailss._
17) White and Tortoise Tips by Amy
Image and nail art via @beautyworksbyamy
18) Tortoise & Green Tips by Amy
Image and nail art via @beautyworksbyamy
19) Tort & Swirl by Elize
Image and nail art via @elize_nails
20) Tortoise & Gold French by Amber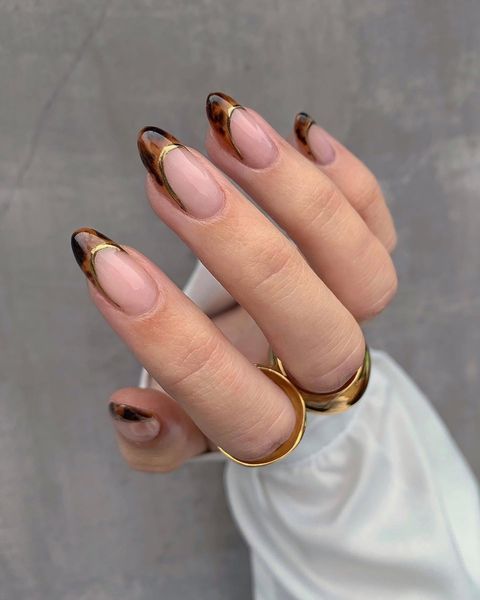 Image and nail art via @amberjhnails
21) Hints of green by Anna 
Image and nail art via @annagracenails_
22) Short Half Tort by Get Tipsy Nails
Image and nail art via @gettipsy_nails
23) All Tort by Get Tipsy Nails 
Image and nail art via @gettipsy_nails
24) Cow Print Tort by Danni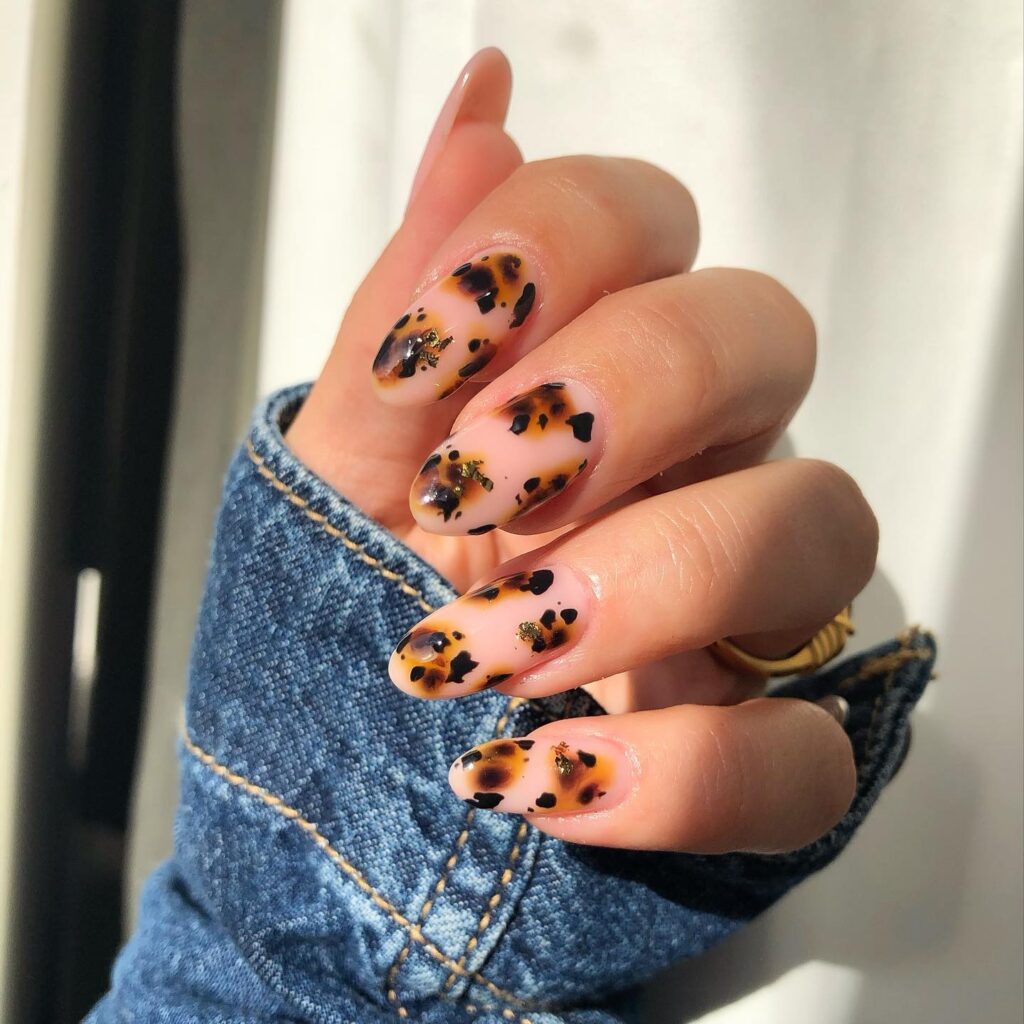 Image and nail art via @nailsbydannimoore
25) Touches of white by Charlotte 
Image and nail art via @charsgelnails_
26) Make it pink by Jennifer 
Image and nail art via @jenniferxlauren
27) Tortoise Foil by Tiffany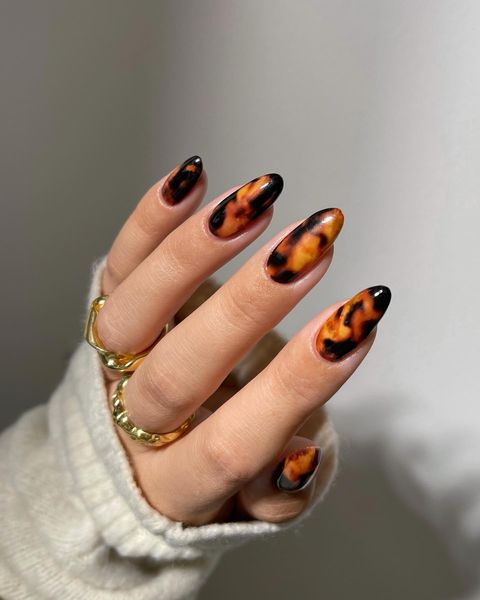 Image and nail art via @tiffanyabbigailebeauty
28) Tortoiseshell Tips by The Hot Blend 
Image and nail art via @thehotblend 
29) Tortoise & Blue by Melanie 
Image and nail art via @overglowedit
30) Tortie Life by Amy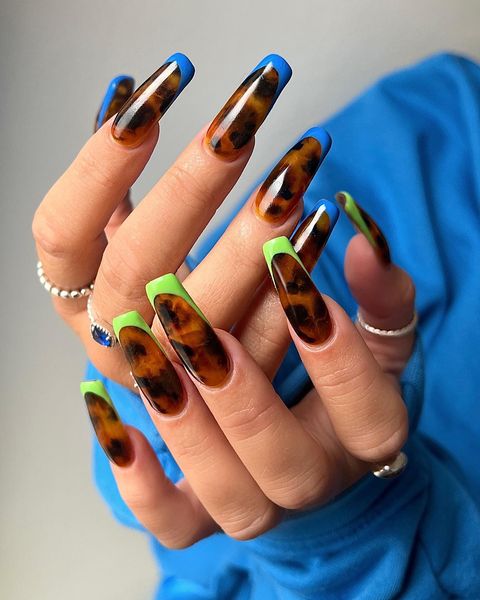 Image and nail art via @beautyworksbyamy
31) Aqua Touches by Get tipsy Nails 
Image and nail art via @gettipsy_nails
32) Lavender Touches by Amy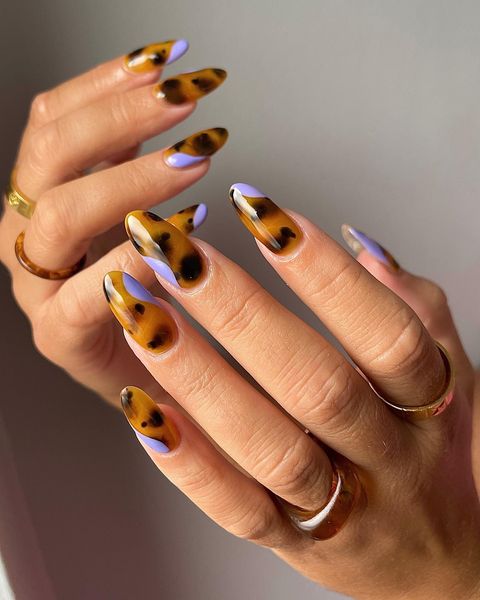 Image and nail art via @beautyworksbyamy
33) Abstract Tort Tips by Moe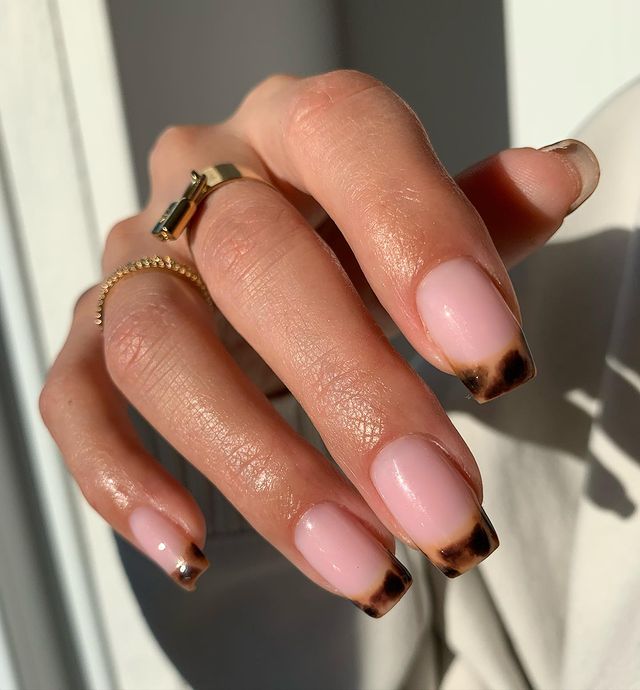 Image and nail art via @moe_nails
34) Dark Blues by Anna
Image and nail art via @annagracenails_
35) Neon Swirls by Nail Chark 
Image and nail art via @nailchark
36) Autumn Tortoise by Ravi
Image and nail art via @nailsbyravi_
37) Gold Leaf by Isabel 
Image and nail art via @isabelmaysurtees
38) Tort Stripes by Amy
Image and nail art via @beautyworksbyamy
39) Tortoise Swirls by Isabel 
Image and nail art via @isabelmaysurtees
40) French & Tortoise by Chloë
Image and nail art via @beautybychloemayboyce
41) Polka Dots by Chloë
Image and nail art via @beautybychloemayboyce
42) All Swirls by Queenie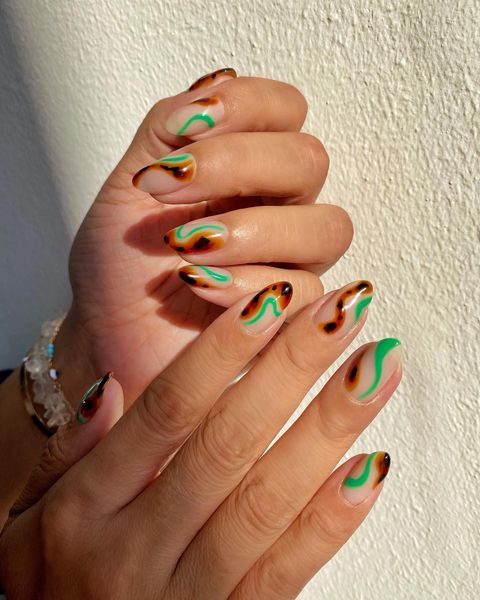 Image and nail art via @nailartbyqueenie
43) Tort hearts by Chloe
Image and nail art via @cmdxbeauty
44) Tie Dye Tort by Ravi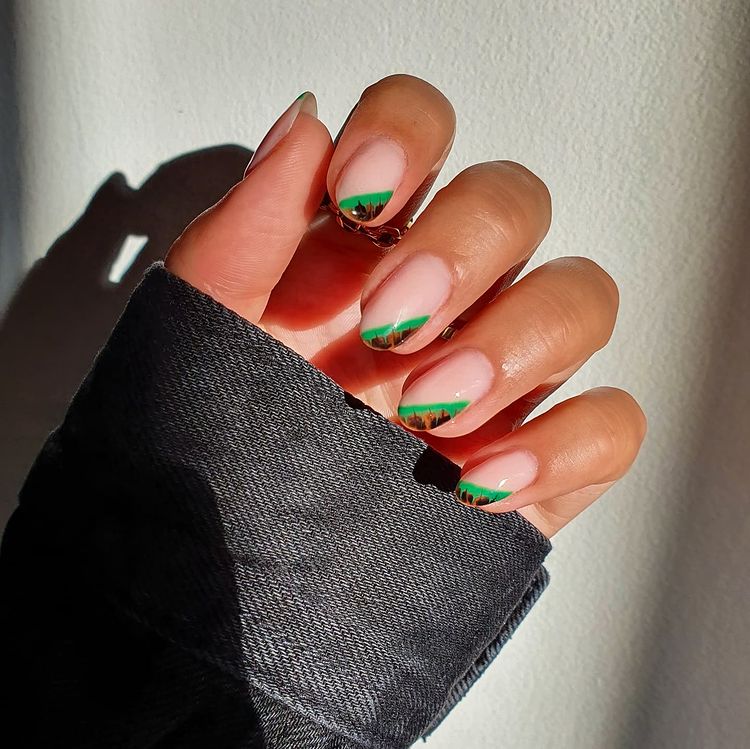 Image and nail art via @nailsbyravi_
45) Thin Swirls by Emma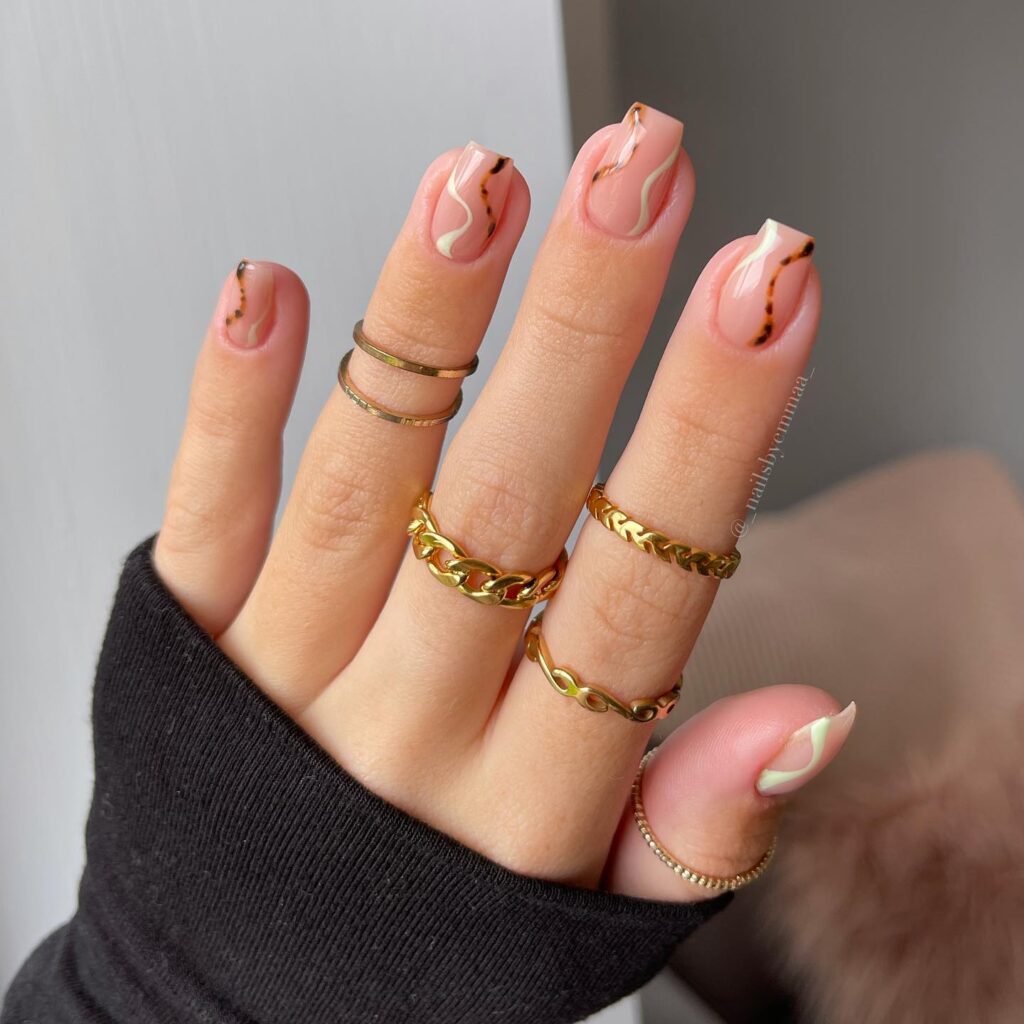 Image and nail art via @_nailsbyemmaa_
46) Passionfruit Tips by Chloë
Image and nail art via @beautybychloemayboyce
47) Leaf Print by Emma
Image and nail art via @_nailsbyemmaa_
48) Double French Tort by Orla 
Image and nail art via @orlataylor_nails
49) Bright Green Cuffs by Phoebe
Image and nail art via @phoebesummernails
50) Glossy Tort by Phoebe
Image and nail art via @phoebesummernails
51) Aqua & Tort Swirls by Kei 
Image and nail art via @kei.nailcare
52) Flower Power by Phoebe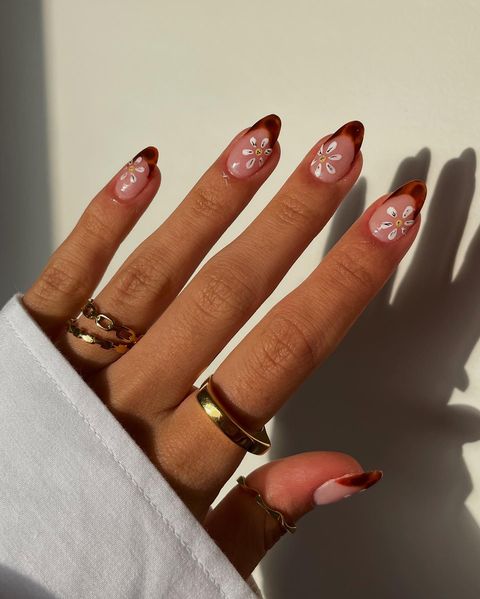 Image and nail art via @phoebesummernails
53) Cuffs & Frenchies by Kei
Image and nail art via @kei.nailcare