The Y2k aesthetic has been coming back in full force over the last year!  It's based on pop culture from the end of the 90s to the early 2000s.  Think yin yangs, chunky jewelry, bright colors, and happy faces when it comes to nail art.
Y2K is such a fun aesthetic to try out, especially during the summer time!  There's so many designs you can recreate that capture the essence of the 90s.
Whether I'm going to a salon or doing them myself, it's so fun to get inspiration!  I wanted to put together a collection of my favorite designs, so you can figure out what style you want to try!  Below you will find everything from french tips to intricate designs!
The best Y2k nails that are perfect for your next mani!
If you're looking for more nail inspiration, check out our page that's dedicated to all things nail art!  We have designs for all holidays and seasons!  It's a great page to check out if you don't know what's trending!
1) Wavy Tips by Charlotte
Image and nail art via @pressedbycharlotte_
2) Happy Vibes by Abi
Image and nail art via @naileditbeauty
3) Black & White by Ingrid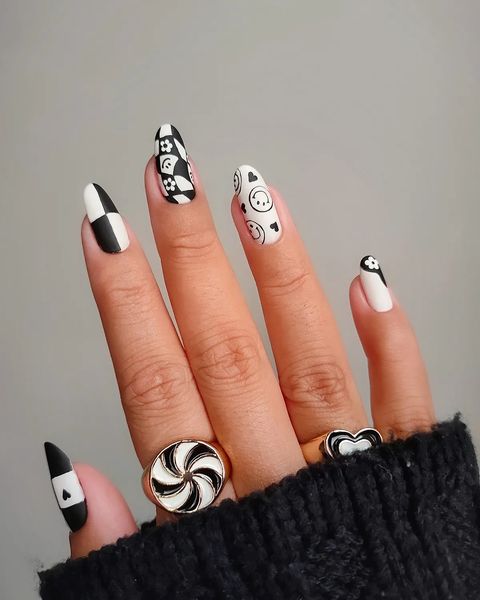 Image and nail art via @ingridaiana_
4) Trendy Tips by Dayanna 
Image and nail art via @disseynails
5) Happy Nails by Franci
Image and nail art via @pop_polished
6) Rainbow Yin & Yang by Joely
Image and nail art via @joelyoceannails
7) Almond Joy by Sabrina 
Image and nail art via @thesabrinatan
8) Shades of Purple by Amy 
Image and nail art via @amyguynailartist
9) Groovy Tips by Abi
Image and nail art via @naileditbeauty
10) All Smiles by Anna
Image and nail art via @annagracenails_
11) Trendy by Peachi Nails
Image and nail art via @peachinails
12) Alien Landing by Georgia 
Image and nail art via @nailsby_gxx
13) Trendy Swirls by Dayanna 
Image and nail art via @disseynails
14) Subtle Details by Amy 
Image and nail art via @amyle.nails
15) Tie Dye by Abi 
Image and nail art via @naileditbeauty
16) Summer Trends by Sabrina 
Image and nail art via @thesabrinatan
17) Mushroom Love by Amy 
Image and nail art via @amyle.nails
18) Red & Pink by Dayanna
Image and nail art via @disseynails
19) Black & Green by Peachi Nails 
Image and nail art via @peachinails
20) All Orange by Georgia 
Image and nail art via @nailsby_gxx
21) Over the rainbow by Georgia 
Image and nail art via @nailsby_gxx
22) Flower Power by Amy 
Image and nail art via @amyguynailartist 
23) Happy Daisies by Nail Chark 
Image and nail art via @nailchark 
24) Pink Vibes by Alison
Image and nail art via @nailsbyalsn
25) Happy Colors by Dayanna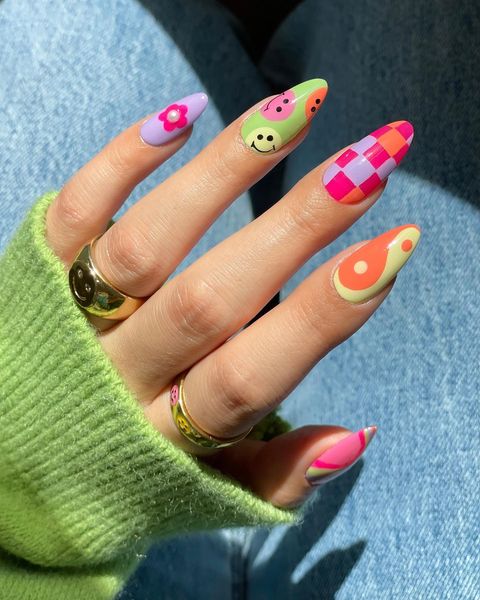 Image and nail art via @disseynails 
26) Summer Cherries by Melanie 
Image and nail art via @overglowedit
27) Swirls and Florals by Natalie
Image and nail art via @natalieholtnailartist
28) Yin and Yang by Anna 
Image and nail art via @annagracenails_
29) Wavy Checkers by Amy
Image and nail art via @amyle.nails
30) Black & White Butterfly Wings by Amy
Image and nail art via @amyguynailartist
31) Bit of everything by Georgia 
Image and nail art via @nailsby_gxx
32) Groovy Green by Franci
Image and nail art via @pop_polished
33) Y2K Tips by Dayanna 
Image and nail art via @disseynails
34) Green Swirls by Faustyna
Image and nail art via @fasia.nails
35) Y2K Squares by Pippy
Image and nail art via @pippypolish
36) Perfect Mix by Georgia 
Image and nail art via @nailsby_gxx
37) Neon Stars by Amy
Image and nail art via @amyguynailartist
38) Tangerine Tips by Joely
Image and nail art via @joelyoceannails
39) 90s by Harriet 
Image and nail art via @nailsbyharriet_
40) Beautiful Details by Harriet 
Image and nail art @nailsbyharriet_
41) Abstract Smiles by Amy 
Image and nail art via @amyle.nails
42) Pastel Dreams by Thi
Image and nail art via @nail.art.by.tea
43) Yin Yang Tips by Amy 
Image and nail art via @amyle.nails
44) Square Tips by Joely
Image and nail art via @joelyoceannails
45) Almond trends by Amy
Image and nail art via @amyle.nails
46) Butterfly wings by Peachi Nails
Image and nail art via @peachinails
47) Y2K press ons by Charlotte
Image and nail art via @pressedbycharlotte_
48) EYE see you by Amy 
Image and nail art via @amyle.nails
49) Green Yin Yangs by Peachi Nails 
Image and nail art via @peachinails
50) Summer Brights by Amy
Image and nail art via @amyle.nails
51) Checkered Tips by Amy
Image and nail art via @amyguynailartist