The warm gray paint colors obsession has been with us for at least a decade. While its days may be numbered, it doesn't look like warm gray paint colors are going away any time soon. Some people feel that gray is stark and cold, but warm gray colors have undertones that make them more textural than traditional gray colors.
Warm gray has enough depth, nuance, and complexity to make them an exceptional addition to cozy home spaces.
Warm Gray Paint Colors Trend: Will It Last?
The warm gray paint colors trend has lasted since 2010 which, according to Sherwin Williams, is when the popular love affair with gray began. Both decorators and homeowners alike love warm gray paint colors, and it is easy to understand why.
Warm grays offer a neutral that is more complex than beige, and the yellow undertones make the room feel cozy and relaxing. These colors pair well with deeper and more intense color tones. Warm grays have a timeless and elegant quality that is hard to match. Warm gray paint tones are versatile. You can use these colors in any type of room from a nursery to a dining room, and they will all look marvelous.
Understanding Warm Gray Paint Colors
There are hundreds of warm gray paint shades from dozens of providers. Understanding what makes each color different will go a long way towards helping you choose a color that you love.
Color Tones
Undertones make all the difference in the color tone of gray paint. As a rule, the cooler grays have blue undertones, green, or purple undertones and warm tone grays have yellow or brown undertones. However, paints with cool undertones like blue and purple can still appear warm toned.
When deciding on which undertones work best in your space, look at the other color elements in the room including the flooring, brick, metal finishes, and other paint colors visible. Use a warm gray that complements the undertones of the other room elements. For example, if your room has red brick elements and gold metal finishes, choose a warmer-toned gray paint color.
Light Reflectance Value in Warm Gray Paint Colors
Each paint color has a light reflective value (LRV) that is graded on a scale from 0-100. This "score" is awarded on how well the color reflects the light. Scores closer to 100 reflect more light than scores closer to 0. For comparison, a bright white paint will have a higher LRV score than dark black paint.
There are options for choosing gray tones from light to dark and everything in between. The light grays will have a higher LRV score and reflect more light than the darker grays.
Choosing the Right Color Paint
As predictable as warm gray paint shades might seem, they will look and function in a different way based on the location. This is due to number of factors: how much natural light is in the area, what other colors surround it, how you will be using a room or area, and the way that paint sheen will affect the color.
Consider the Natural Light
Warm gray paint will look much brighter than in a dark room if you have a room with tons of natural light. However, if you have a room with no windows and dark flooring, the color your choose will appear darker.  Rooms that have windows that are south facing will have warmer natural light, and rooms that have north-facing windows will have cooler toned light. Rooms with east or west windows have both warm and cool light based on the time of day.
Room Location and Use
When considering the room that you want to paint, ask yourself a couple of questions: how is this room used and by whom? For example, if the room that you are painting is a family room where your toddlers play, your color choice will be different than if you are choosing a color for the dining room where you eat formal meals. A medium to dark warm gray paint color will hide marks and scuffs better than a lighter-toned paint color.
Paint Sheen
Consider the sheen of the paint for the area you are painting as this could impact the longevity of the paint.
Semi and High Gloss Paint – This paint works well on woodwork, walls in bathrooms and high traffic areas, reflects the most light, and is the most resistant to dirt and staining.
Satin Paint – This paint performs well on walls in moderate traffic areas, has a slight shine, and is easy to clean.
Flat and Matte Paint – This paint is great for ceilings and in areas where you need to hide imperfections, does not reflect light, and is not easy to wipe down.
Color Coordinate with the Larger Area
Color choices are not made in a vacuum. Consider the other colors in either the room itself or the surrounding color that this paint color will impact. This doesn't just include other room colors but large furniture items that you don't want to replace.
It is best to think about your home as a whole and coordinate all of your paint colors. One easy way is based on the color card. The color cards from the paint store will have colors that coordinate together based on undertone but will be lighter or darker. For example, Sherwin Williams Agreeable Gray is paired with Mega Greige. These colors would work well on adjacent walls or where rooms are visible to each other.
Pick Paint Swatches and Test
Make sure to test your paint color in the room where you are going to use it rather than choosing the paint in the store. You can do this in a couple of ways. Start by selecting all the paint color swatches you like at the store. Stick them up all over the room and in various light areas. Begin to whittle down the paint color to the ones you like the most.
Decide on your three to four favorite shades and test them. Paint stores are offering no mess ways to do this with peel and stick paint samples. Stick these samples up and look at them at every time of day. When you have narrowed it down, choose one or two colors and buy small samples. Paint several different large areas in the room. Remember that the colors that are near to your swatch will affect how you see the color, so the larger area the better.
Colors That Work With Warm Gray Paint Colors
The best rule of thumb when choosing coordinating colors is to choose colors with the same undertones. When pairing warm gray paint colors with other colors, consider whether your paint leans toward a cool gray with a purple or blue undertone, or warm with a pink or brown undertone.
So, consider the undertones, but rest easy because gray paint is versatile. It looks great with many complementing colors from blush colors to jewel tones like deep greens, reds, and blues  You can also combine it with whites and blacks to add contrast.
Warm Gray Paint Colors to Inspire
We have pulled together some amazing pictures of rooms with 20 warm gray shades of paint. These are some of the most popular and well-beloved paint colors on the market.
Classic Gray
The Benjamin Moore, Classic Gray paint color (OC-23)is indeed a classic. Believe it or not, it is categorized as an off-white rather than a true gray. It is light toned, versatile and sophisticated. We love how this color sets off the other tones in the room. Warm grays work very well with brushed gold or brass metals and provide just the right amount of support they need to shine.
Dorian Gray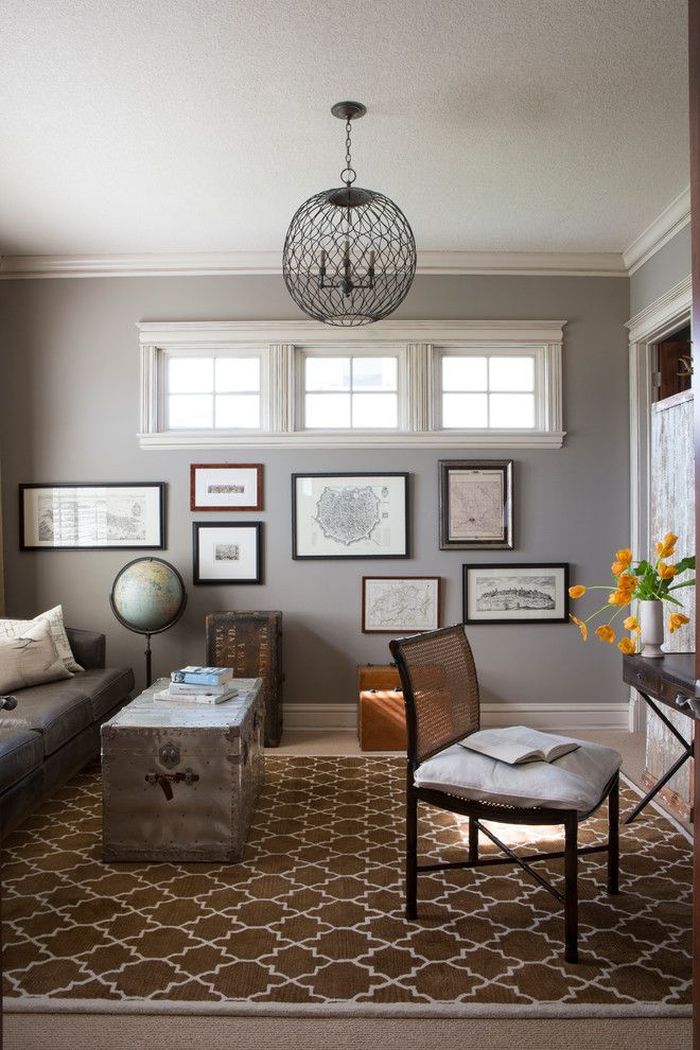 Dorian Gray (SW 7017) is a light to mid-tone gray paint color from Sherwin Williams. This tone still has the warm undertones that look so wonderful with bright white trim, but the SW Dorian Gray has a bit more body than other light grays. The tone in this room works well with the wood textures and the other earthy elements like the brown rug.
Edgecomb Gray
Edgecomb Gray (HC- 173) strikes a balance between gray and beige earning it the term "greige". This works well in room design because you can pull it either way depending on the accent colors around it. For this room, it leans toward beige. It sets off the light blue accents but provides a sophisticated counterpoint keeping the look of the room elegant but light.
Agreeable Gray
Just like its name, Agreeable Gray (SW 7029) blends with what it is around. If it is in a cool setting, this color looks like it has blue, violet, or light green undertones. However, in a warm setting, the color appears more yellow. The Welsh Design Studio keeps the room full of light neutrals with varied textures. The gold fixtures with the greenery bring a touch of vibrancy to the space.
Mindful Gray
Mindful Gray (SW 7016) from Sherwin Williams is one of their most popular colors for a good reason. This is a mid-tone warm gray color without a strong undertone. This is a great color if you want a true neutral. Consider this bathroom. It has both black and brown accents; both are set off well by the background color.
Repose Gray
Repose Gray (SW 7015) from Sherwin Williams is considered by some to be the perfect gray. It does have slight blue and purple undertones, but overall, it is still warm because of some brown in the formula. Consider this kitchen, the Repose Gray on the cabinets picks up the variegated gray of the marble backsplash and is a great backdrop for the gold and brass finishes.
Gauntlet Gray
Gauntlet Gray (SW 7019) works well on trim and as an accent wall. This is a slightly darker medium-toned gray with brown undertones. In this kitchen, the cabinets provide a pleasing contrast to the marble backsplash and counters. The wooden features complement the warm tone of the paint. While this color is full-bodied, with ample natural light it does not appear too dark.
Revere Pewter
For this kitchen, the designer used Revere Pewter (HC-172) from Benjamin Moore for the back cabinetry, trim, and wood paneling. We love how this color complements the dark green cabinets and the black and white mosaic floor. It is easy to understand why Revere Pewter is one of Benjamin Moore's best-selling paints of all time.
Balboa Mist
Balboa Mist (OC-27) from Benjamin Moore is another lovely warm gray with a beige or light green undertone in certain lights. Warm white trim and soft pinks work well with this color gray. We love how the midcentury entry console and the wood floor provide depth to the room while allowing the overall look to be relaxed and light.
Peppercorn
Peppercorn is a gorgeous dark color that is one of the cooler warm gray paint colors in this list. Because it has an LRV of 10, it is a color that does not reflect much light, but it doesn't have a heavy look. Peppercorn (SW 7674) has purple and blue undertones and works well on an accent wall. It looks stunning with white trim, and it can be used to create an intimate space in a small room too.
Versatile Gray
Versatile Gray (SW 6072) from Sherwin Williams is another greige option as it has just a hint of a violet undertone. This color changes throughout the day and warms as the light increases. Versatile Gray looks crisp against the bright white trim. Also, the color of the walls blends with the washed wood in this design with the black accents providing just the right amount of visual contrast.
Worldly Gray
Worldly Gray (SW 7043) is a soft gray or greige that blends with whatever is around. It is a light gray paint that works very well with black and dark grays. We love this room from Rugh Designs. The color on the walls is the perfect background for the slate tile floors and the white cabinets.
Gray Owl
Gray Owl (OC-52) from Benjamin Moore is both a warm and a cool gray. This paint color changes with the accent colors that you use with it. In this living room from Rum Hemma, they use blush pink and deep eggplant for the accent tones. With these and the silver and black metal tones, the room has a sophisticated look with understated glam.
Pale Oak
Pale Oak (OC-20) from Benjamin Moore is a light greige with yellow undertones. Consider this bathroom from Marianne Brown. The warm gray walls complement the warm tones in the marble subway tiles and in the dark wood floor. The chrome fixtures keep the room understated but elegant.
Dovetail
Dovetail (SW 7018) from Sherwin Williams is a true mid tone gray. Like many gray paint colors that we have featured, this one has warm undertones. It is darker than many in this article and has an LRV of 26. However, even if you use it in a small room like the bathroom featured here, it will not make the room look small. Instead, it gives the room a cozy and intimate vibe.
Anew Gray
Anew Gray (SW 7030) is a soft warm gray from Sherwin Williams and has slight purple undertones making it more taupe than beige in tone. This color is used to great effect by painting the trim as well as the walls the same color. This makes the room sophisticated in style. The color works well with lighter grays, ivory, and pops of black.
Mole's Breath
Mole's Breath is from the historic English paint company Farrow & Ball. Because their colors are used in all the National Trust properties, they have created their colors to have timeless appeal. Mole's Breath is a darker medium-toned gray paint color that works well as a strong neutral. It can be used well as an accent color as shown in this kitchen on the door and surrounding trim.
Amazing Gray
Amazing Gray (SW 7044) has slight green undertones which pull this warm gray in a beige direction. This color is a beautiful warm gray that changes color in the light. We love the way that this color complements the marble countertops. The foundation color of the cabinets allows the jewel tones of the Persian Rug and the gold metal finishes to stand out.
Chelsea Gray
Chelsea Gray (HC-168) from Benjamin Moore is another color that looks great on trim work or on walls. This color has a slight green undertone and therefore, more depth. The result is sophisticated and calming.
Notice how this color provides a striking contrast to the bright white in the kitchen. The color is paired with chrome in this kitchen, but it would work just as well with brushed brass or gold. If this color is too dark on its own, you could consider using this for a single accent wall.
Colonnade Gray
Colonnade Gray (SW 7641) from Sherwin Williams is a beautiful warm gray tone with slight green undertones that can lean blue in northern light. It has a lovely soft look but it has enough body to not wash out in bright light. It functions as a light neutral tone in this bathroom. The slate floor grounds the room and the Persian Rug provides just enough color.