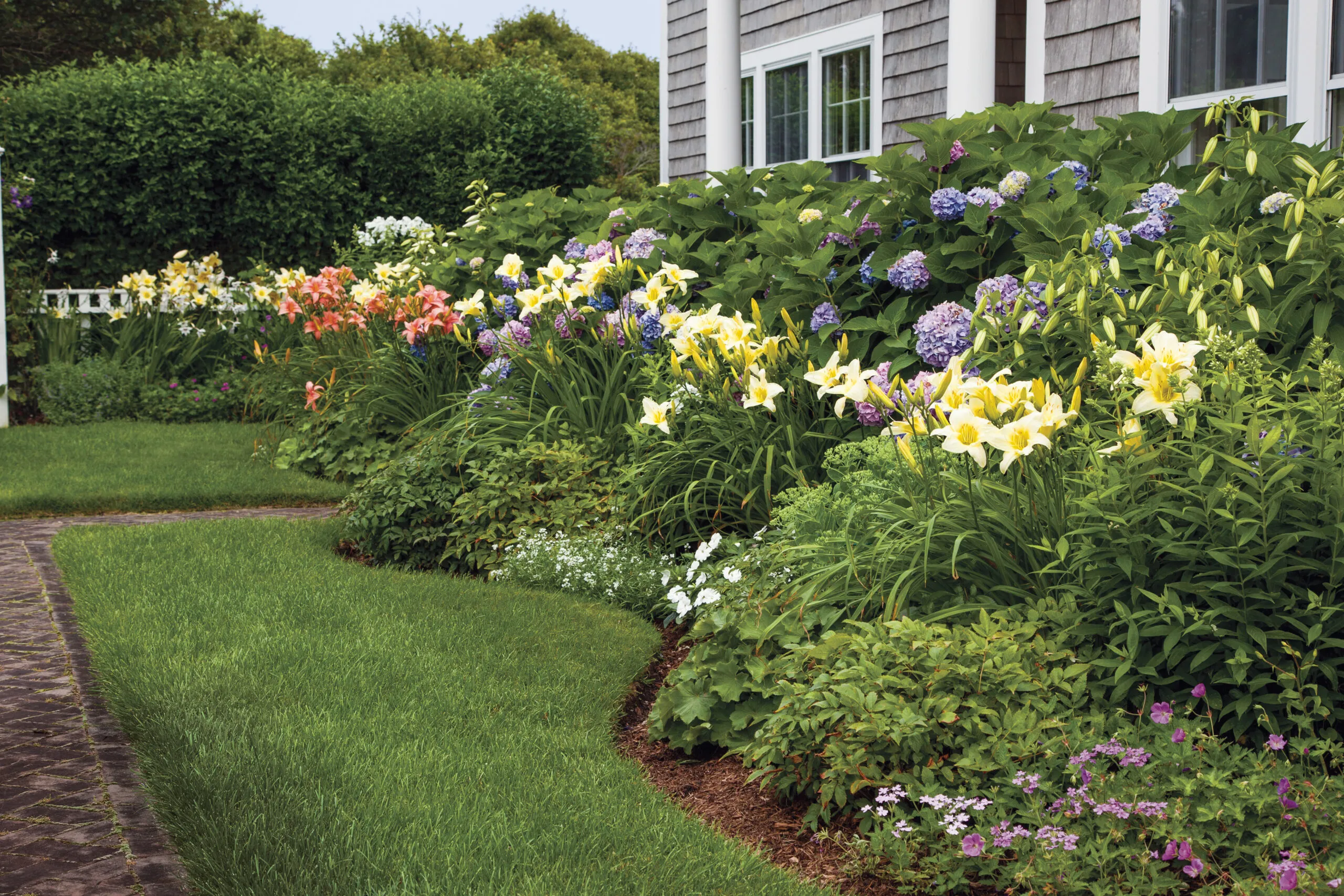 Hotter summers, harsher winters, stronger storms, and sustained dry spells. Severe weather is affecting us all these days, and often our gardens don't react as we would expect—or hope. That makes now a good time to take stock of what's managing the fluctuations, and what's succumbing to less than ideal conditions. Another smart move: turning to perennials that take it all in stride. "Gardeners are looking for plants that can adapt to tough conditions, whether that's higher temperatures and longer droughts, or more rainfall than in the past," says Monrovia Nursery's Katie Tamony.
But while we're always on the hunt for plants that can take a beating, we don't want to turn to those that are so quick to adapt that they overtake our beds and borders, becoming a nuisance that can take years to eradicate.
Turn instead to tried-and-true plants that gardeners have counted on for generations. These include some North American natives that have been adapting to local weather changes for centuries and make area wildlife happy, as well as long-ago imports that have become mainstays in American gardens thanks to their resilience, good behavior, and charm.
Best Blooming Perennials
Plants like daylilies, coneflowers, and bee balm may seem commonplace, but they are perennially popular because they endure. As a result, growers keep tinkering with them, developing new cultivars that maximize their benefits and mitigate their few shortcomings. Up ahead: a few bulletproof performers that will save you time and money, and provide years of enjoyment.
False Indigo (Baptisia Decadence; 'Cherries Jubilee')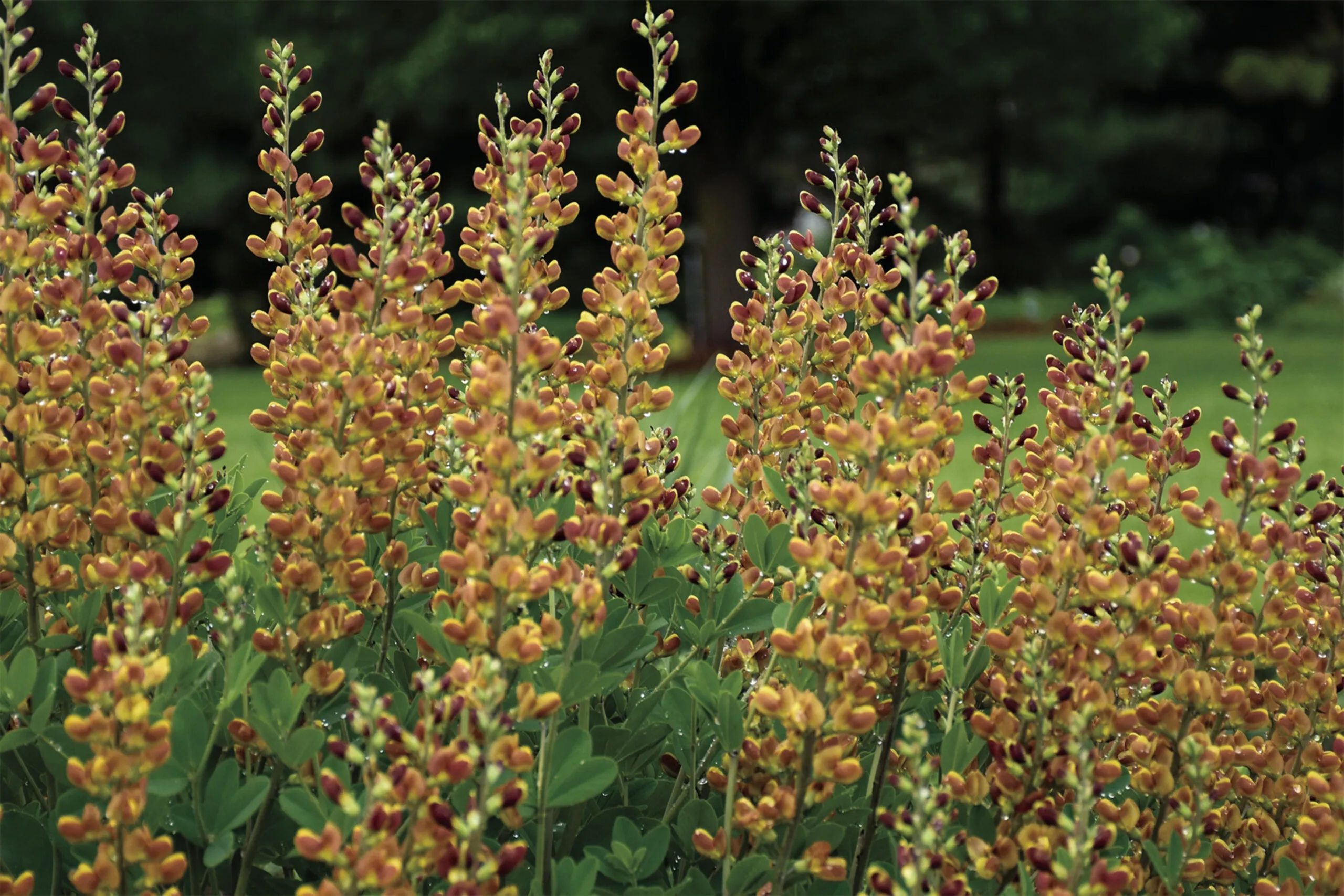 This large-scale, taprooted native perennial scoffs at heat and drought, reaching deep down into the soil for moisture. Its tidy, shrub-like blue-green foliage; pea-like flowers; and charcoal seedpods provide three seasons of interest. The original blue-flowered species is still a great selection, as are the popular dusky-purple 'Purple Smoke' and luminous-yellow 'Carolina Moonlight.'
Look for: Exciting newcomers that offer wild colors and denser habits, such as the Decadence series, which includes soft-pink to lavender Decadence Deluxe 'Pink Truffles,' purple-black Decadence 'Dark Chocolate,' and maroon-and-gold Decadence 'Cherries Jubilee.' Their sturdier stems stand up to high winds and heavy rains better than older cultivars', too.
How it grows: Up to 5 feet tall and 4 feet wide in full sun and well-drained soil; zones 3-9.
Daylily (Hemerocallis Rainbow Rhythm; 'Sound of My Heart')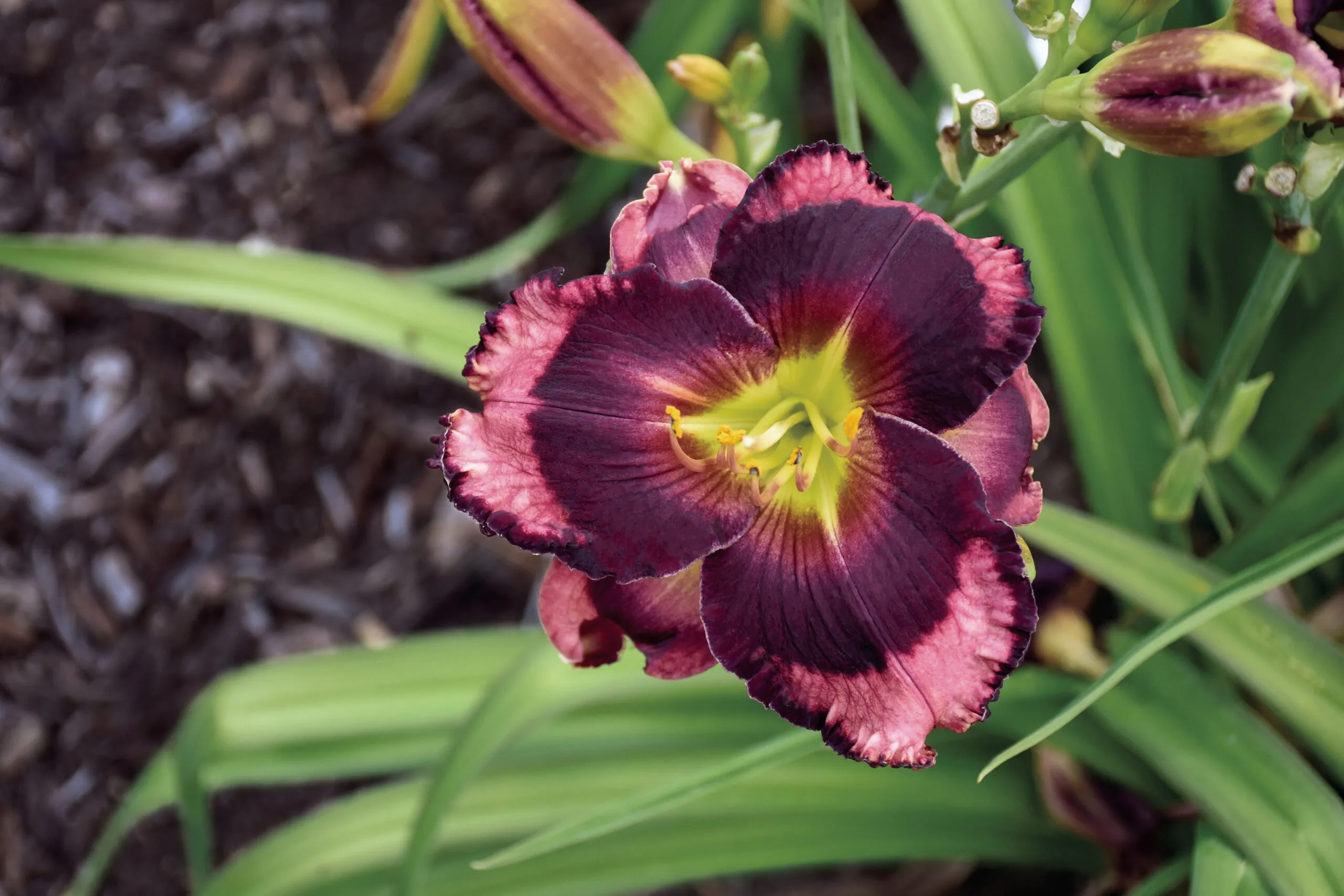 Sturdy daylilies withstand high heat, blazing sun, intense storms, and harsh winters without missing a beat. Once one-hit wonders, reblooming and continuously blooming varieties have made them all- season players in mixed borders. Of the thousands of varieties that have emerged in the past few decades, a few have risen to star status, including 'Hyperion,' 'Happy Returns,' 'Little Grapette,' and the ubiquitous yellow 'Stella de Oro,' which seemingly graces every other parking lot—a testament to its toughness.
Look for: The reblooming daylilies of the Rainbow Rhythm series stand out for their sturdy, stunning flowers and long bloom time, especially 'Sound of My Heart,' 'Storm Shelter,' and 'King of the Ages.' They are spectacular!
How it grows: Up to 2 feet tall and 2 feet wide in full sun and moist, well-drained soil; zones 3-9.
Barrenwort (Epimedium wushanense; 'Sandy Claws')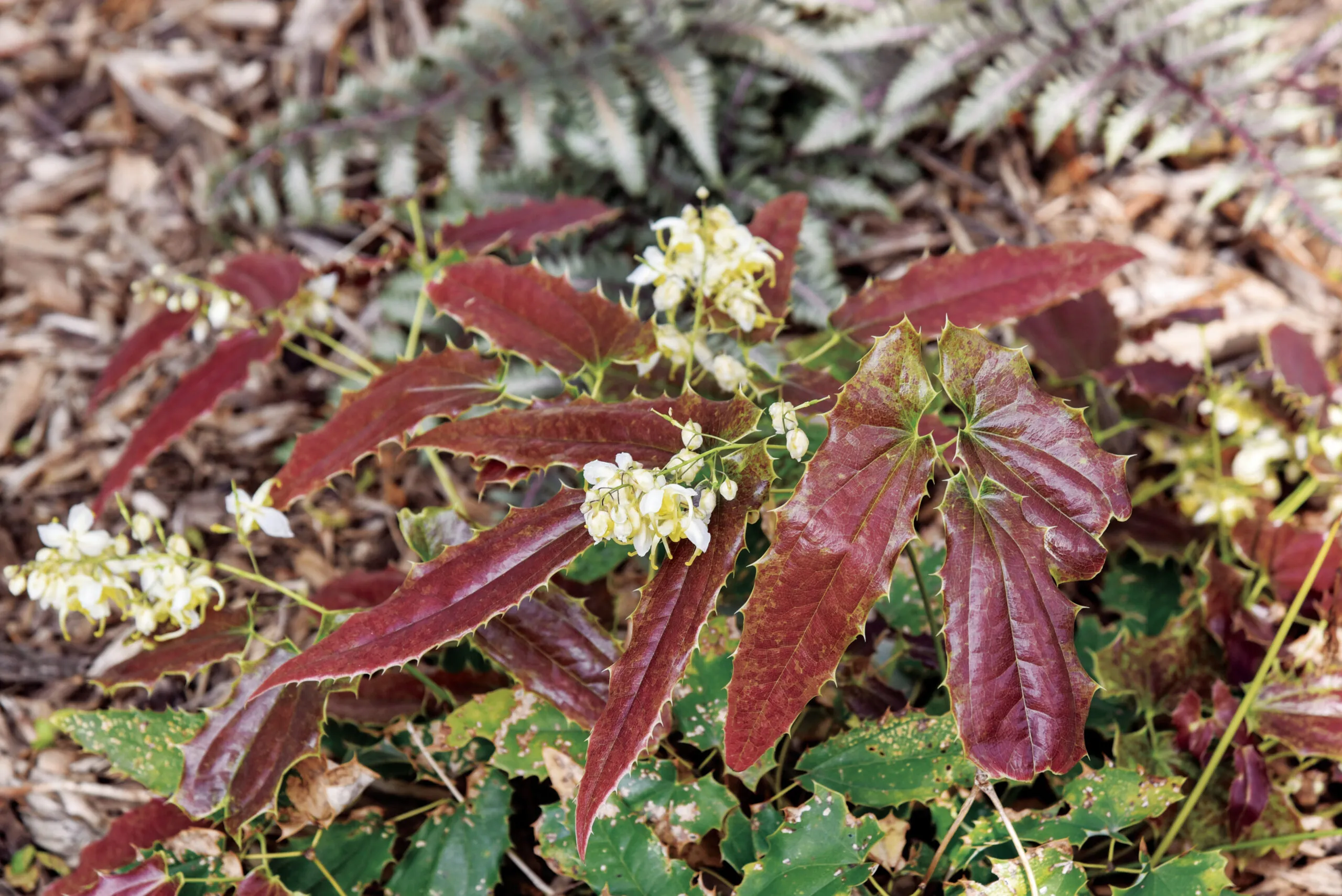 Underused in American gardens, epimediums produce thick, spreading stands of sturdy, angel-wing foliage and spidery springtime flowers. They are a wonderful groundcover in hot, dry shade, but they don't mind moisture, either. Time-tested varieties include red-and-white-flowered Epimedium x rubrum, lavender-flowered E. grandiflorum 'Lilafee,' and yellow-flowering Epimedium x versicolor 'Sulphureum.'
Look for: Epimedium 'Pink Champagne' has dense sprays of pink and raspberry flowers with dainty evergreen leaves spotted with burgundy. The unique E. wushanense 'Sandy Claws' has long, sharply toothed leaves that emerge maroon and mature to dark green, with pale-cream flowers.
How it grows: Up to 1 foot tall and 4 feet wide in partial shade and moist, well-drained soil; zones 6-8.
Coneflower (Echinacea Kismet Red)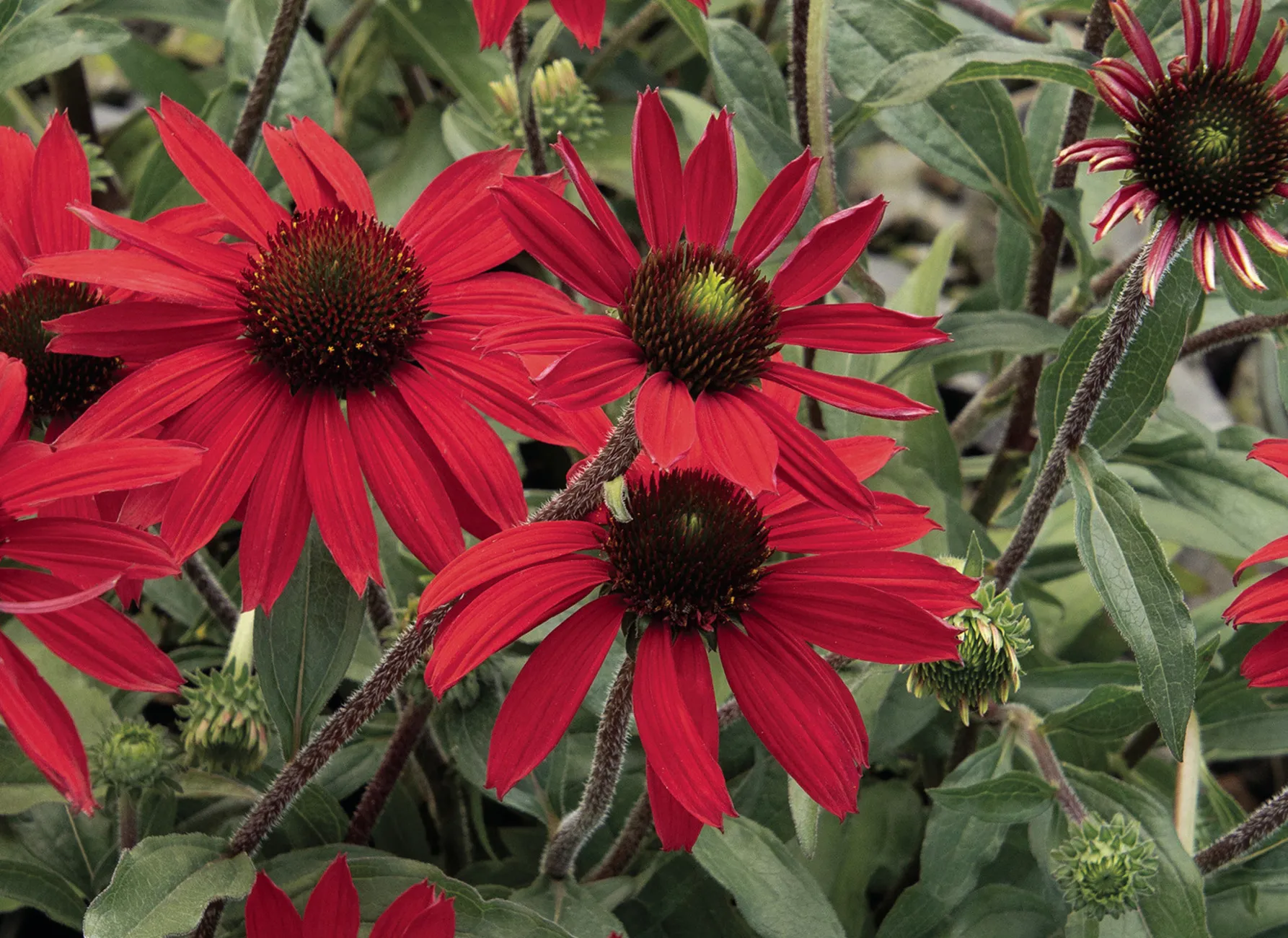 With their tough foliage and cheerful flowers, coneflowers form robust, ever-expanding clumps that never disappoint. Their seed heads are decorative in fall and winter, and are also a source of food for birds. They love hot, baking sun and can go without water when necessary, but they can also withstand the occasional deluge with ease. Beloved varieties like large-flowered 'Magnus' and compact 'Kim's Knee High' celebrate this species' rosy-pink heritage, while 'White Swan' is the traditional white-flowered variety.
Look for: Expanding the coneflower rainbow is the even hardier Kismet series, with earlier, longer-lasting blooms in orange, raspberry, red, white, and yellow that keep going until frost. Keep an eye out for compact Prima Ginger, too, with its stunning multicolored blooms in soft shades of orange and pink.
How it grows: Up to 4 feet tall in full sun to part shade and well-drained soil; zones 3-9.
Bee balm (Monarda didyma Balmy 'Red')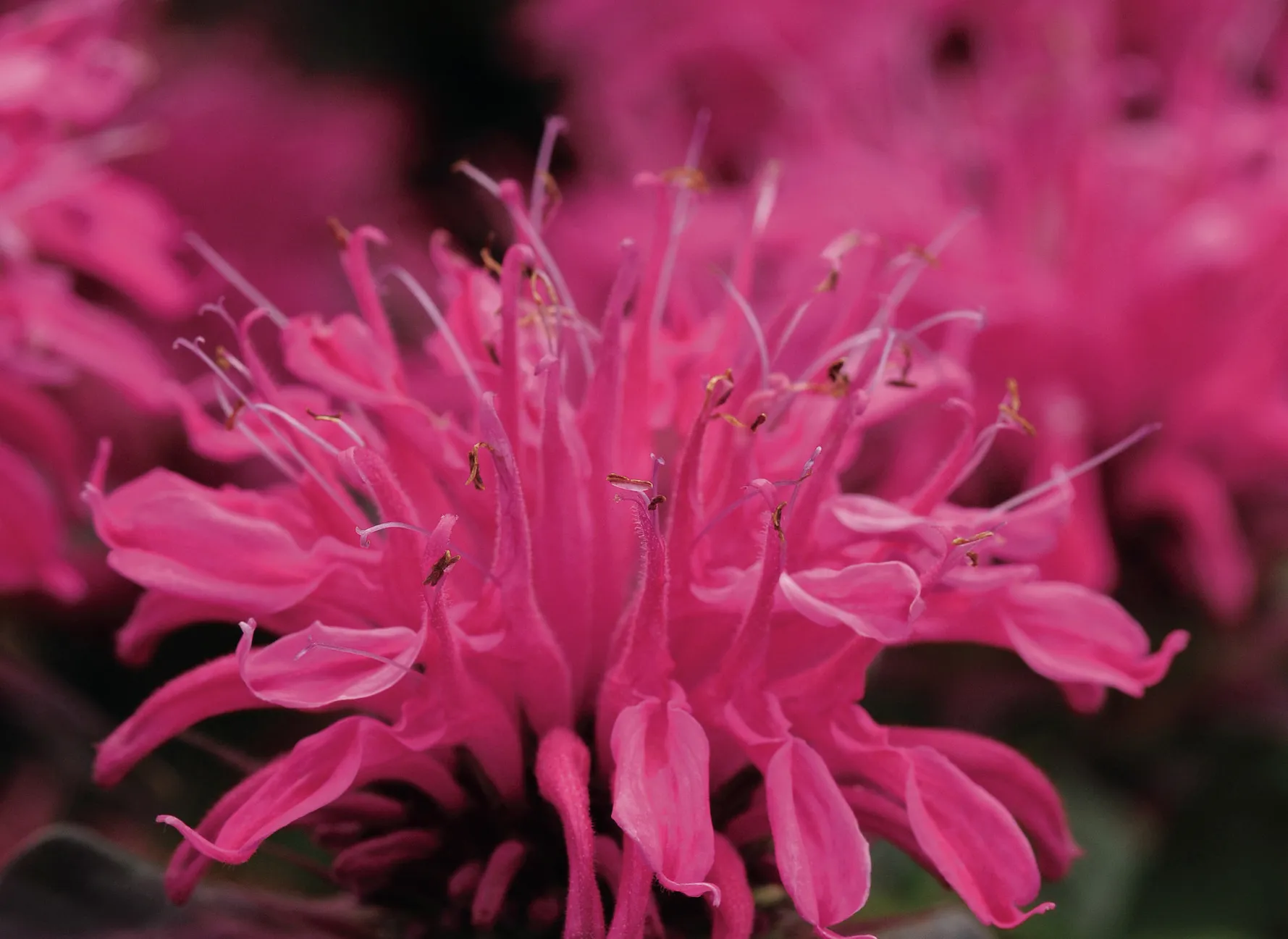 Bee balm is a beloved old-fashioned perennial, attracting bees, butterflies, and hummingbirds with tall stems of aromatic foliage topped with shaggy blooms in warm colors. Often listed as a plant suited to rain gardens, this native appreciates moist soil in summer, but does just fine with occasional dry spells, too. Plus, it's deer resistant. Older varieties were rangy and susceptible to powdery mildew in hot, humid weather. Breeders have developed new varieties with mildew resistance, like the long-popular 'Marshall's Delight,' 'Gardenview Scarlet,' and 'Jacob Cline,' which have tidier habits to boot.
Look for: The new dwarf Balmy series is worth seeking out for its small stature (only a foot tall), dense blooms, extra mildew resistance, compact habit, and lilac, pink, purple, and rose-hued blooms.
How it grows: Up to 4 feet tall and 3 feet wide in full sun to light shade and well-drained soil; zones 4 -9.
Tall Sedum (Sedum Evolution 'Purple Crush')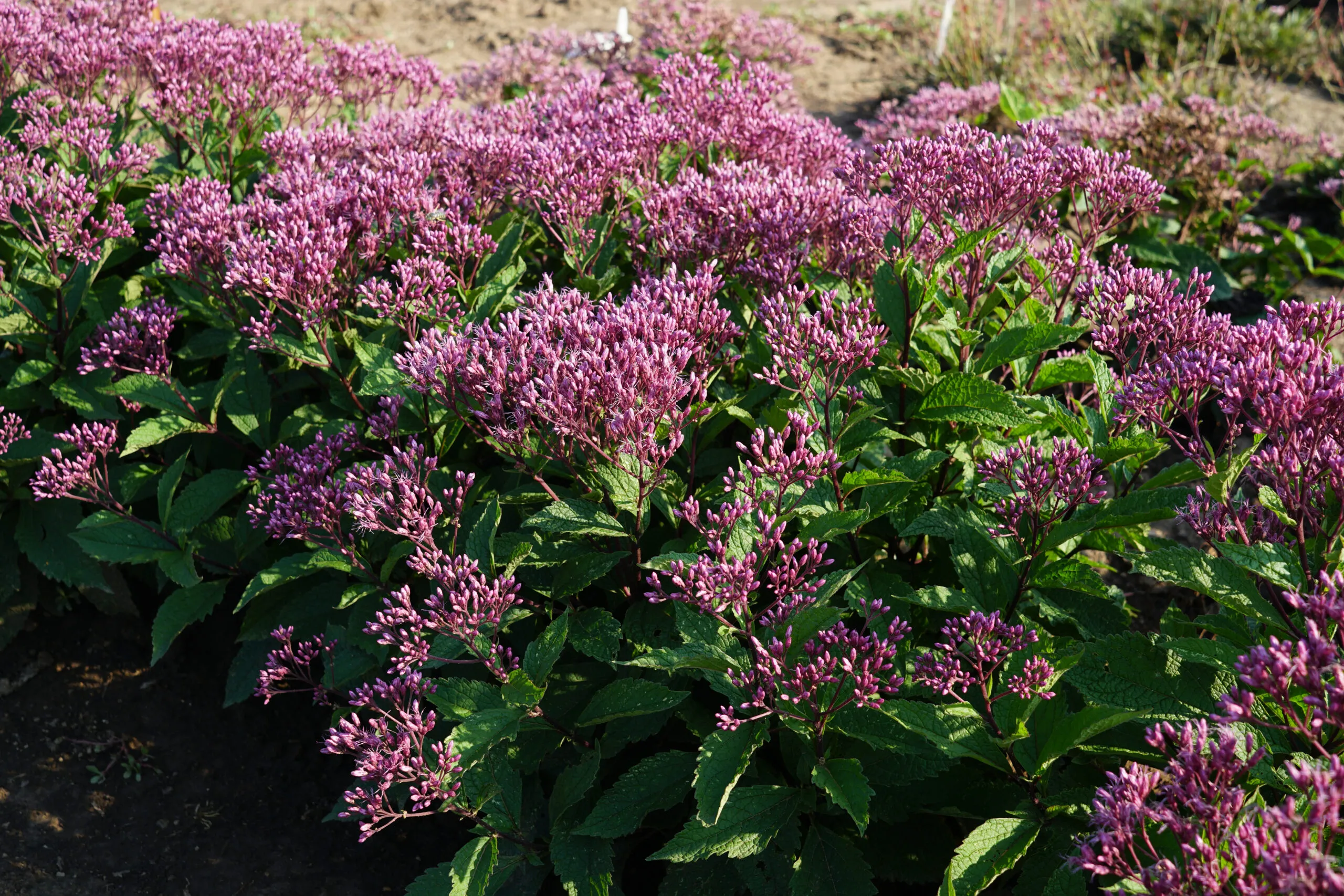 Tall sedums excel in sunny, dry gardens, and will emerge as clear winners as summers get hotter and dry spells longer. Their mounds of succulent foliage look cool and clean all summer before they burst into fall bloom with domes of flowers that last for weeks, looking good into winter as they dry in place. Most famous is pink-flowered 'Autumn Joy,' and it is still fabulous, as is its stunning variegated offspring 'Autumn Charm' and deep-purple-leaved, pink-flowered 'Matrona.'
Look for: The new Rock 'n Grow series stands tall without splaying and offers more compact habits: deep, dark 'Back in Black,' chartreuse-flowered 'Lemonjade,' and the color-shifting 'Tiramisu.' Evolution 'Purple Crush' sports distinctive purple-hued blue-green foliage and pink- flowering stems that won't fall open when they reach full height.
How it grows: Up to 18 inches tall and 18 inches wide in full sun; zones 3-10.
Threadleaf Coreopsis (Coreopsis verticillata Sizzle & Spice 'Zesty Zinger')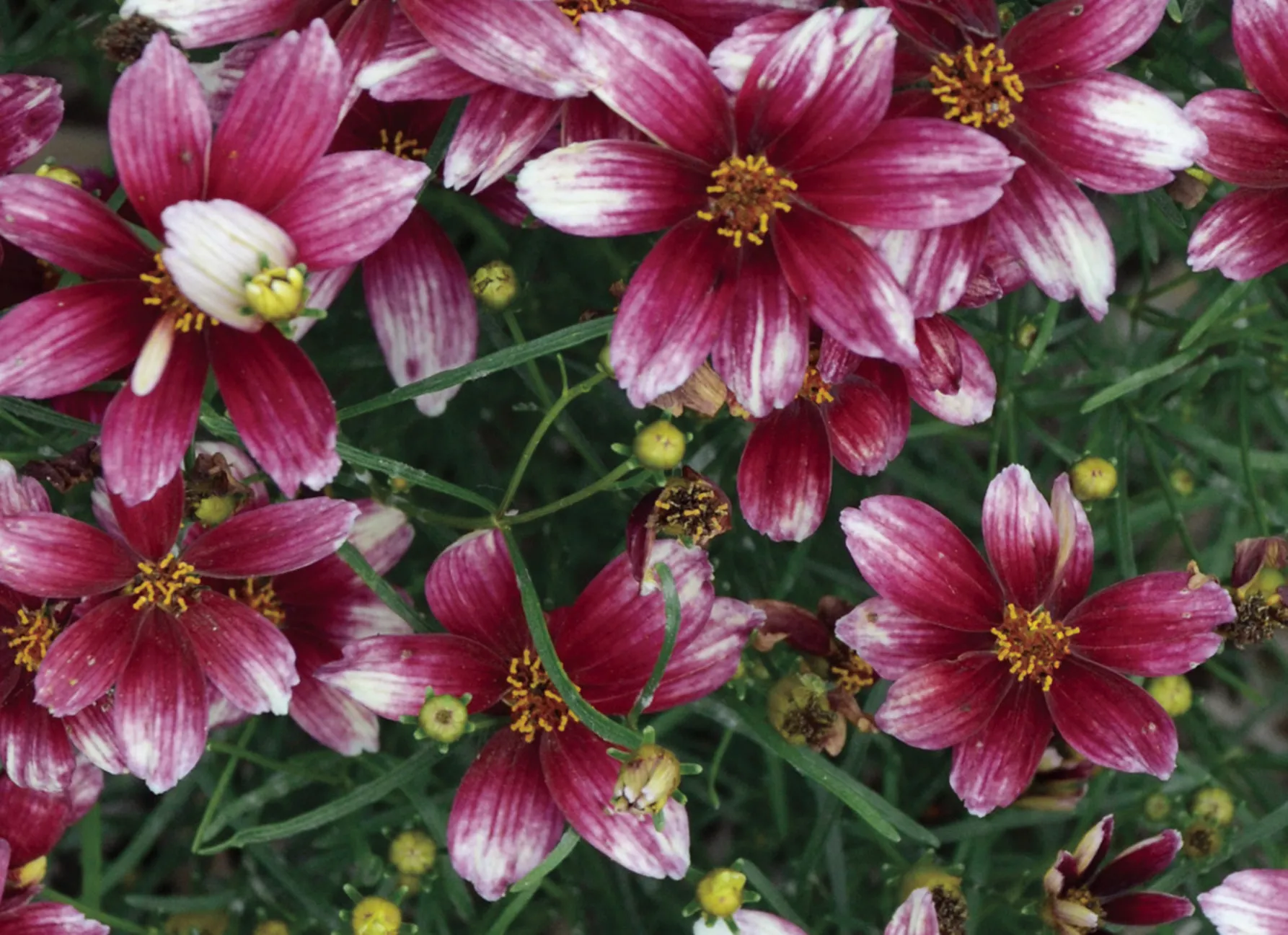 Think of threadleaf coreopsis and you might think of clouds of fine foliage and masses of daisy-like yellow flowers from early to late summer. Long-popular 'Moonbeam' has a particularly delicate appearance with pale-yellow flowers, while 'Zagreb' has bolder blooms in golden yellow. They're both cultivars of a native species that spreads politely by rhizomes and thrives in heat, humidity, and drought. But threadleaf coreopsis has been getting a lot more interesting, with crazy colors that will make any gardener's heart beat a little faster.
Look for: The Sizzle & Spice series includes red-orange-flowered 'Hot Paprika,' fuchsia-and-white 'Zesty Zinger,' and yellow-and-maroon 'Red Hot Vanilla.'
How it grows: Up to 18 inches tall and 2 feet wide in full sun to part shade; zones 4-9.
Catmint (Nepeta faassenii 'Cat's Meow')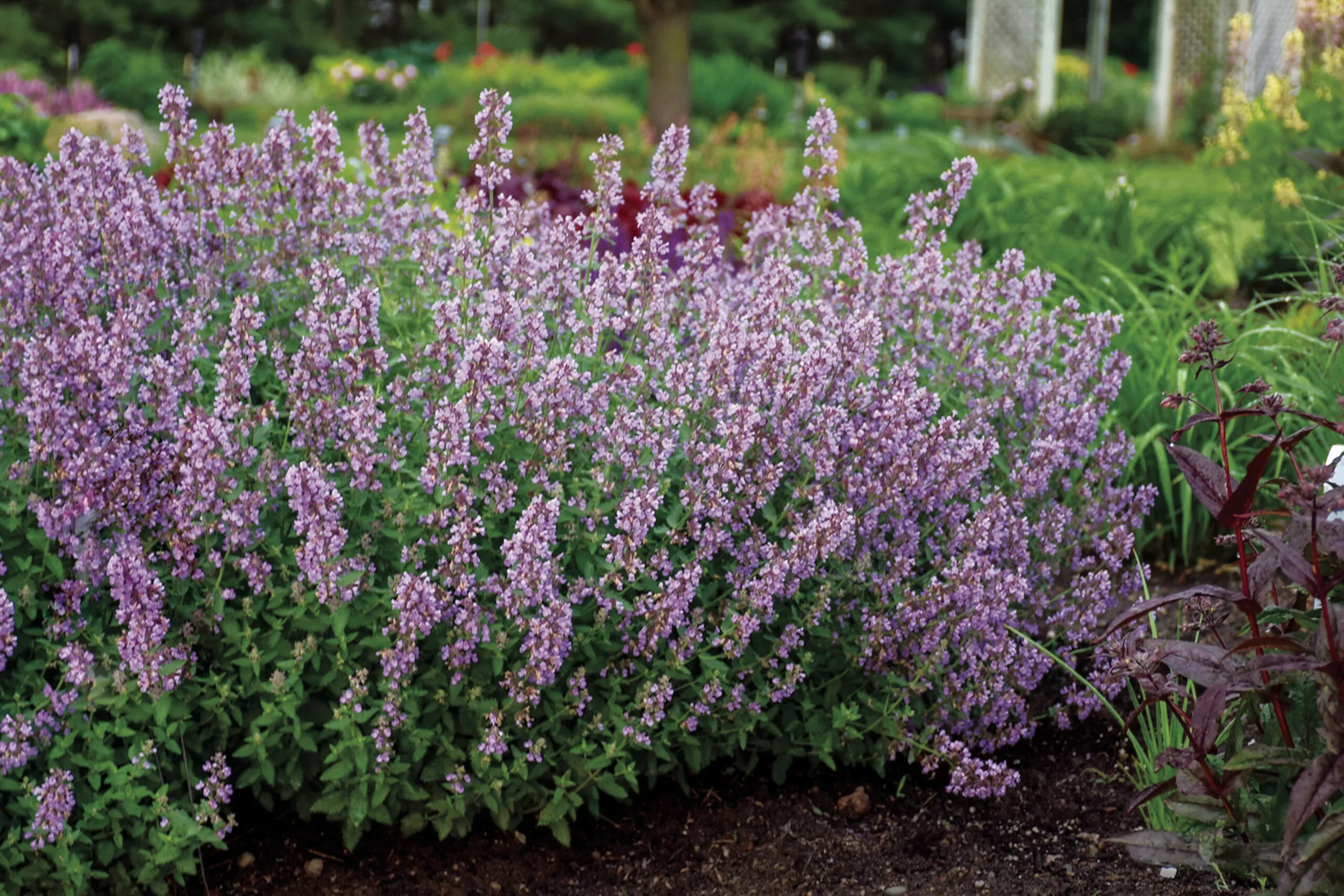 Lavender-blue-flowering catmint produces aromatic blue-green foliage that forms soft, loose mounds topped in early summer with spikes of long-lasting flowers that bees love. From a distance, it resembles lavender, but it is much more adaptable.
This plant love baking heat and sun, is blessedly deer resistant, and is quite drought tolerant once established. Its one fault is that it tends to get leggy in midsummer, but that's easily fixed by cutting it back by half or two-thirds after it flowers—it will send up new shoots and bloom again. The most popular varieties are jumbo 'Six Hills Giant' and not-so-low 'Walker's Low.'
Look for: 'Cat's Meow' and 'Cat's Pajamas,' both of which are smaller, denser, and less prone to sprawl, and bloom all along the stem, not just at the tips, for an even bigger impact.
How it grows: Up to 3 feet tall and 3 feet wide in full sun to part shade and well-drained soil; zones 4-8.
Joe-Pye Weed (Eupatorium purpureum Euphoria Ruby)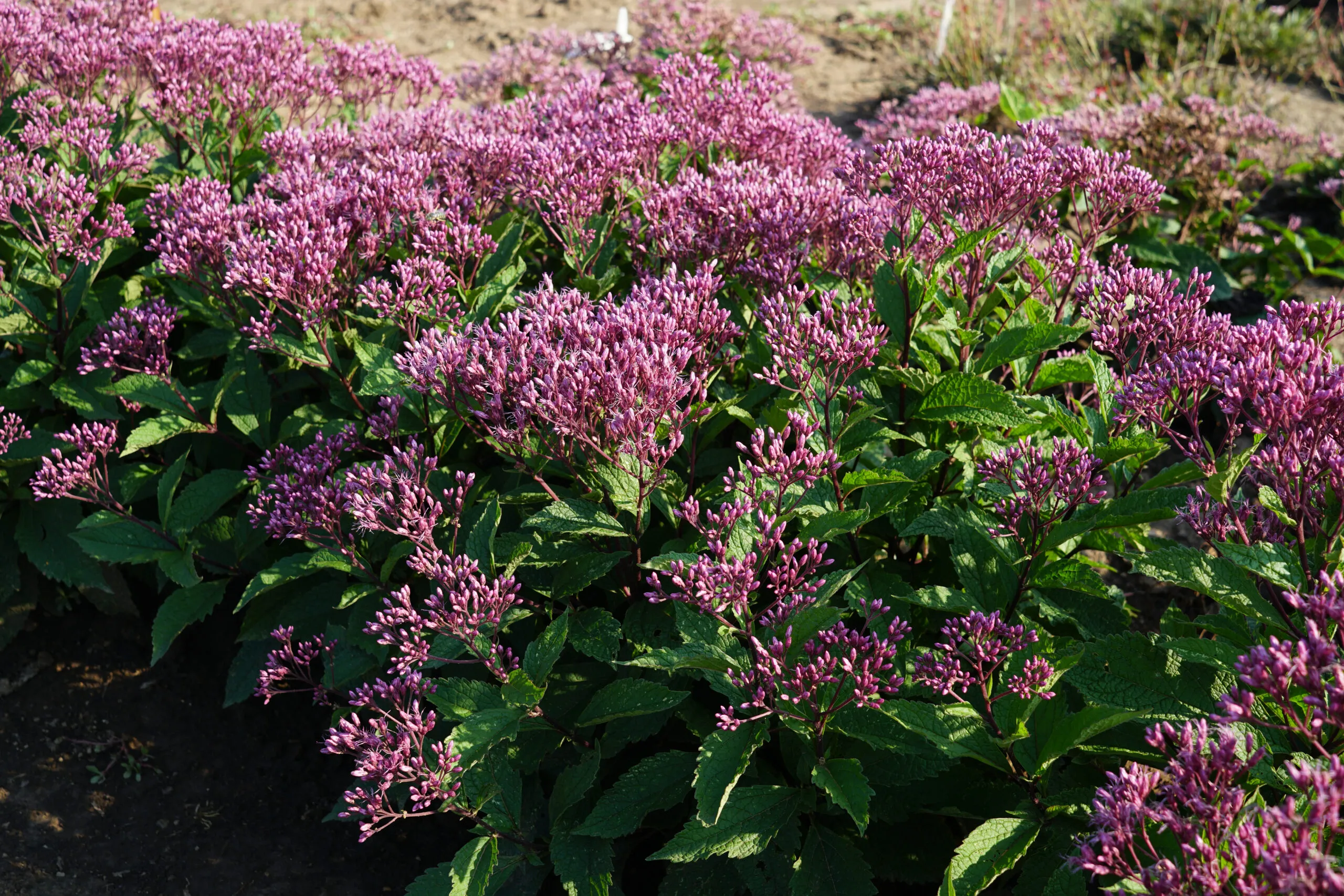 Joe-pye weeds are staples in naturalized gardens, their tall stems of rough, whorled leaves topped with domes of pale-mauve flowers in mid- to late summer. While they need consistent moisture to get established (and prefer moist soil generally), joe-pyes are sturdy, adaptable, and self-sufficient.
Joe-pye weed don't mind an exceptionally wet summer, nor a hot and dry one, and harsh winters don't faze them, either. They are deer resistant, attract bumblebees, and provide nectar for a slew of butterfly species, attracting monarchs and swallowtails in droves. Commonly available varieties include towering Eutrochium maculatum 'Gateway,' at almost 7 feet tall, and Eutrochium dubium 'Little Joe,' at a more garden-friendly 4 to 5 feet tall.
Look for: New smaller varieties include Eutrochium purpureum 'Euphoria Ruby,' at less than 3 feet tall. It also blooms earlier and keeps going well into fall. 'Phantom' grows only 2 to 3 feet tall—short and sweet!
How it grows: Up to 7 feet tall and 4 feet wide in full sun to partial shade and moist, well-drained soil; zones 3-9.
Russian Sage (Perovskia atriplicifolia 'Denim 'n Lace')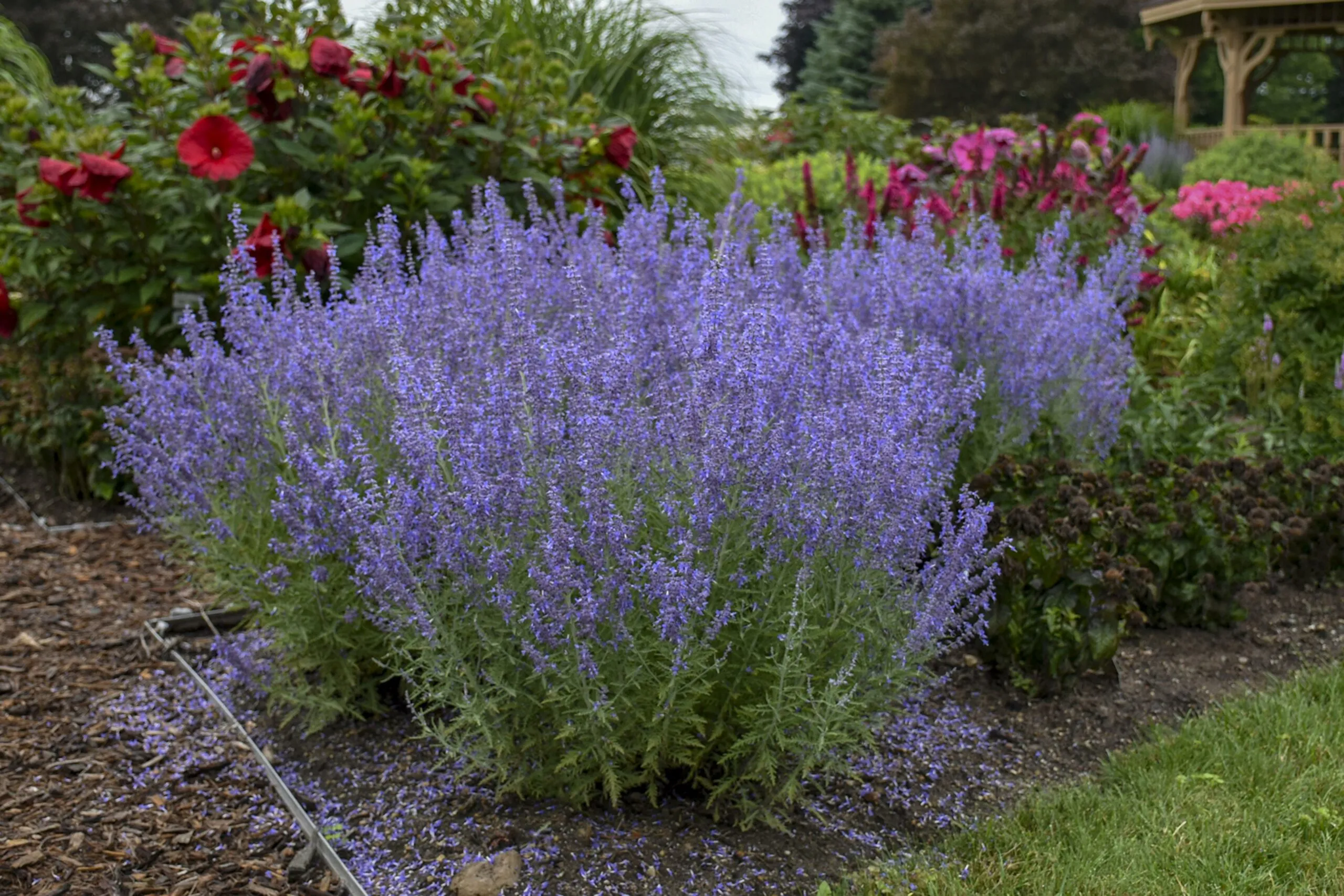 Shrubby Russian sage thrives in dry, lean soil, loves sun and heat, and weathers harsh winters with dense stands of tall stems that have fine, aromatic, silvery gray-green leaves adorned with lavender-blue flowers that form an explosion of cool color in midsummer through fall. It attracts butterflies and bees, doesn't need deadheading or dividing, and is deer resistant, pest and disease resistant, and well behaved.
If your summers are getting hotter and drier, this perennial will just keep getting better and better. In fact, the only thing that brings it down is wet soil. The species is still available, but newer varieties address its tendency to flop in less than perfect conditions, with stronger stems, more compact forms, and smaller sizes. You'll easily find varieties like the lacy-leaved 'Filigran,' 2-foot-tall 'Little Spire,' and strongly upright 'Longin.'
Look for: 'Denim 'n Lace' is an exciting newcomer, only about 21/2 feet tall with striking upright stems and a dense habit. It flaunts tons of bright lavender-blue flowers held on amethyst calyxes that make the flowers even bolder and remain decorative even after the blooms fade.
How it grows: Up to 4 feet tall and wide in full sun and well-drained soil; zones 4-9.
Hosta (Hosta Shadowland 'Diamond Lake')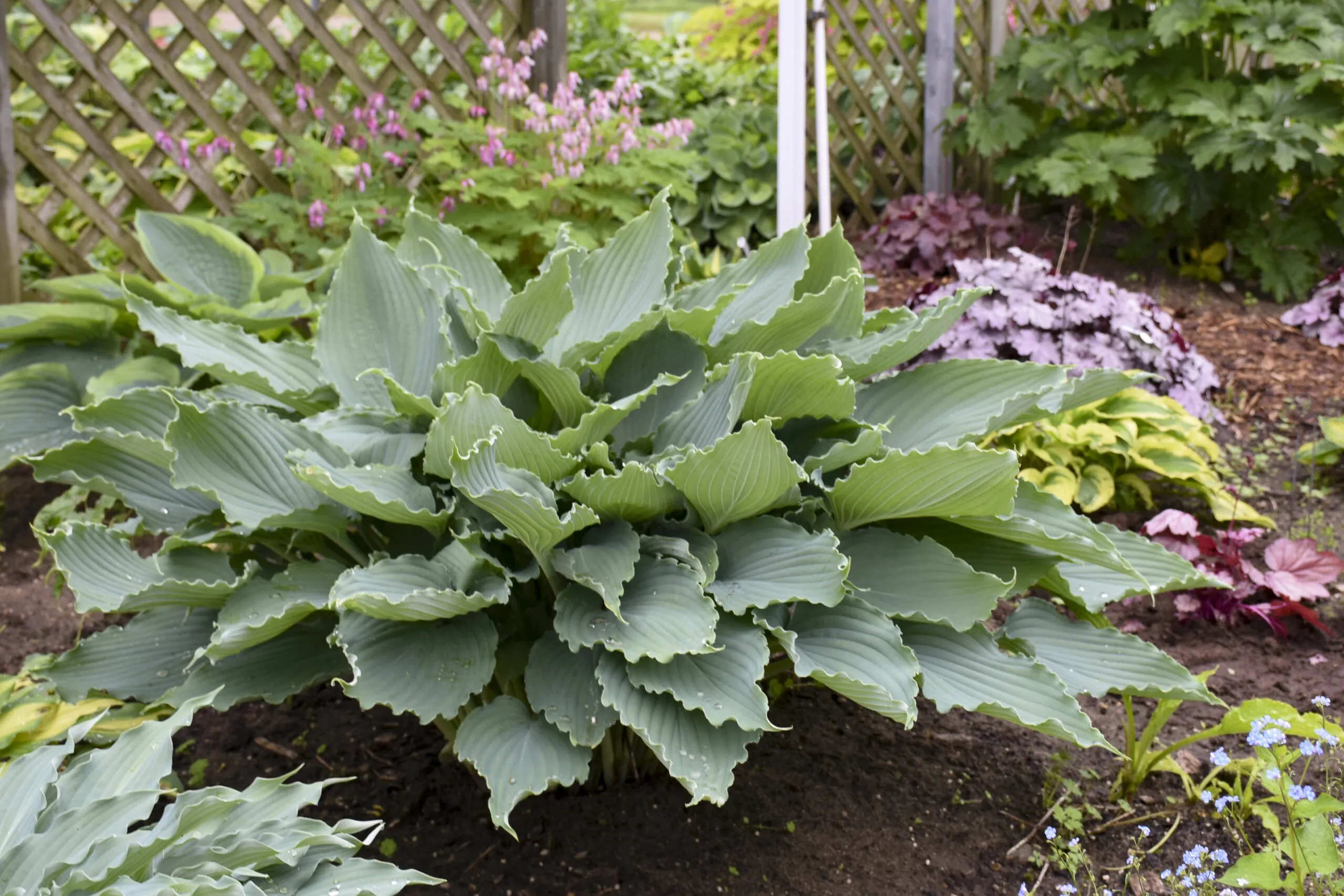 There's a good reason why hostas are one of the most popular shade plants on the planet. Their easygoing mounds of big and broad leaves fill shady corners with bold texture, a great contrast to the fine foliage of most shade perennials. Varieties that stand up to wind, rain, hail, and even the slugs that damp weather brings tend to be those with thick, often heavily textured leaves, like the easy-to-find old favorites 'Abiqua Drinking Gourd,' 'Halcyon,' 'Sum and Substance,' and Hosta sieboldiana 'Elegans.'