Midnight blue with glitter
Is evident that to evoke a magical winter mood, glitter is the way to go! This midnight blue is cold and absolutely chic, perfect for a glam winter night out aesthetic.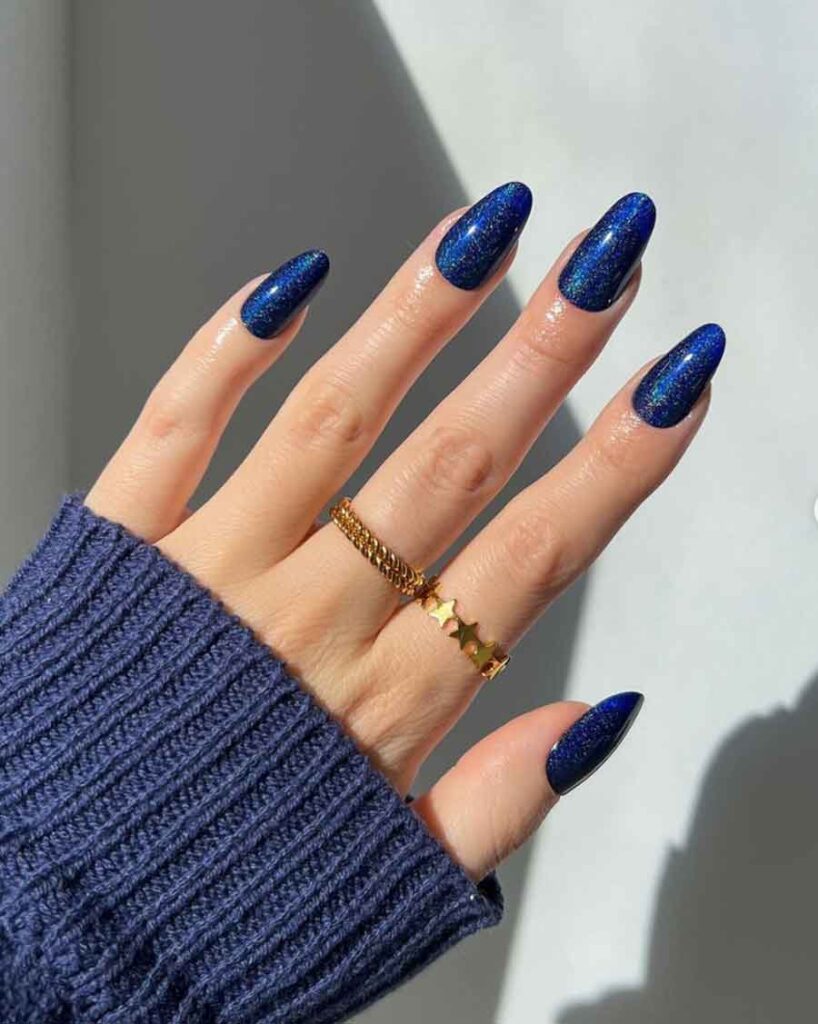 .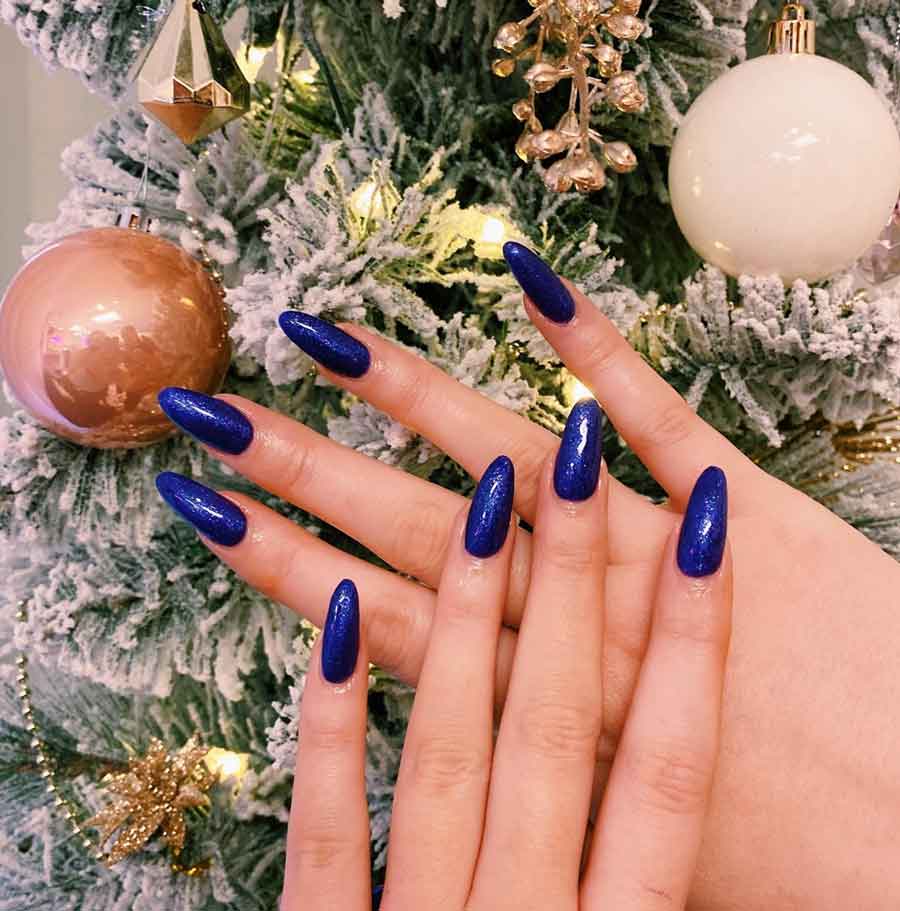 .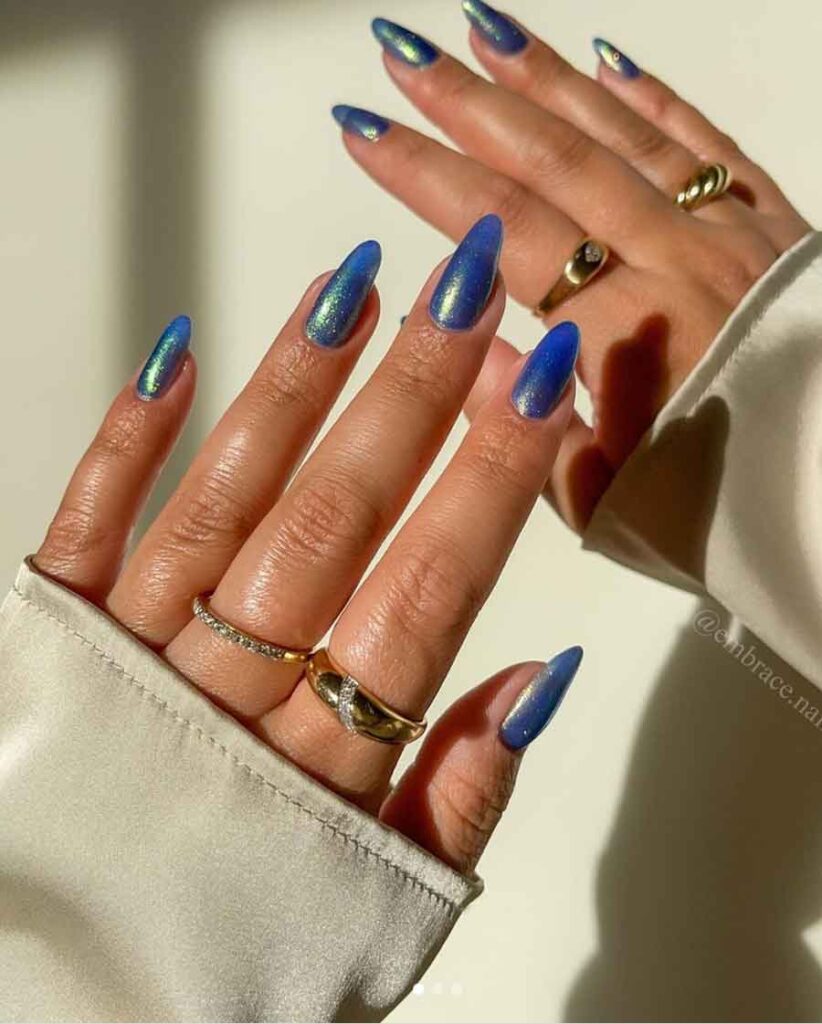 Marble Blue effect
These gave me such magical winter-by-the-beach vibes.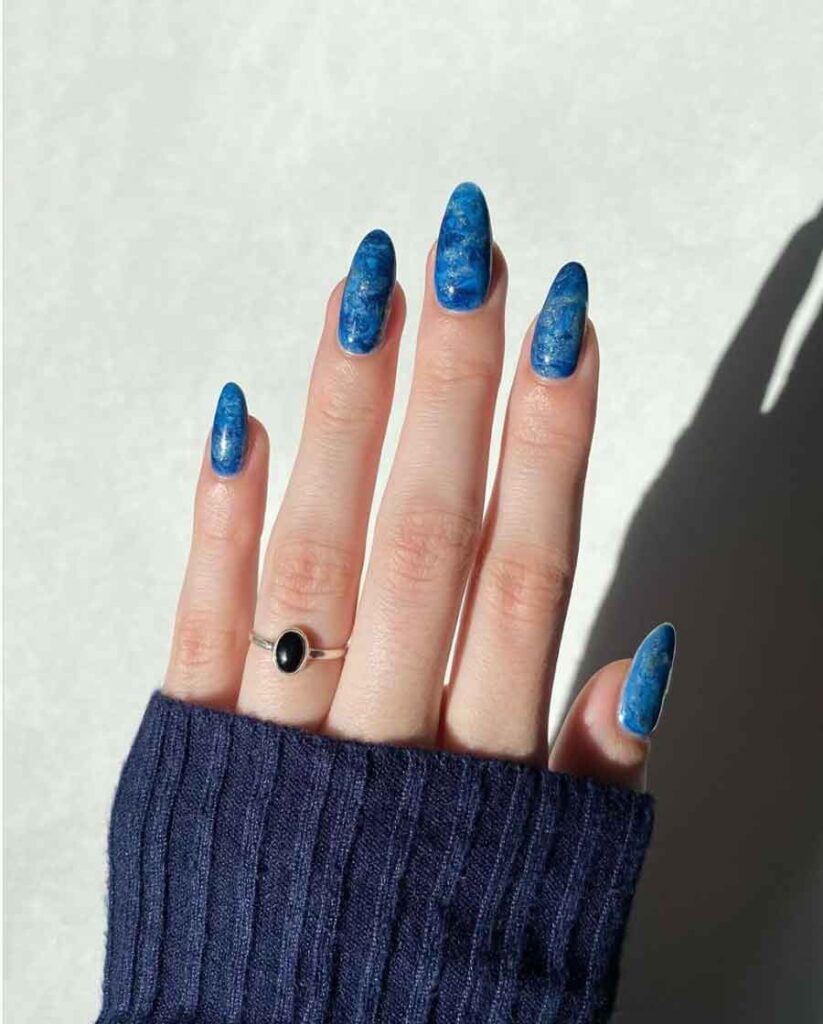 Green glittery Skittle
Although blue is the first color that comes to mind when we think of nail colors that evoke cold vibes, green is also in the cool colors spectrum and awakens the same sensations. The glitter evokes snow and festivities vibes and is super popular for winter nails.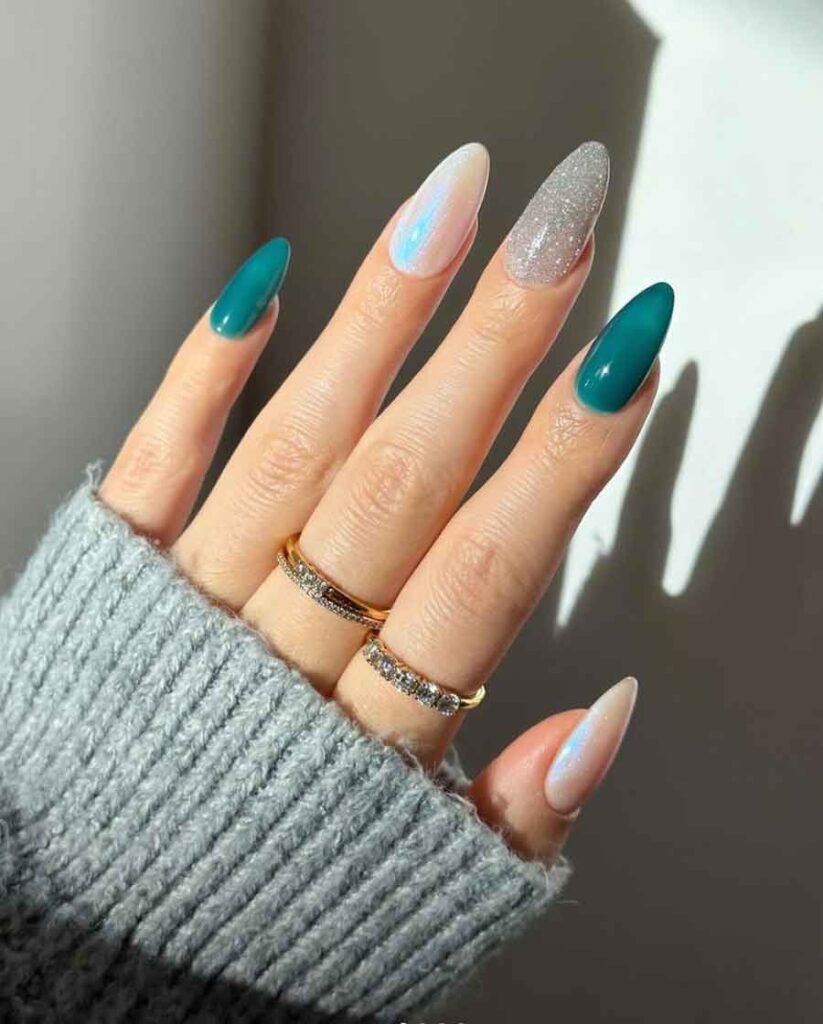 Metallic green with french tips
A chic metallic touch for your green winter nails.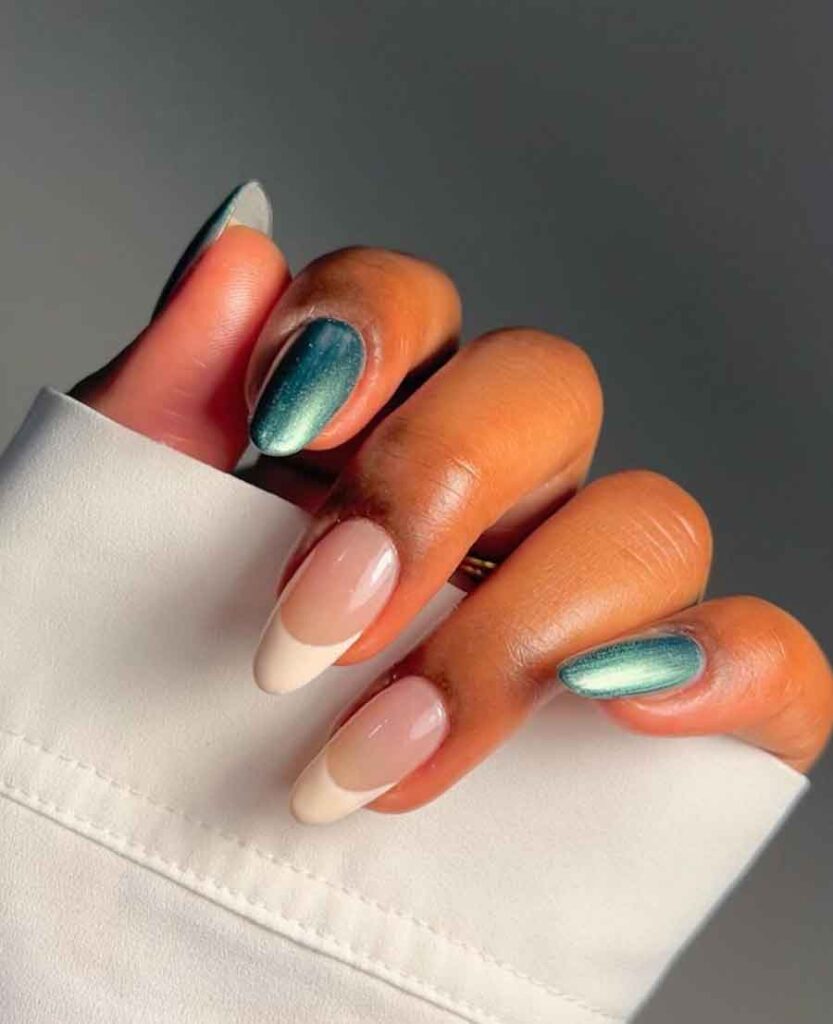 Forest Green & Gold
This mysterious, dark shade of forest green is my favorite for winter nails. The golden foil detail and nude pinkie is a proof that the details create the big picture.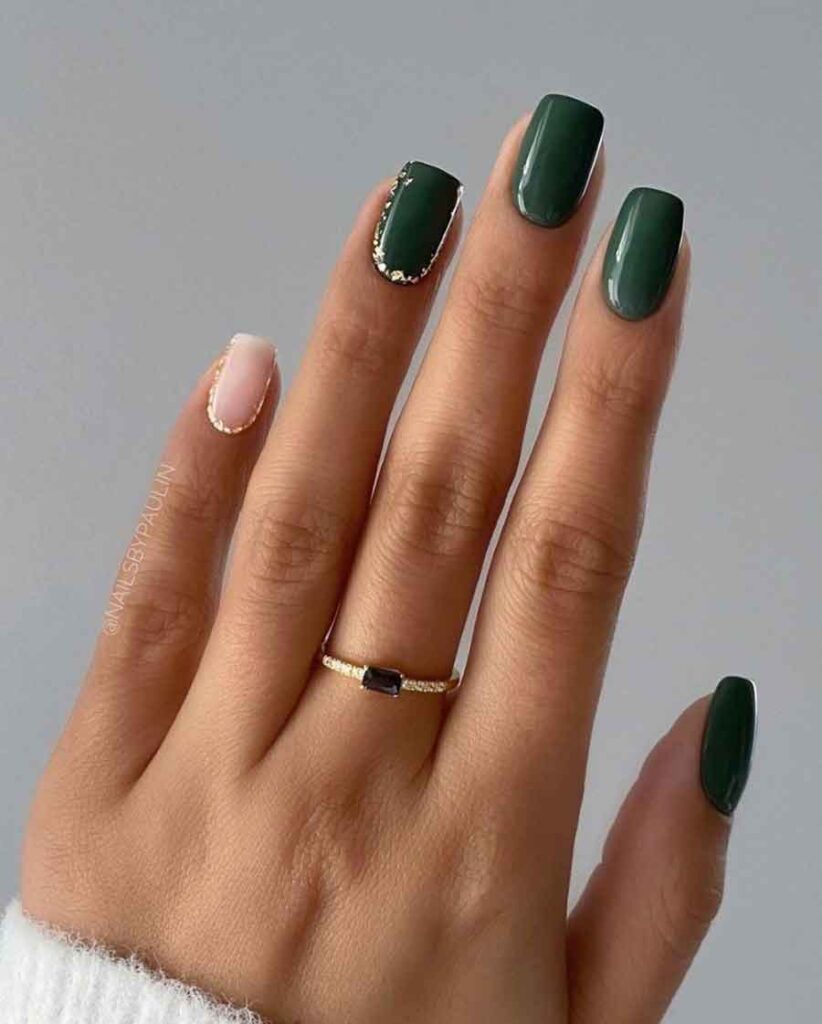 Green French Tips
Marvelous green french tips with glitter and swirls for adorable nails on a cold color palette.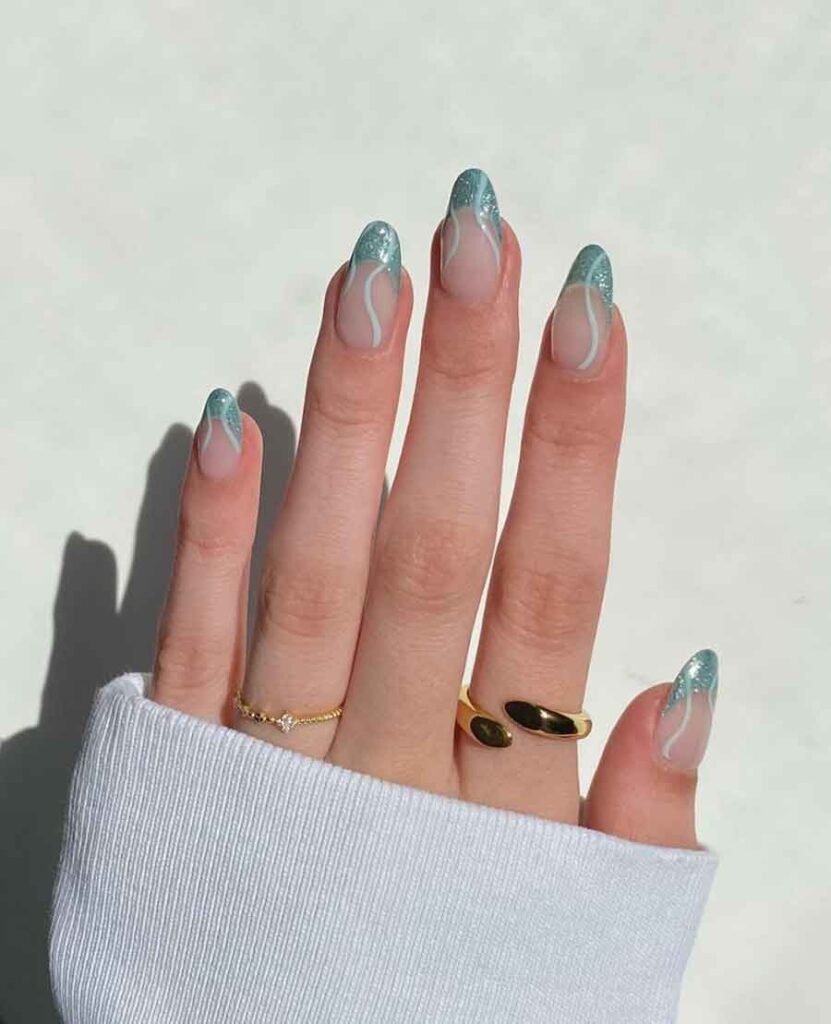 Grey
Plain gray nails with delicate glitter is the chicest way to create a simple and minimal winter many.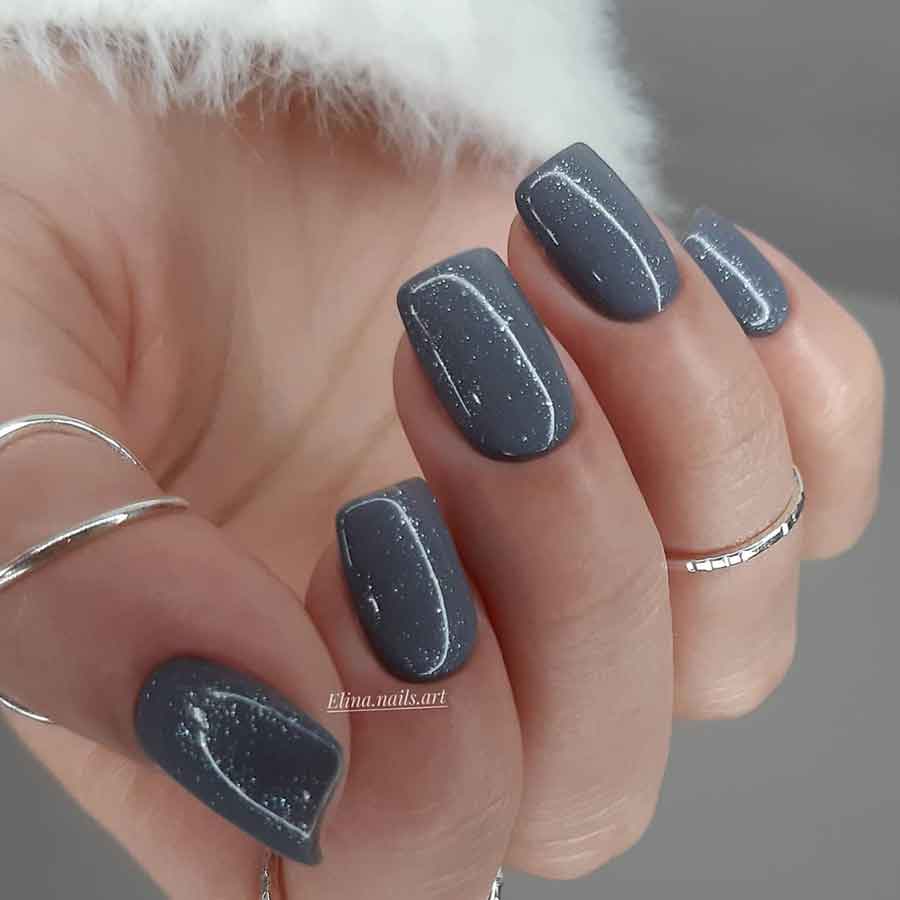 Gray with fractals decorations
I love how cool and authentic this nail design is, it screams winter to me.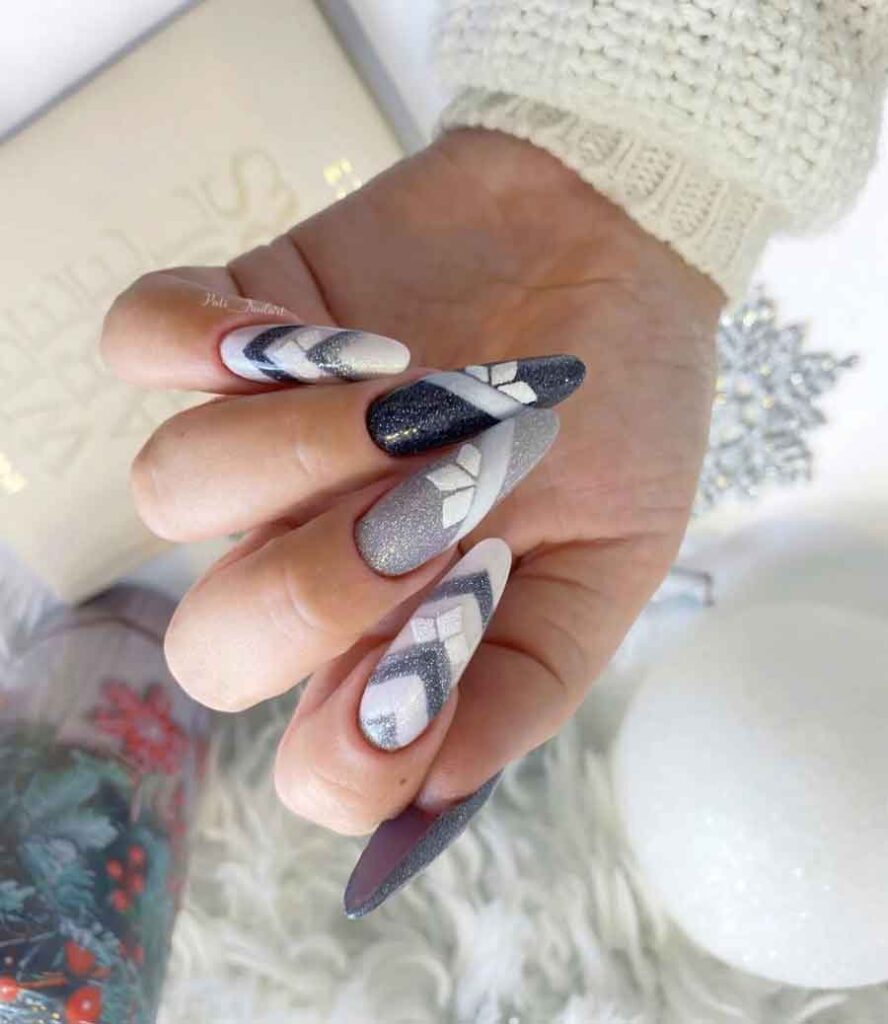 Blue and gray with swirls
Swirls evoke such winter-cold wind vibes, particularly when in white or blue.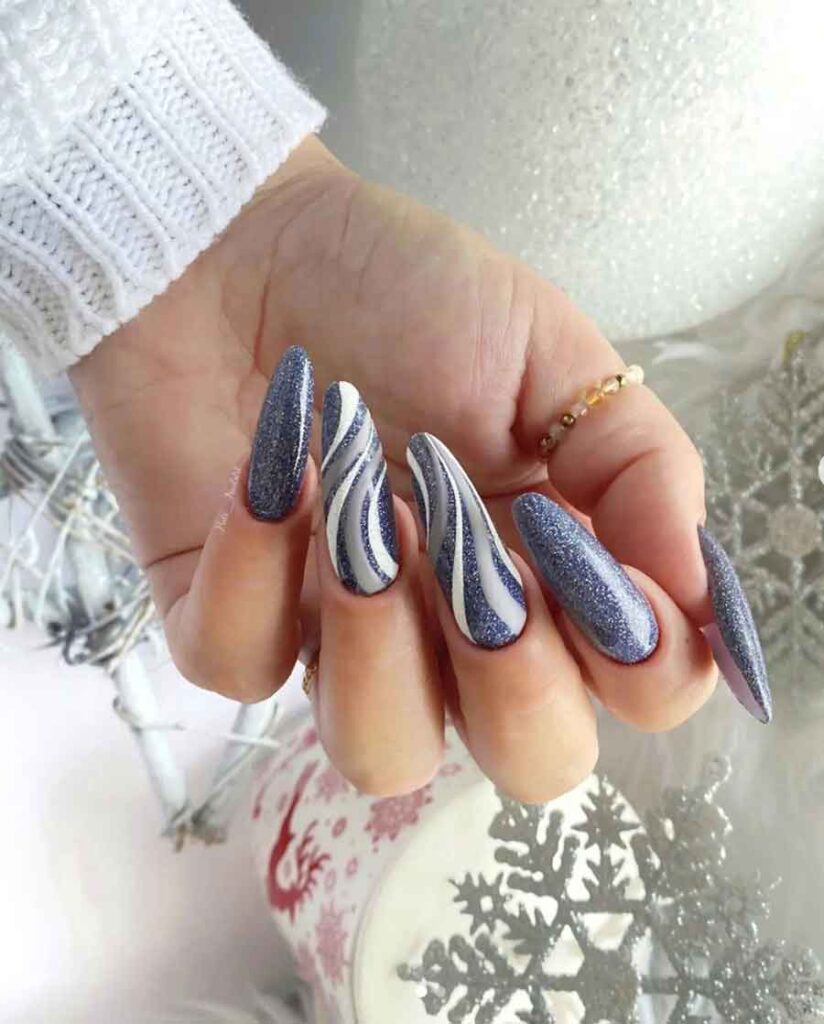 .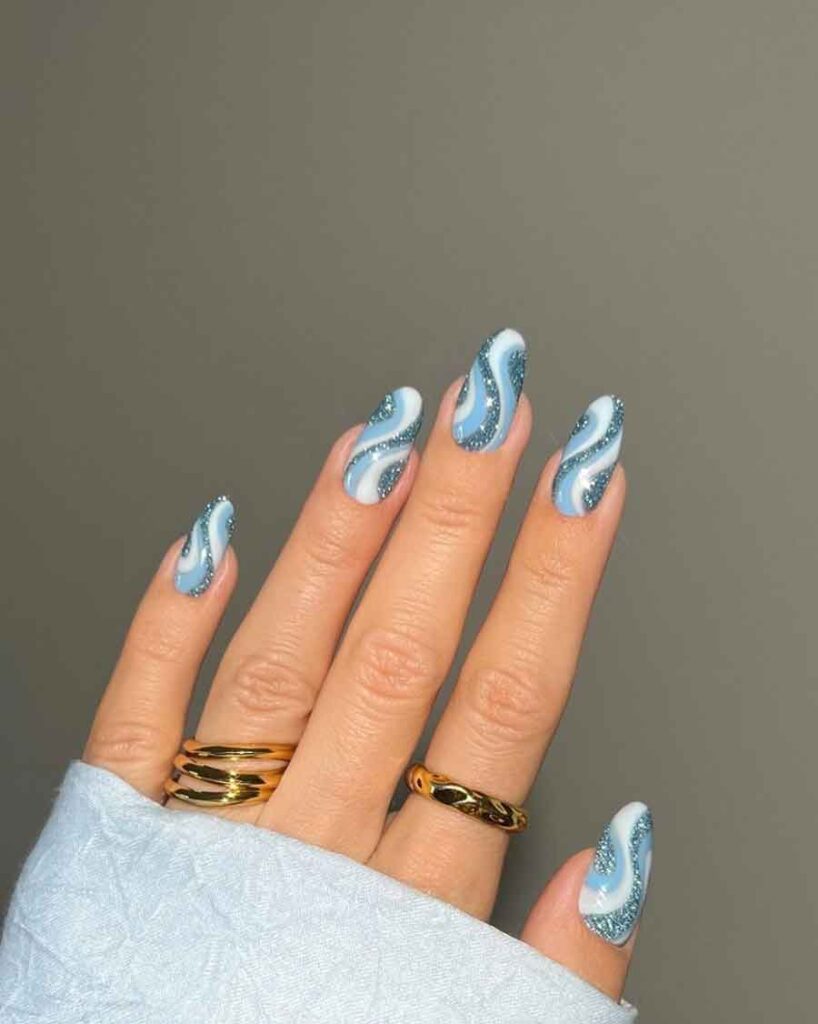 Snowflakes Nails
When it comes to winter nail designs, dainty snowflakes are obviously the ruler. In my humble opinion as someone obsessed with nature's colors and shapes, the snowflake is the most marvelous, geometrically perfect, fragile absolutely magical element created by nature.
White snowflakes
This is a simple way to evoke winter vibes in your nail art. Using nail decals or just hand-painting delicate snowflakes on nude nails.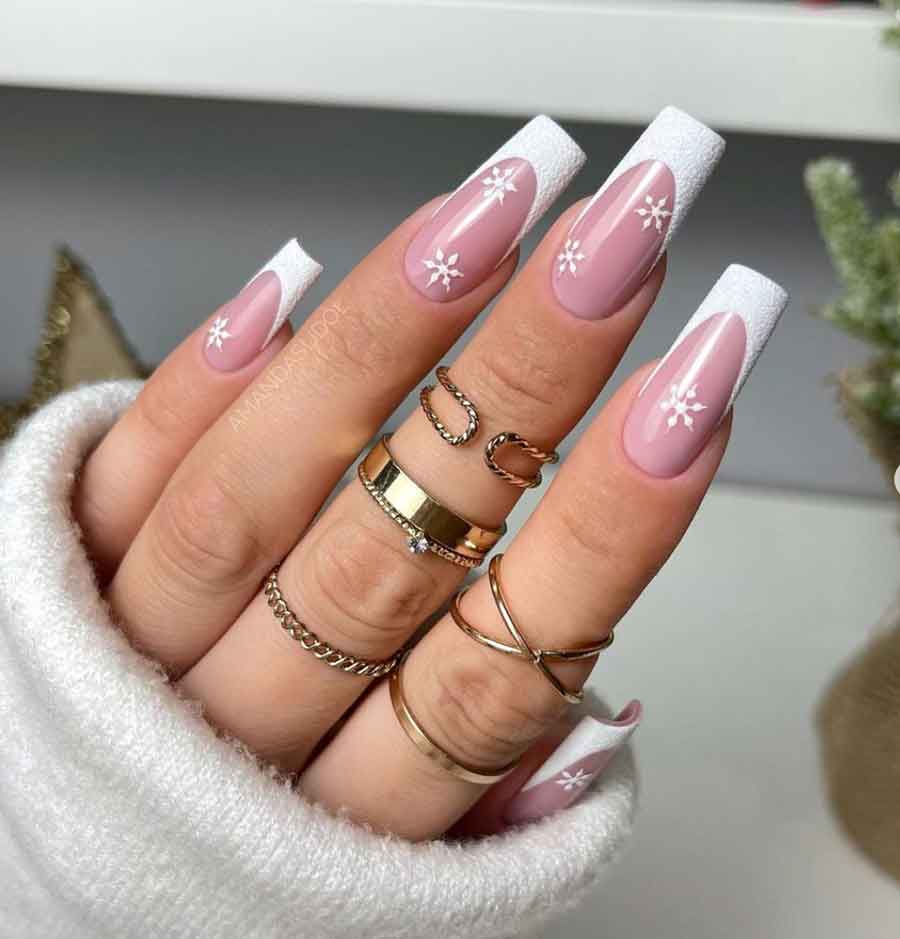 ,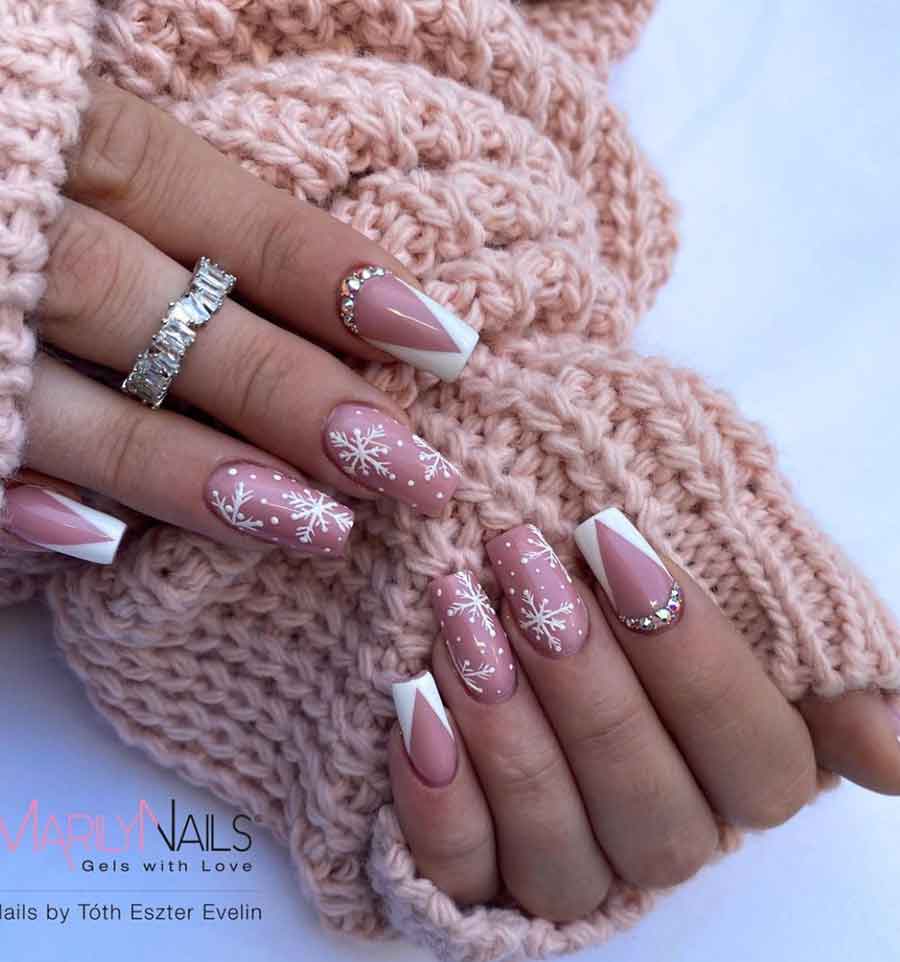 Black & White Snowflakes
If you have a chic, minimal, sophisticated style and want to make snowflakes nails, these are the way to go. Short, long, square, or almond, it doesn't matter, black and white will make them chic.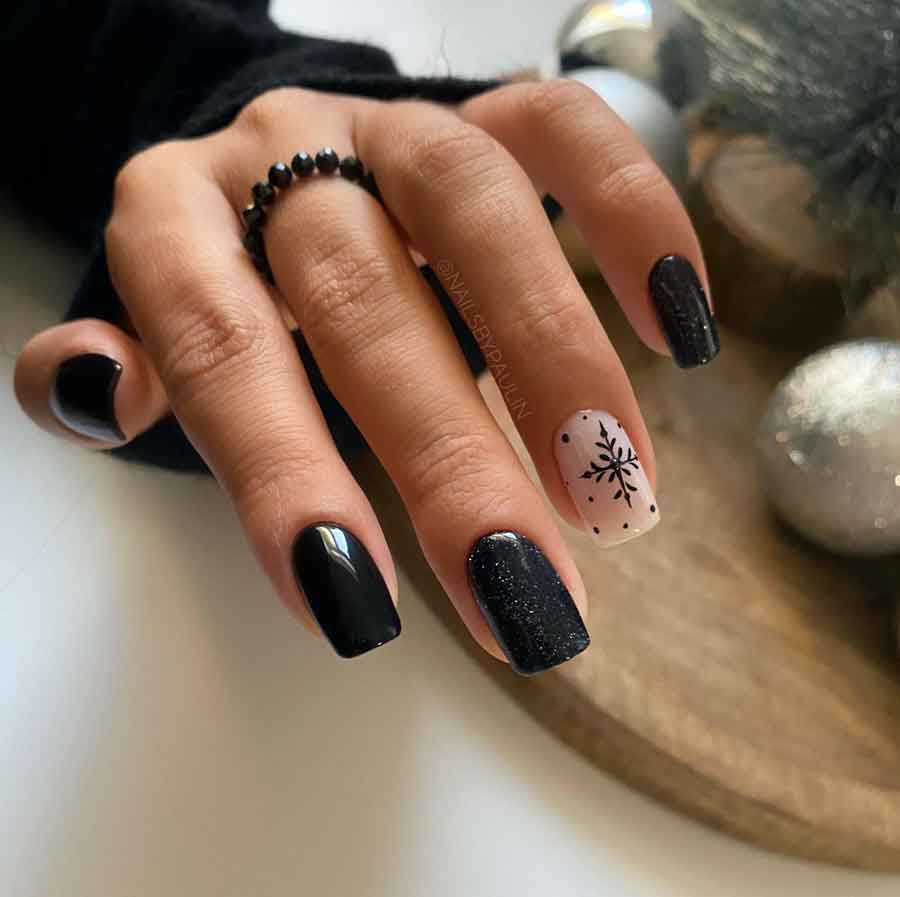 .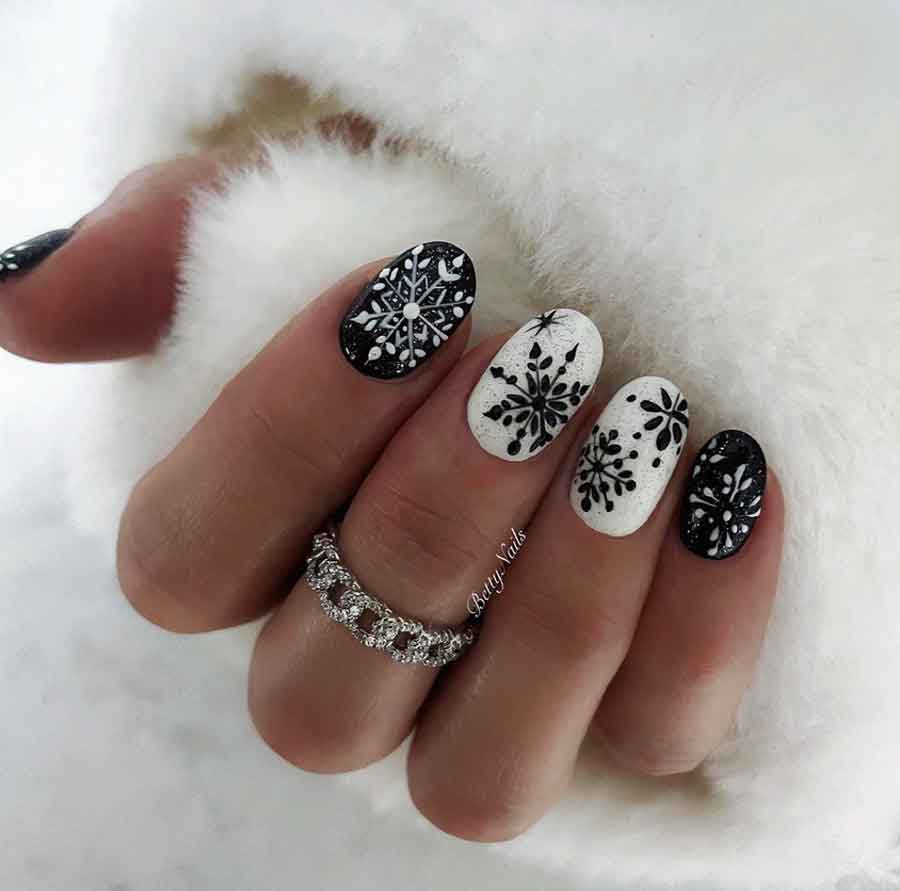 Black and silver nails are a more festive variation of the black and white snowflake nails.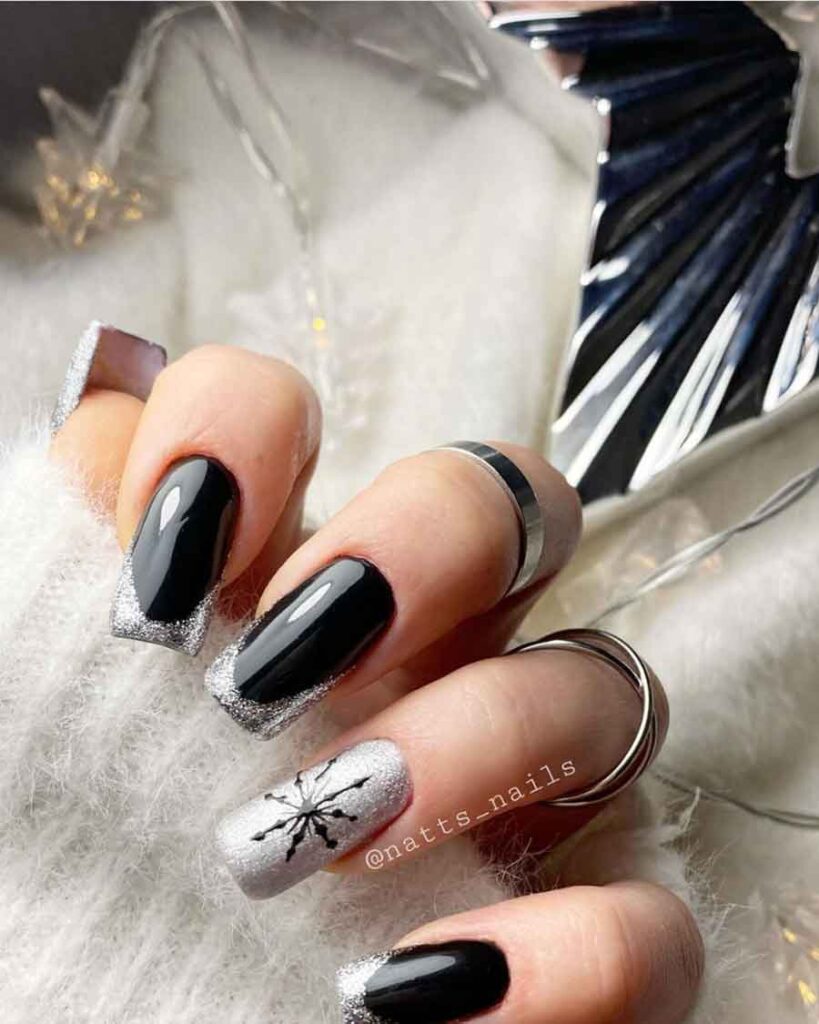 Snowflakes & Ice Blobs
3D effect makes these a true piece of art.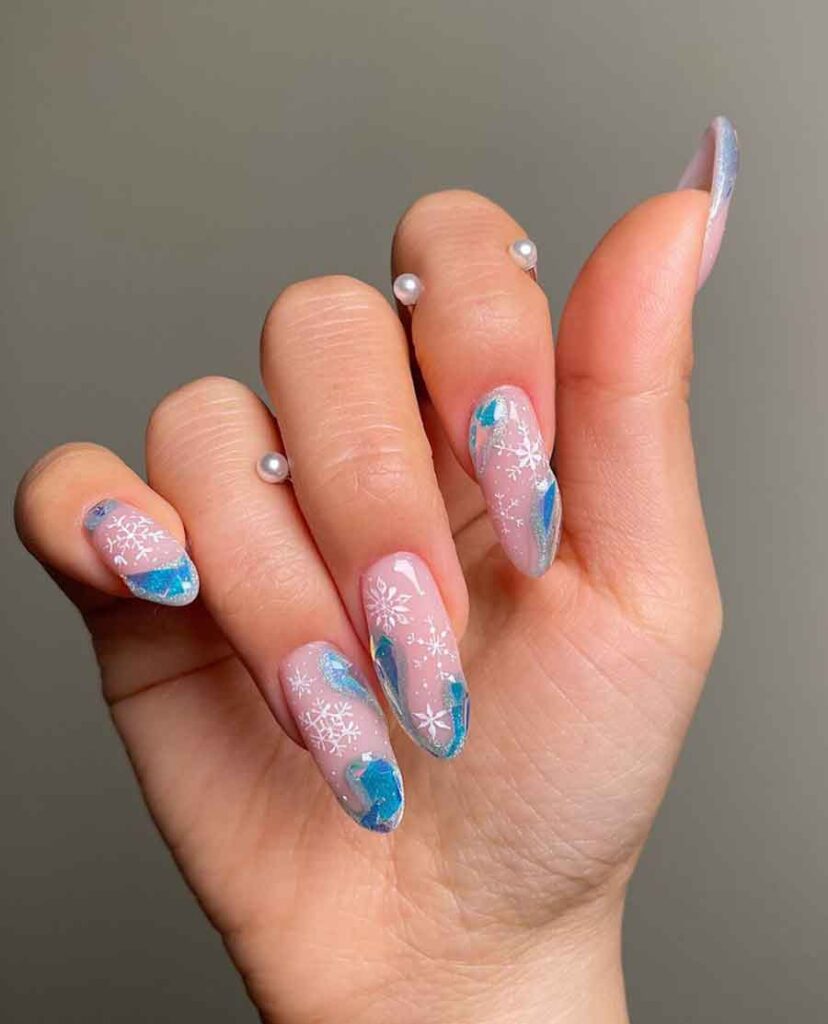 Chrome Snowflakes
Chrome and Golden snowflakes are all about cute and rich energy winter nails.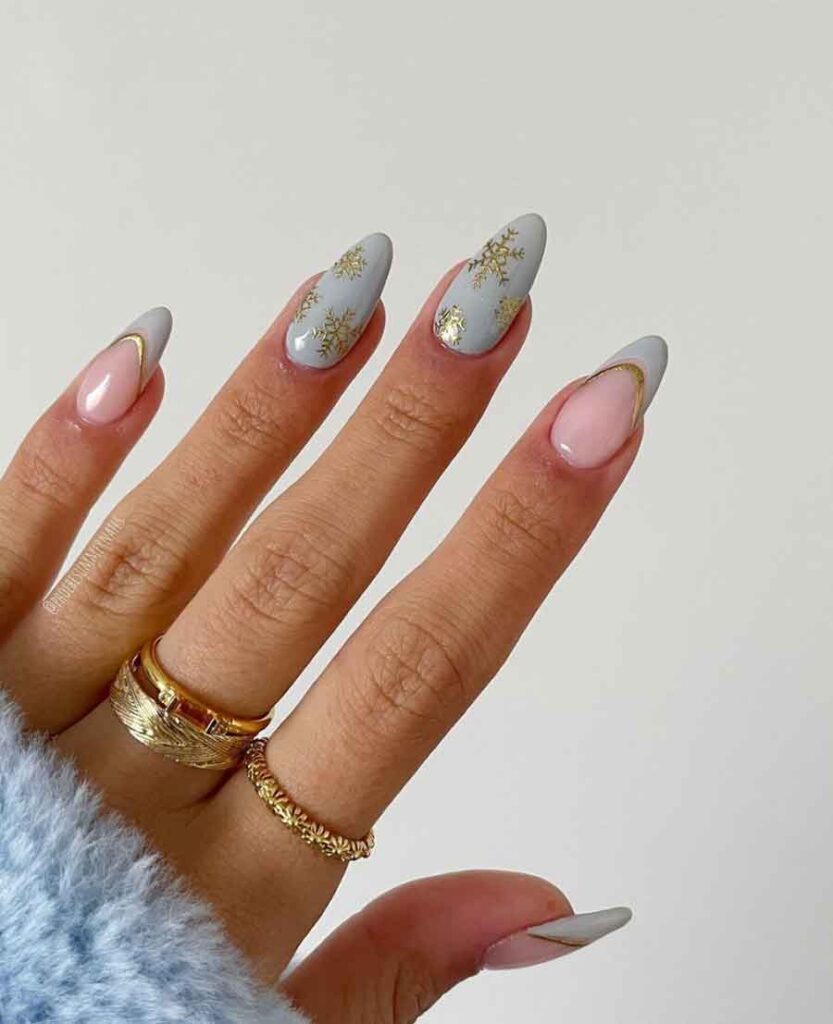 .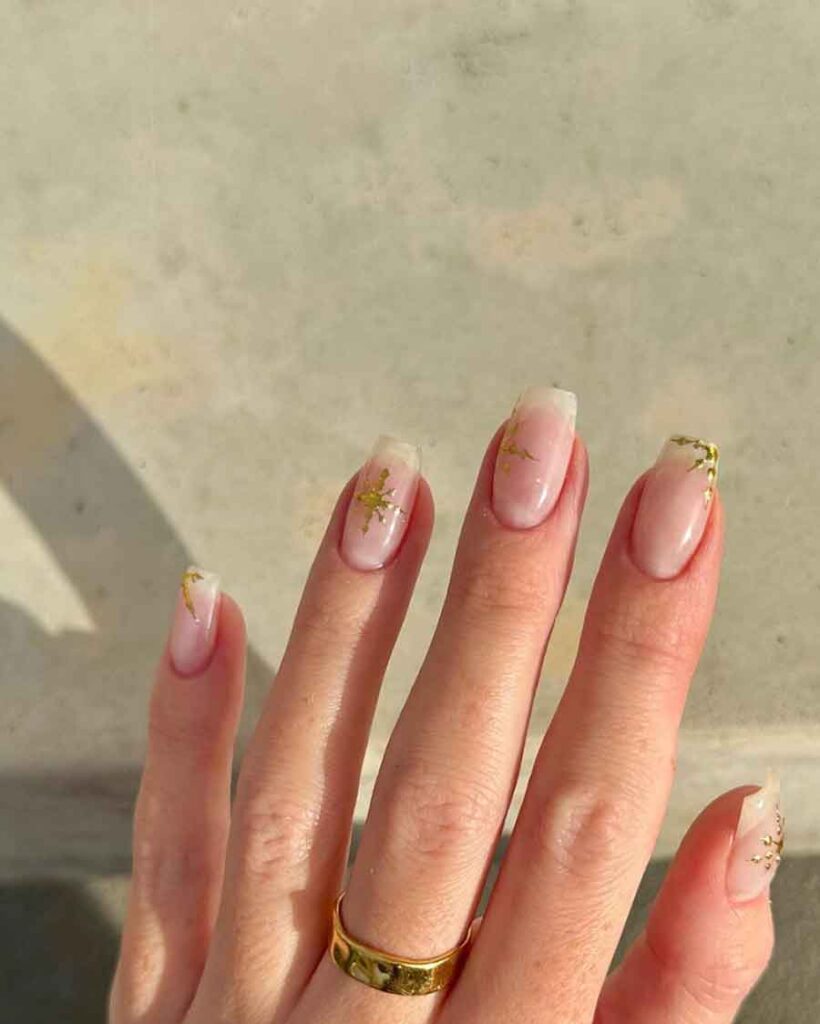 Light blue Snowflakes
Light blue is the most popular winter color. When combined with snowflakes they deliver a classic and pretty result.
.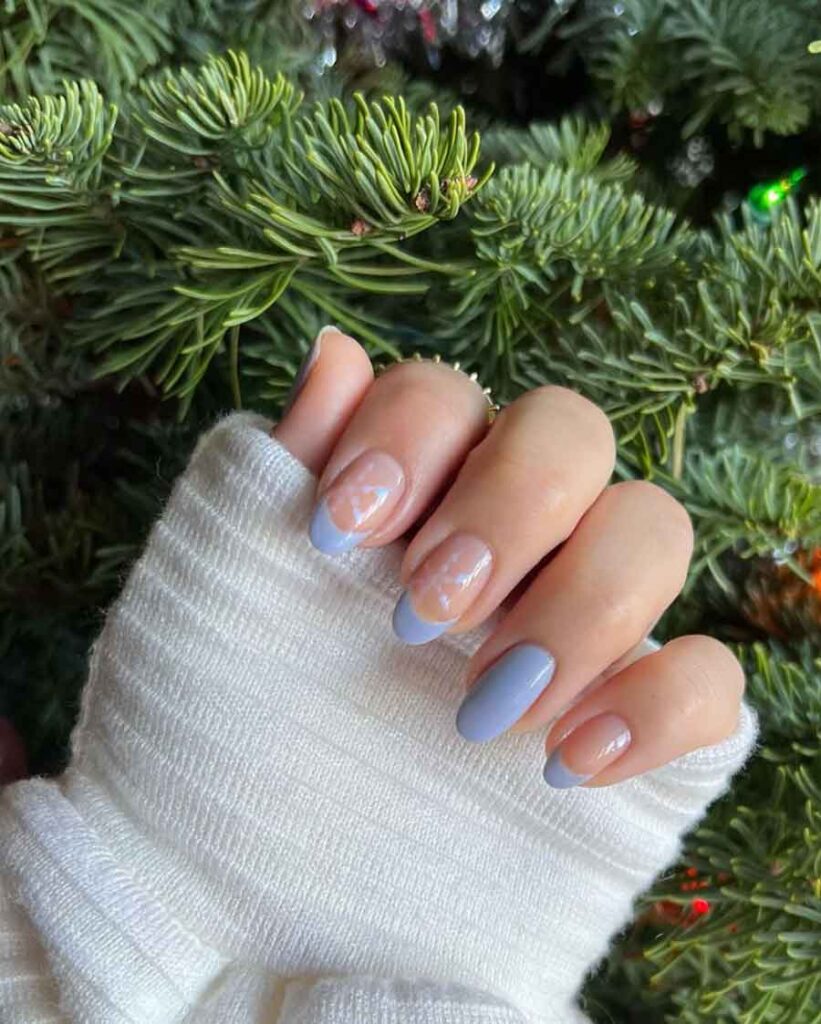 Pastel colors
A classy, and pretty combination of baby pink and baby blue with snowflakes for a super girly winter mani.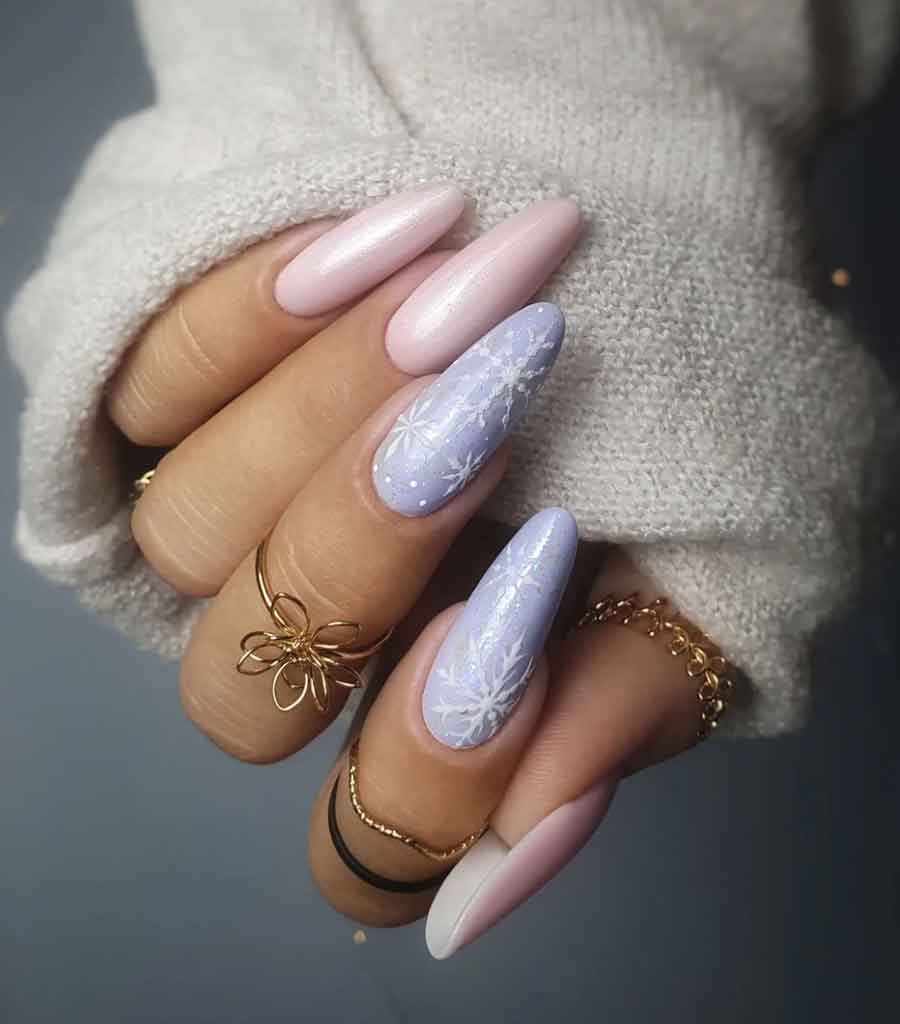 Metallic
Metallic skittles and snowflakes on long nails, an amusing yet whimsical inspo.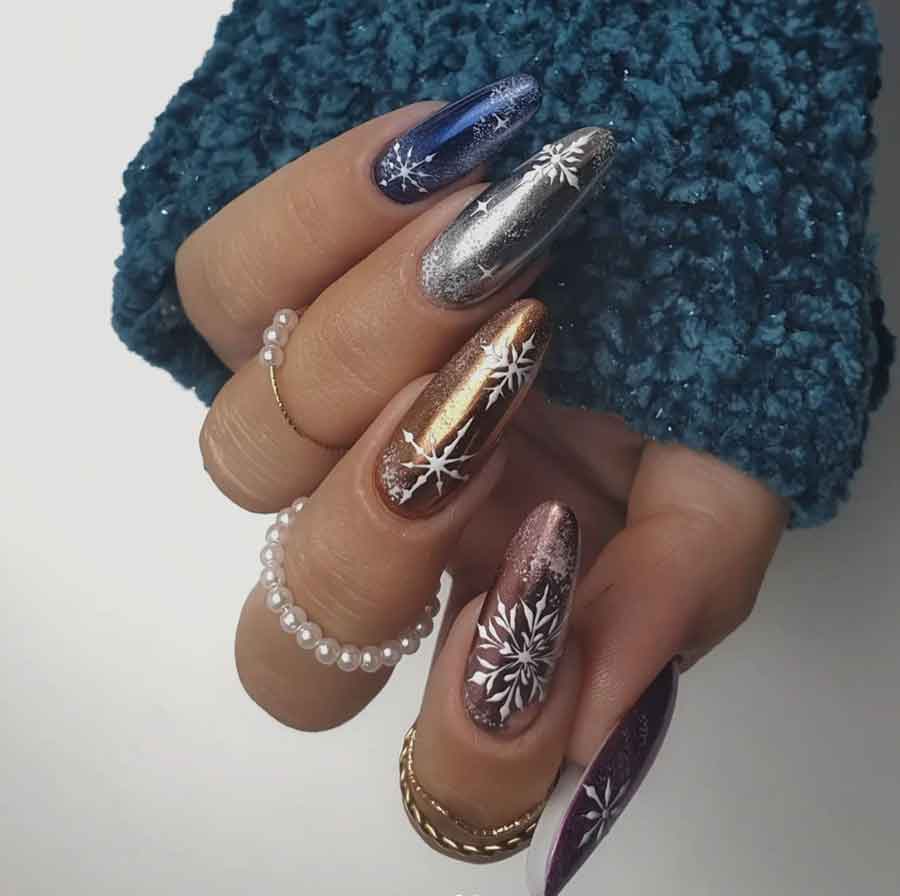 Winter Foliage
If you are sick of snowflakes all over and are looking for something more authentic, the whimsical winter foliage and snowfall nail art is a great inspo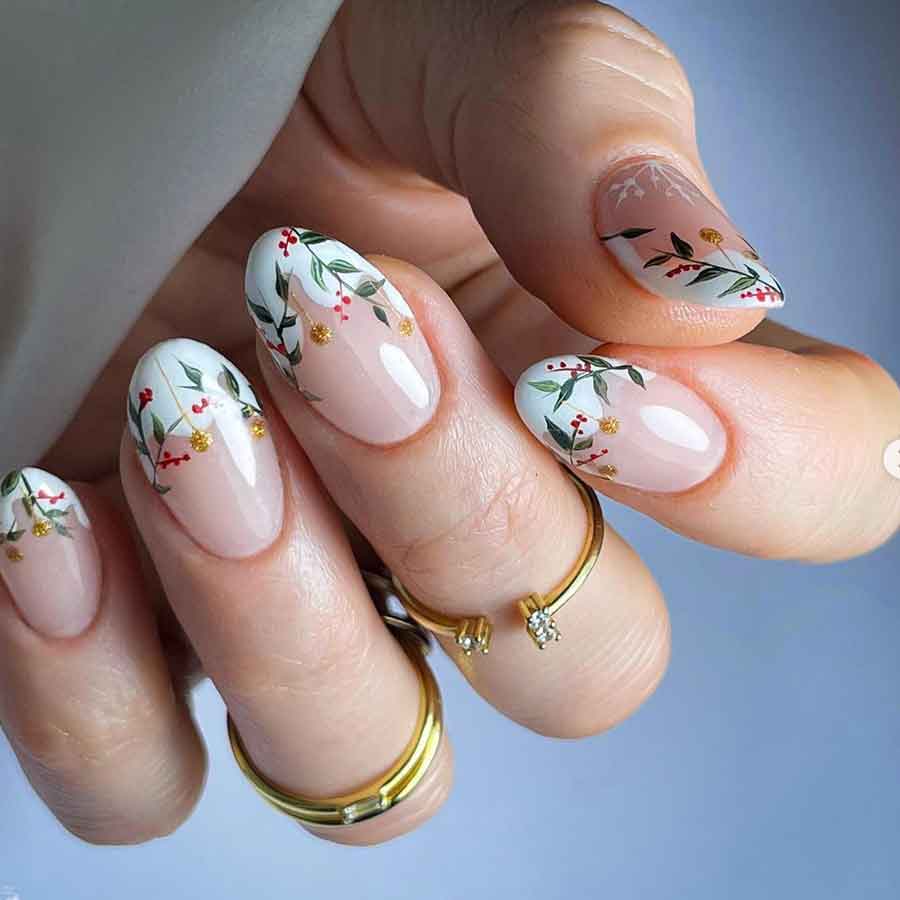 .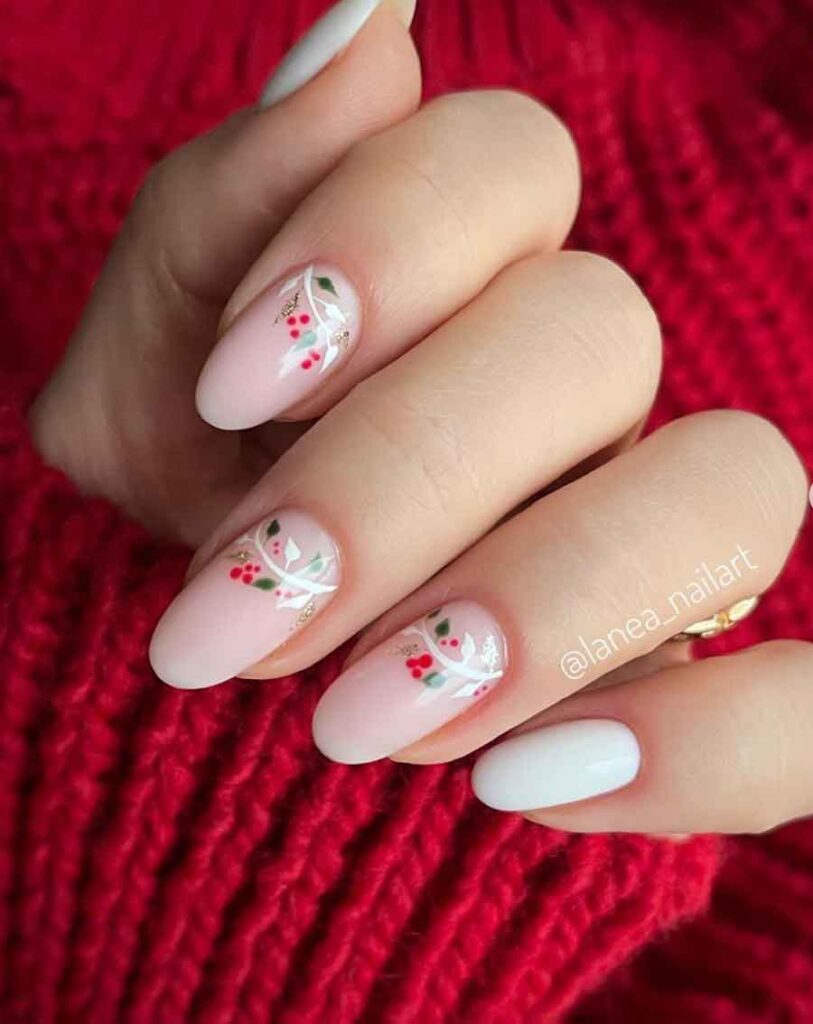 Snow Nails
Who said winter and snow must be all about snowflakes? There are many other creative manners to represent fluffy frosty glittery chili snow.
Snowballs
Little pearls, glitter, and winter colors create these fun and glam snowy sky effects.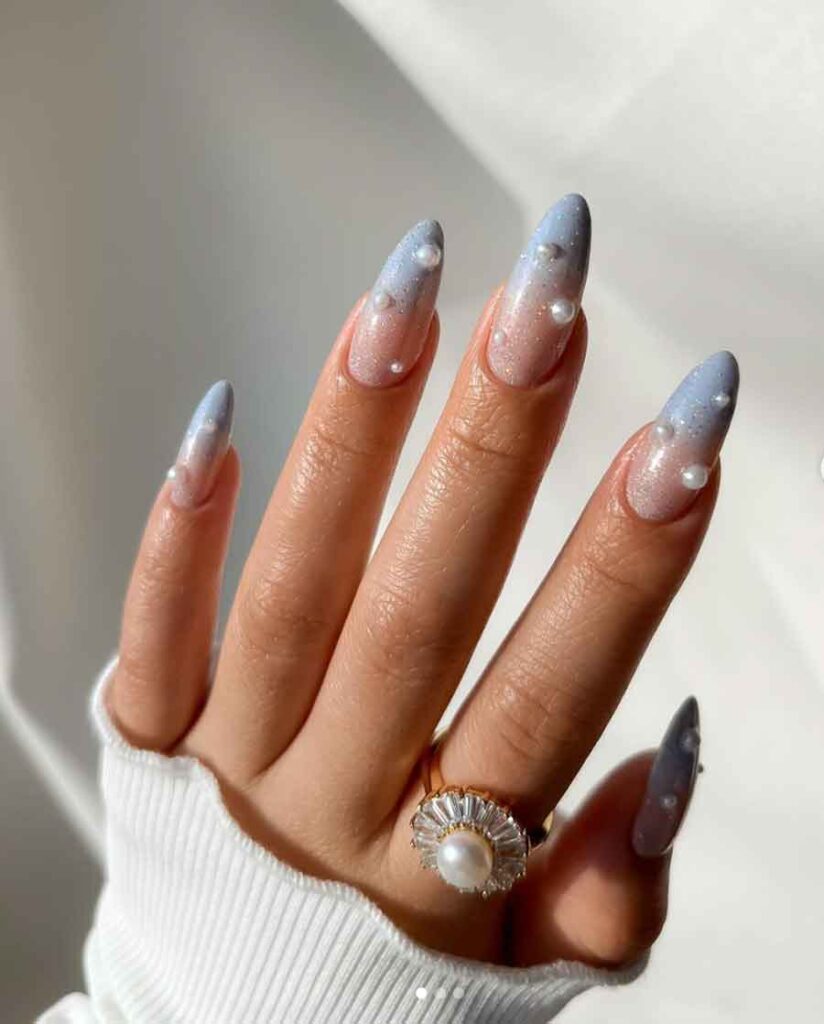 .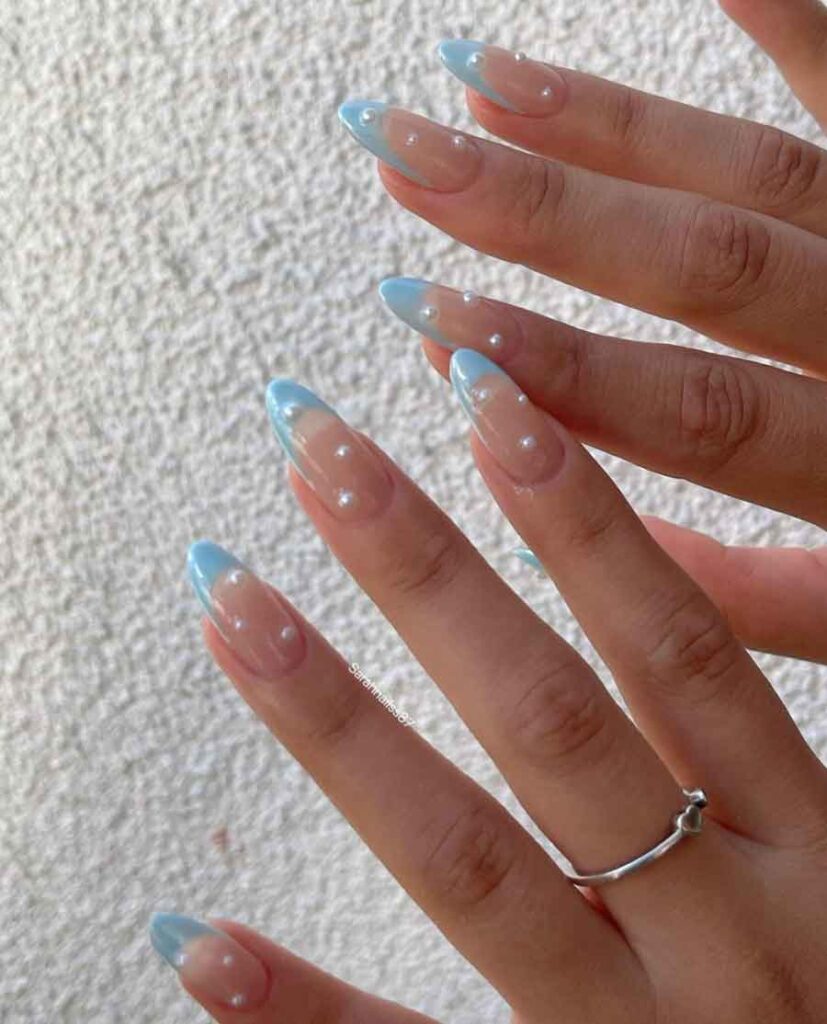 A graphic representation of tiny Snowballs is also fun.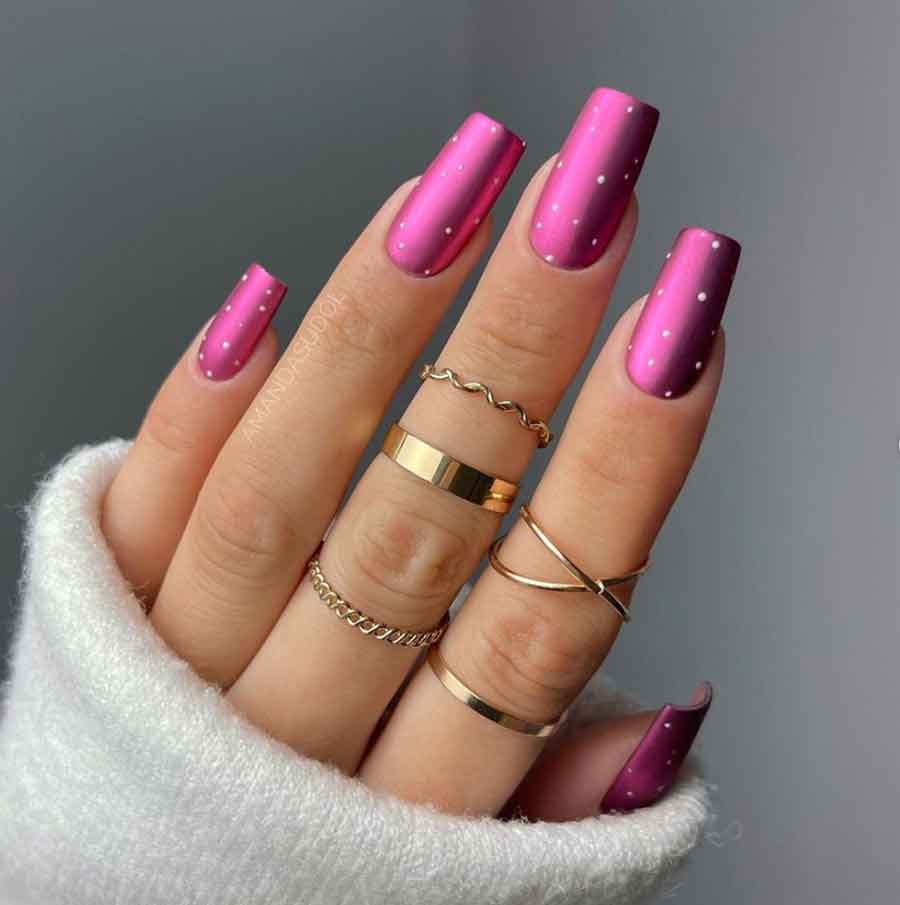 Twinkle Stars Nails
Mix the winter nail colors with winter elements for even more thematic and festive nails. Snowflakes are the obvious option, but twinkly stars are also a super wintery nail art alternative.
Dark Green and Blue with golden stars
Enchanting wintery night sophistication.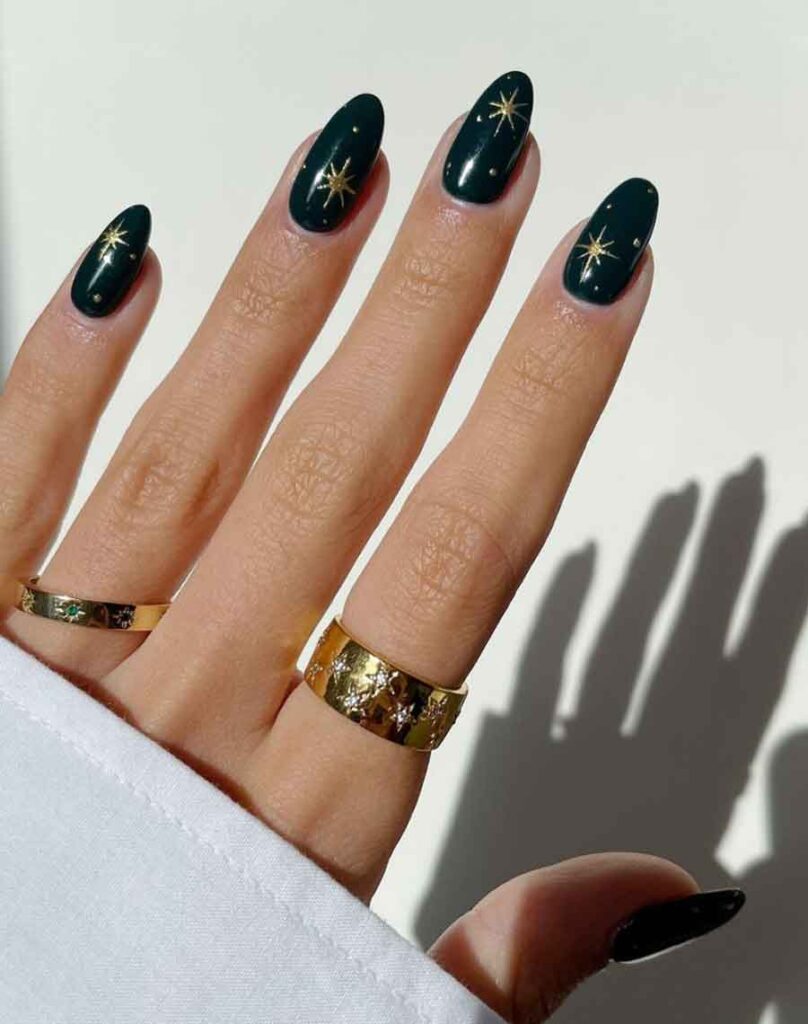 .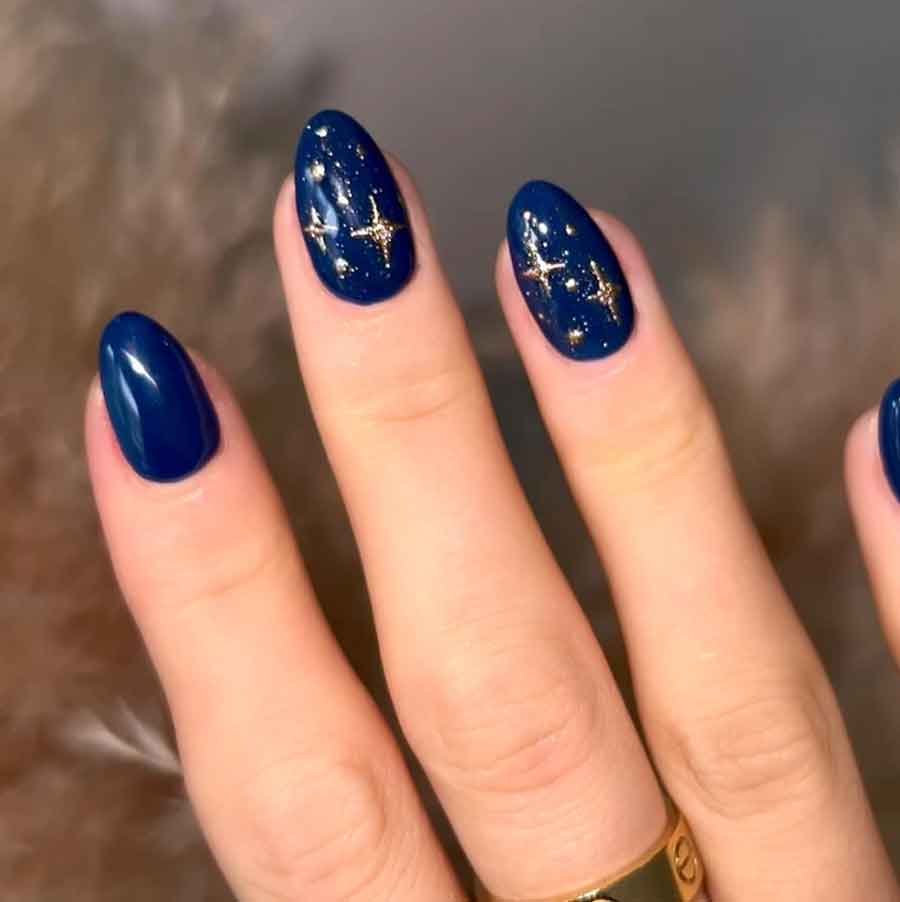 Classic Star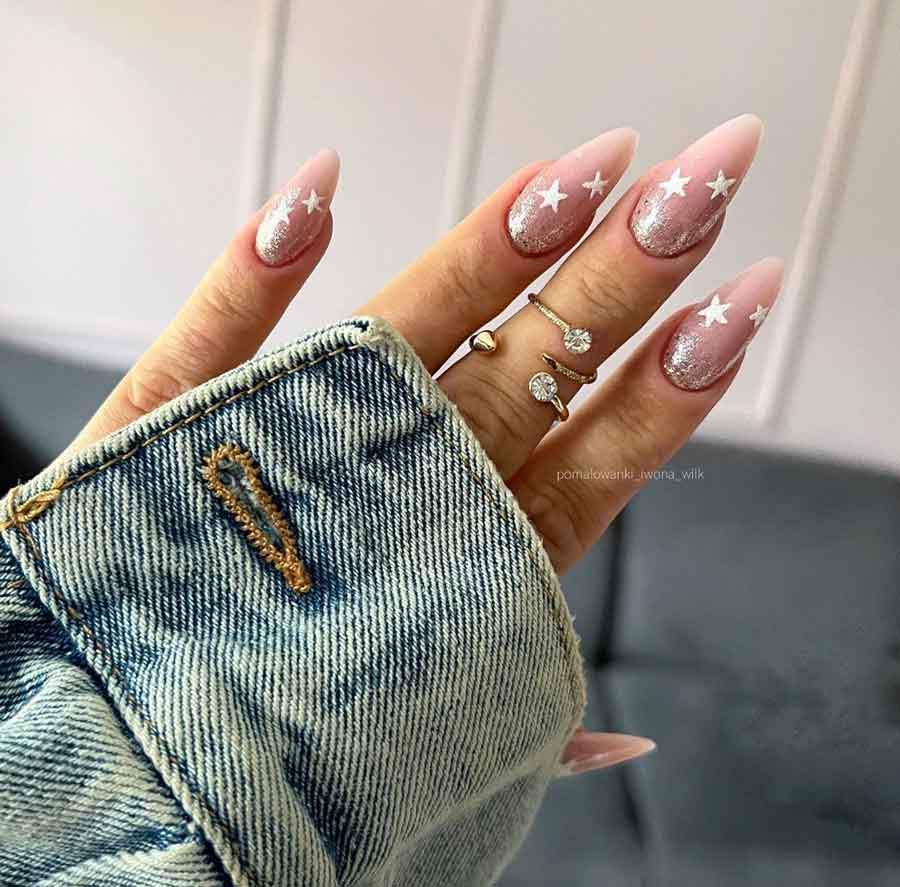 Holographic nail effects and stars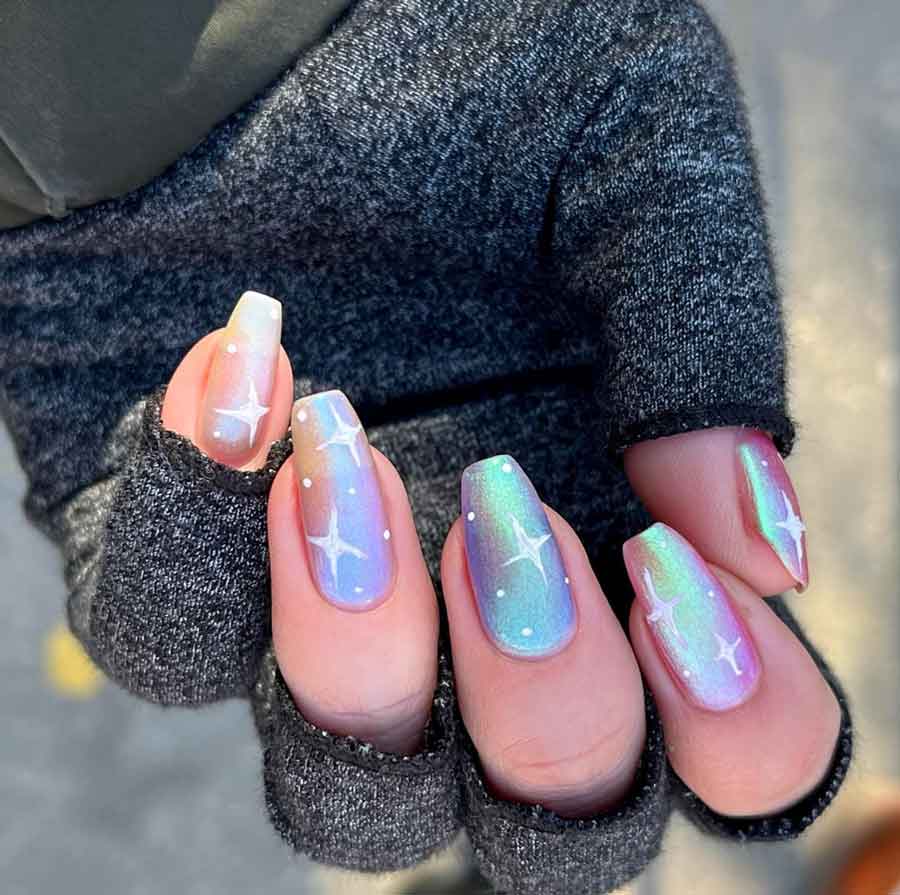 Silver & Gold Winter Wonderland Nails
Winter Wonderland is the ultimate expression of the whimsical winter magic, this is why glittery snowy silvery and gold are such a wonderful representation of this nail art aesthetic
Gold is a color mostly related to triumph and wealth, while silver is also associated with wealth but also with modernity and sophistication. They are both festive and elegant metallic colors that match wonderfully with the winter mood.
The winter nature with snowdrops and gold below is also an authentic option for winter wonderland nails.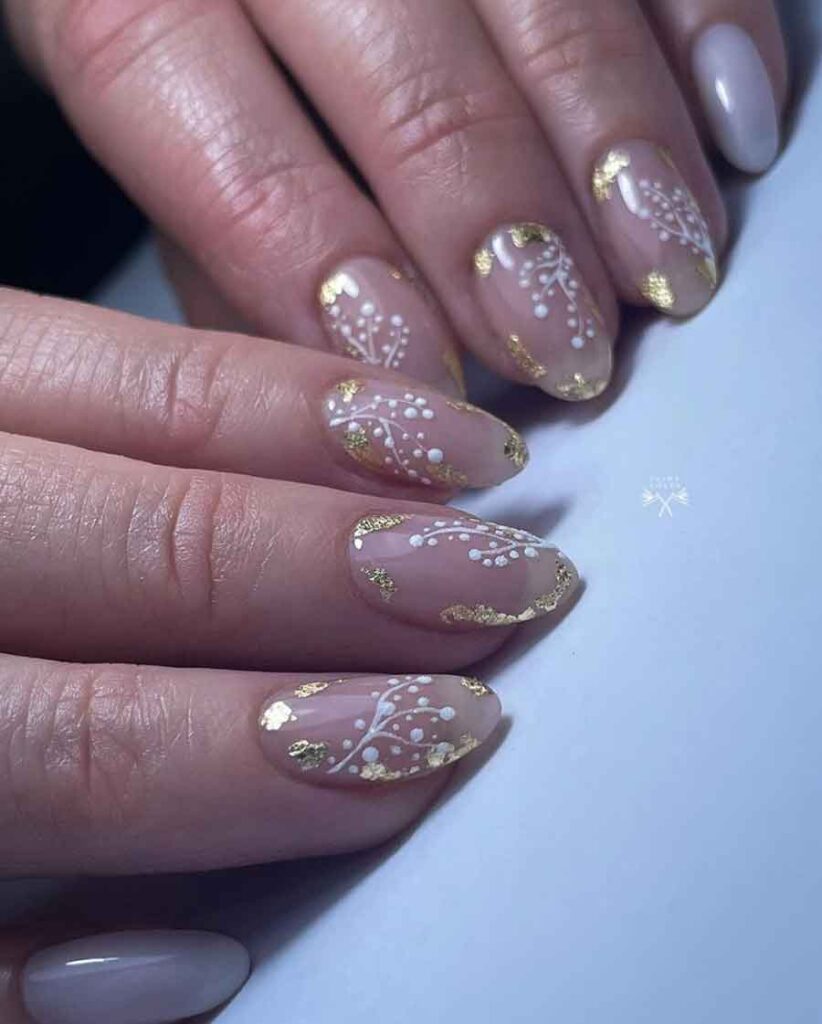 Winter wonderland Sparkles & Gems
A real enchanted realm winter vibe is what one gets mixing ombre, snowflakes, gems, glitter, silver, white, and gold.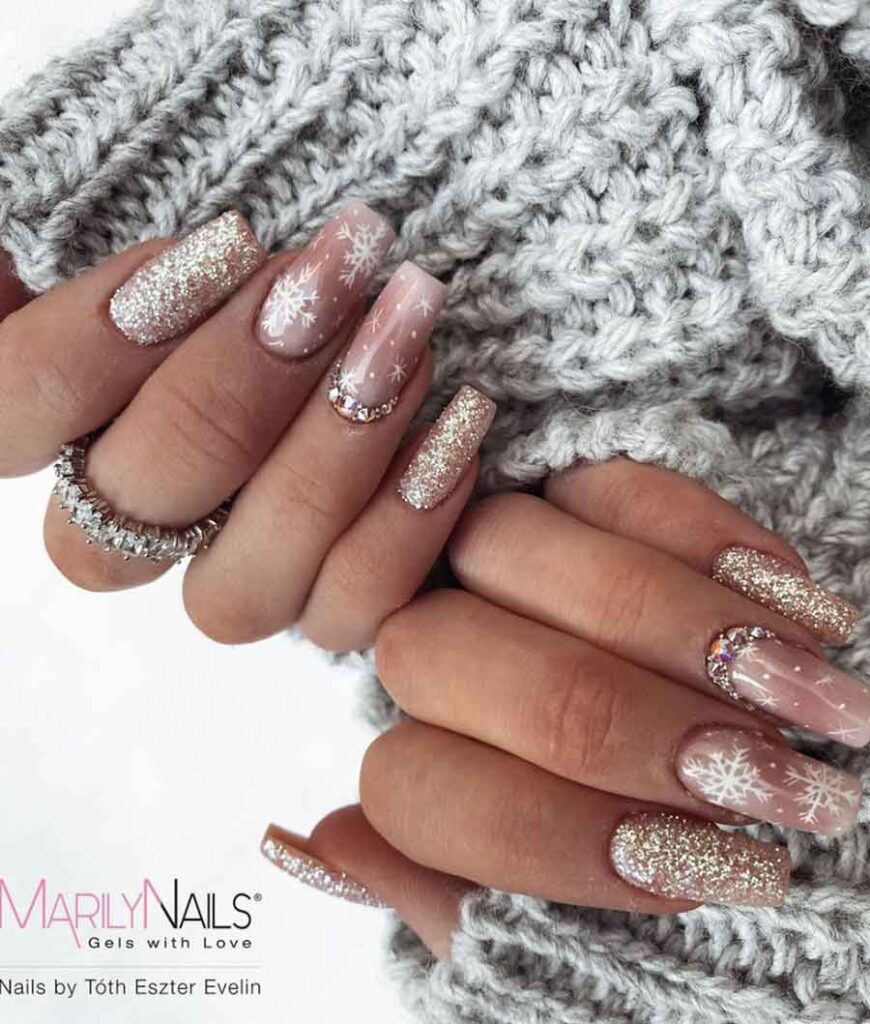 .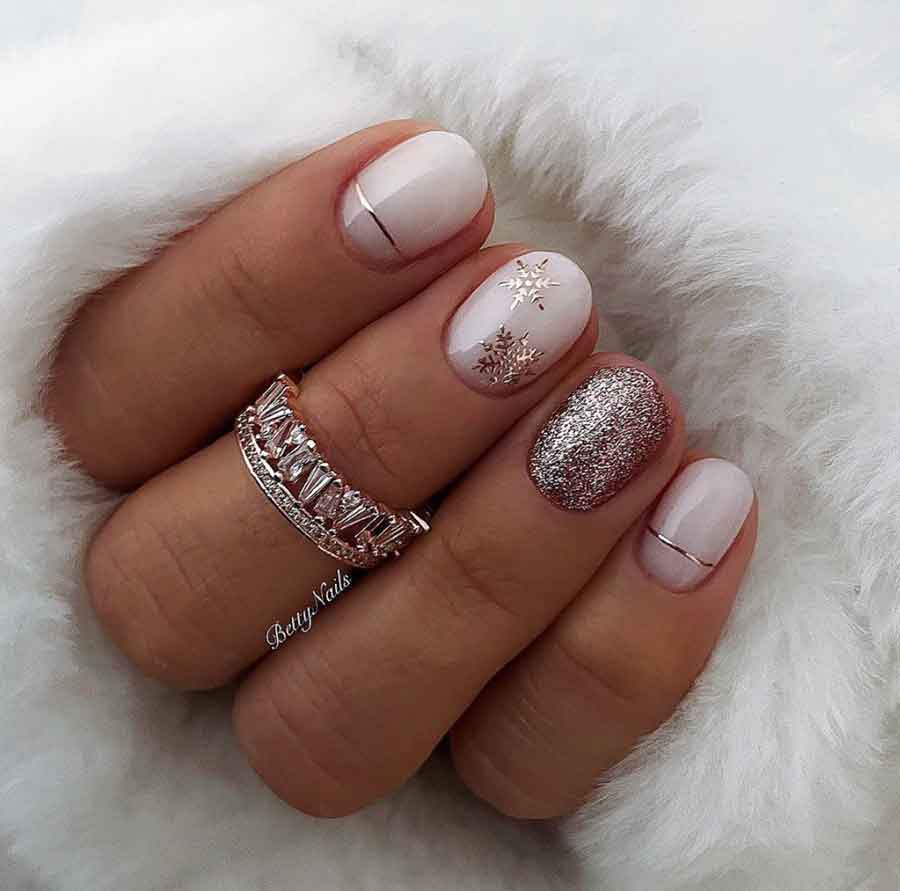 Metalic/glittery silver and Gold winter nails
Glittery silver and gold give me 100 percent snow queen vibes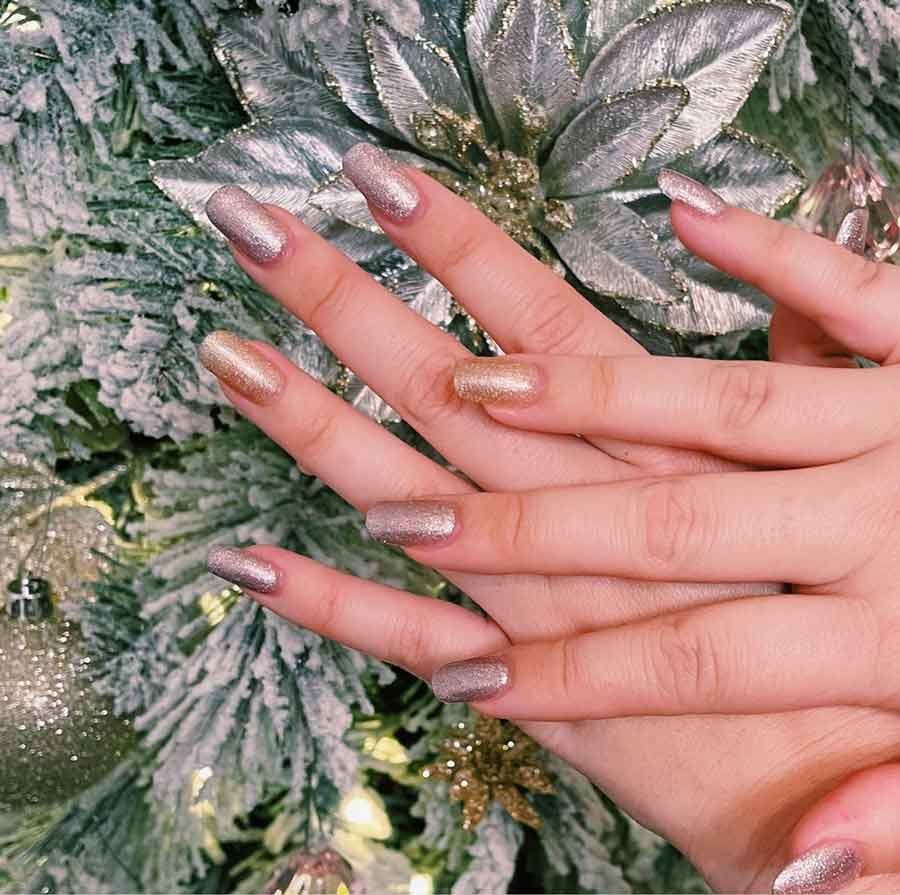 Glittery Gold
Go full Glitter gold or rose Gold for the ultimate winter wonderland nail.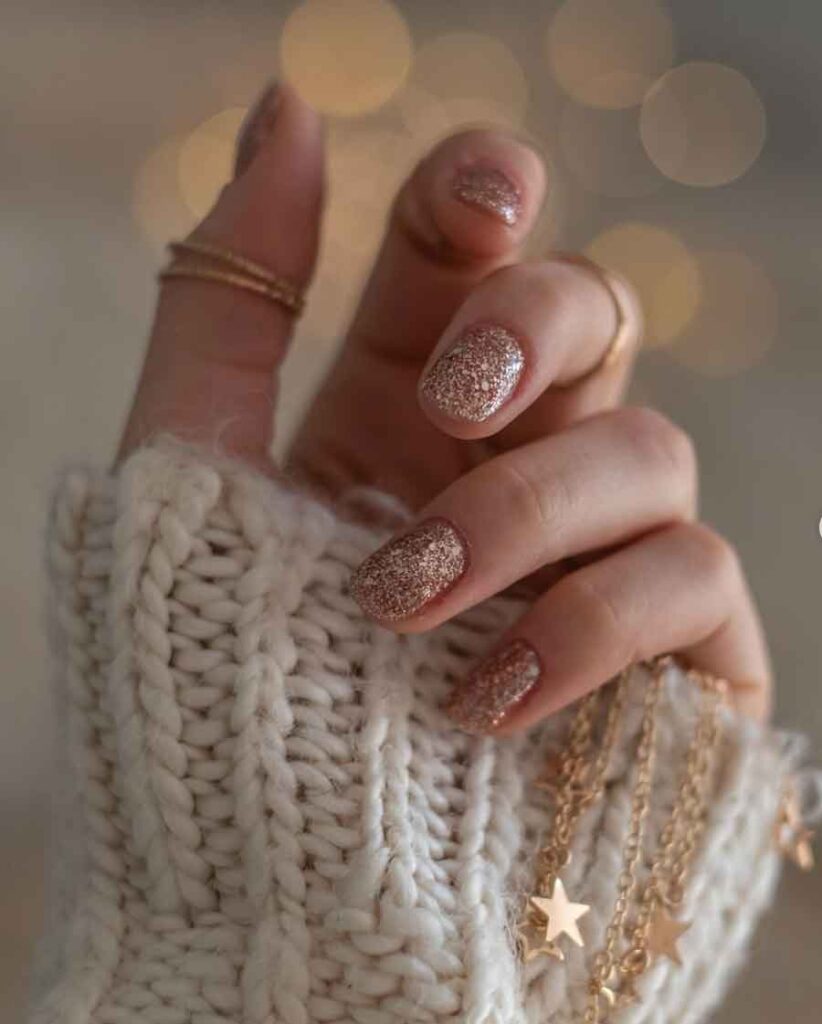 .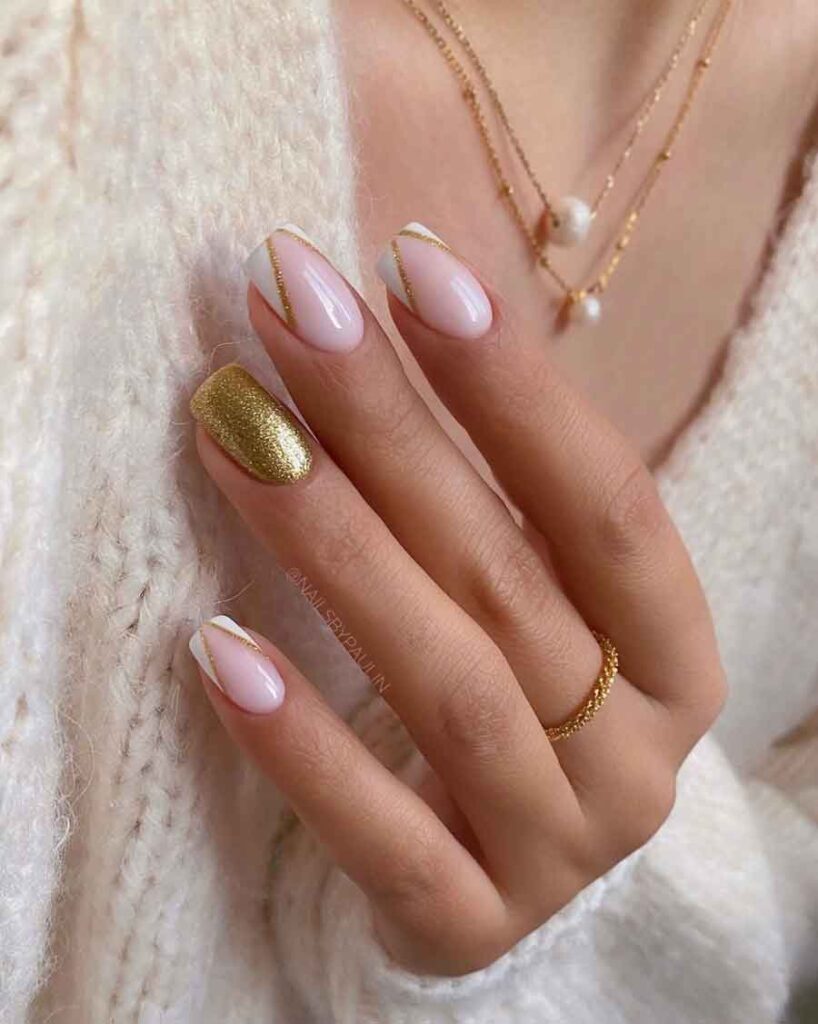 .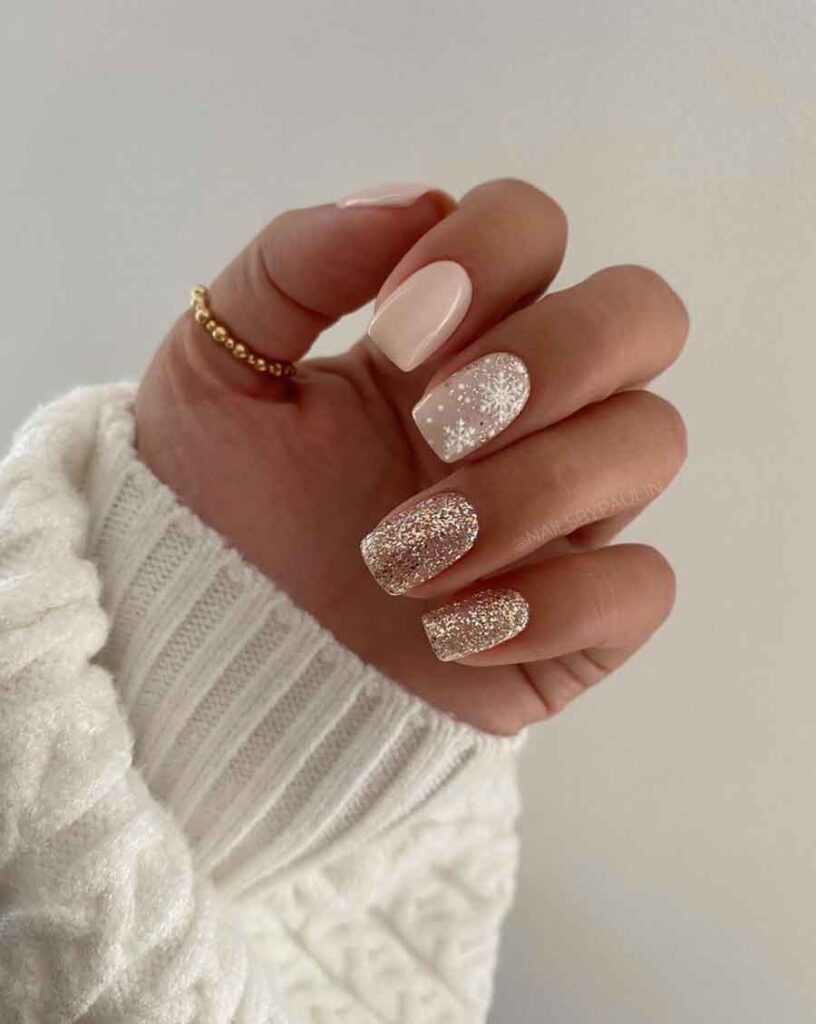 Glittery Silver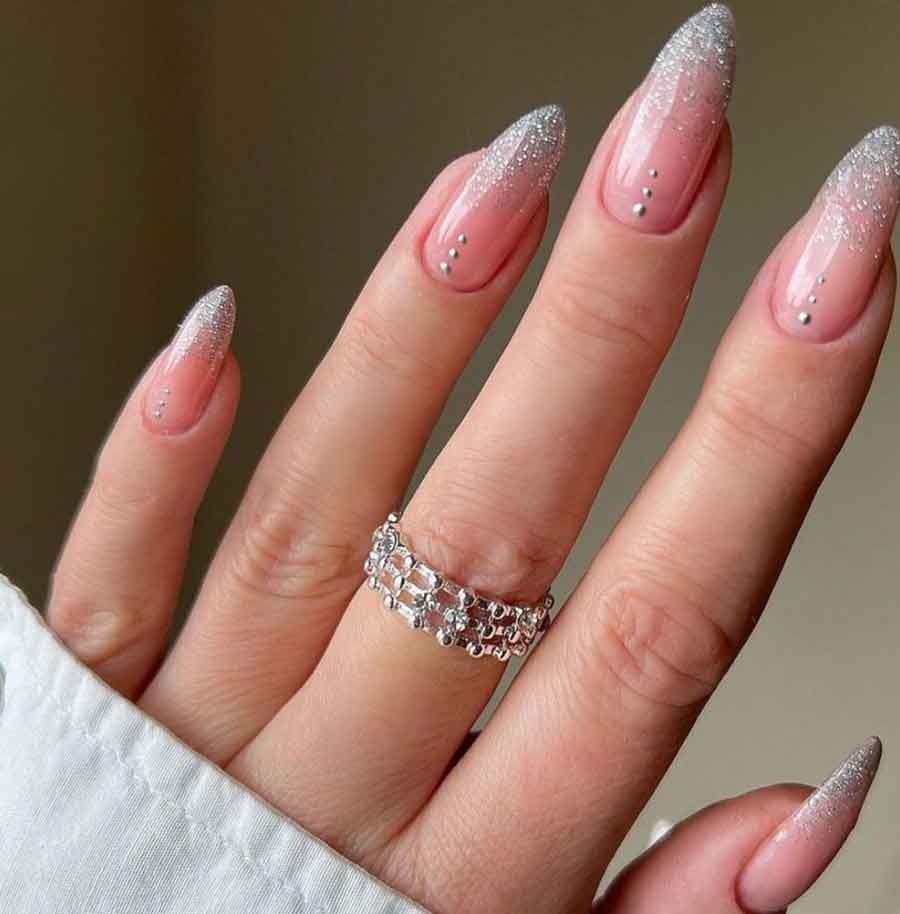 Gold and silver nail art
Lines and swirls in silver and gold on winter nail colors.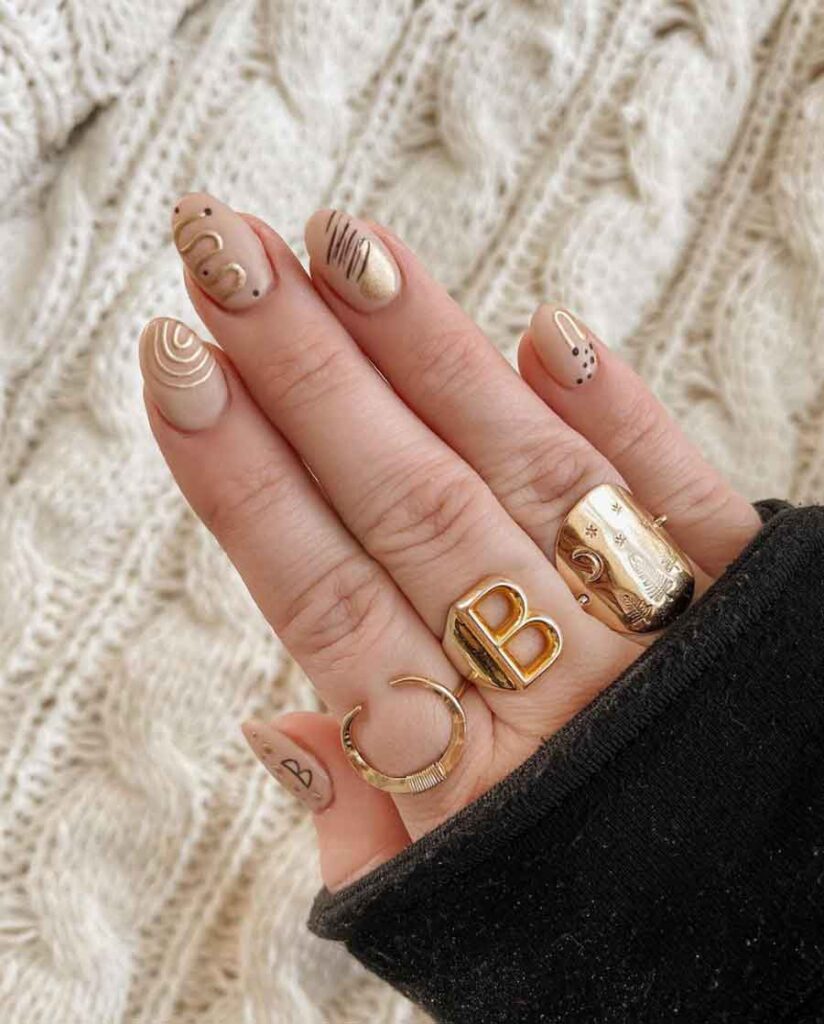 .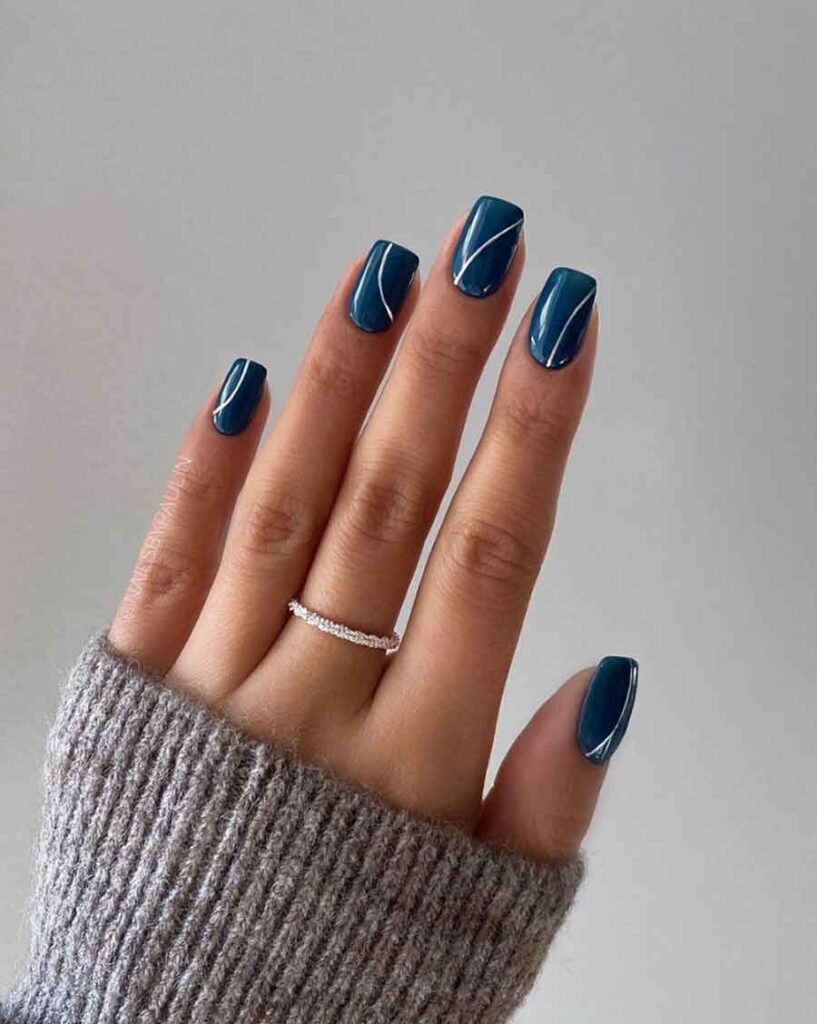 Minimalist silver and gold winter nails
To shimmer and shine in a winter night cocktail or in the new year, these simple and chic options of silver and gold details over white and nude nails are the most suitable option.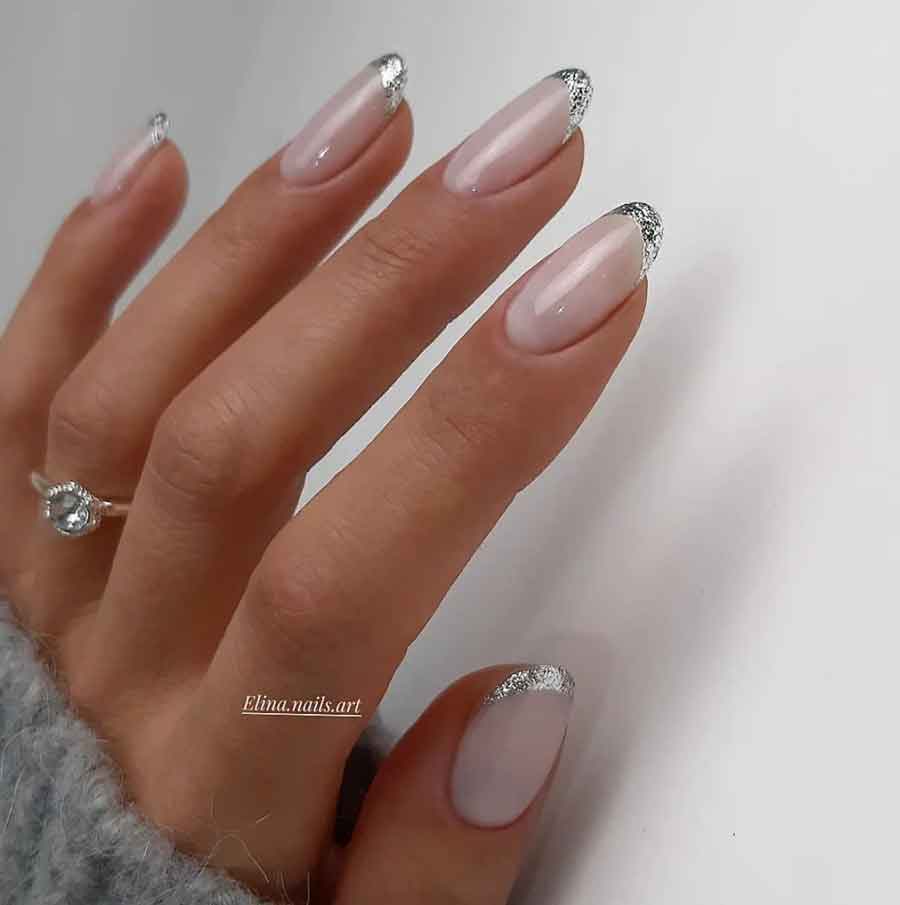 .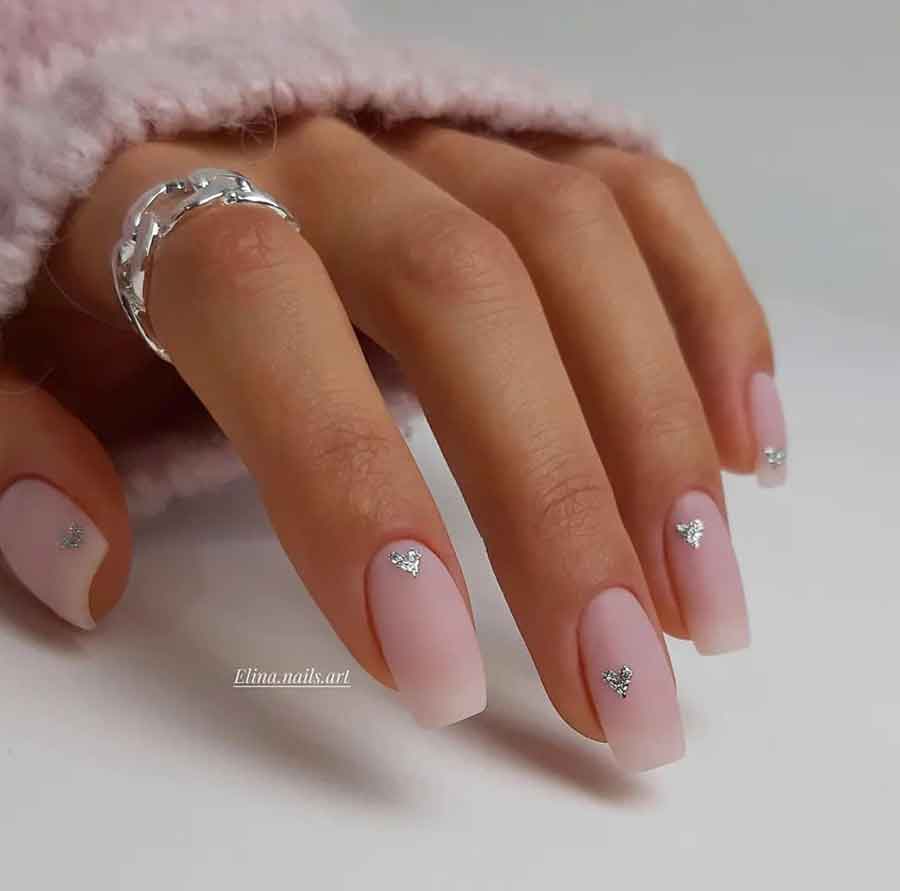 .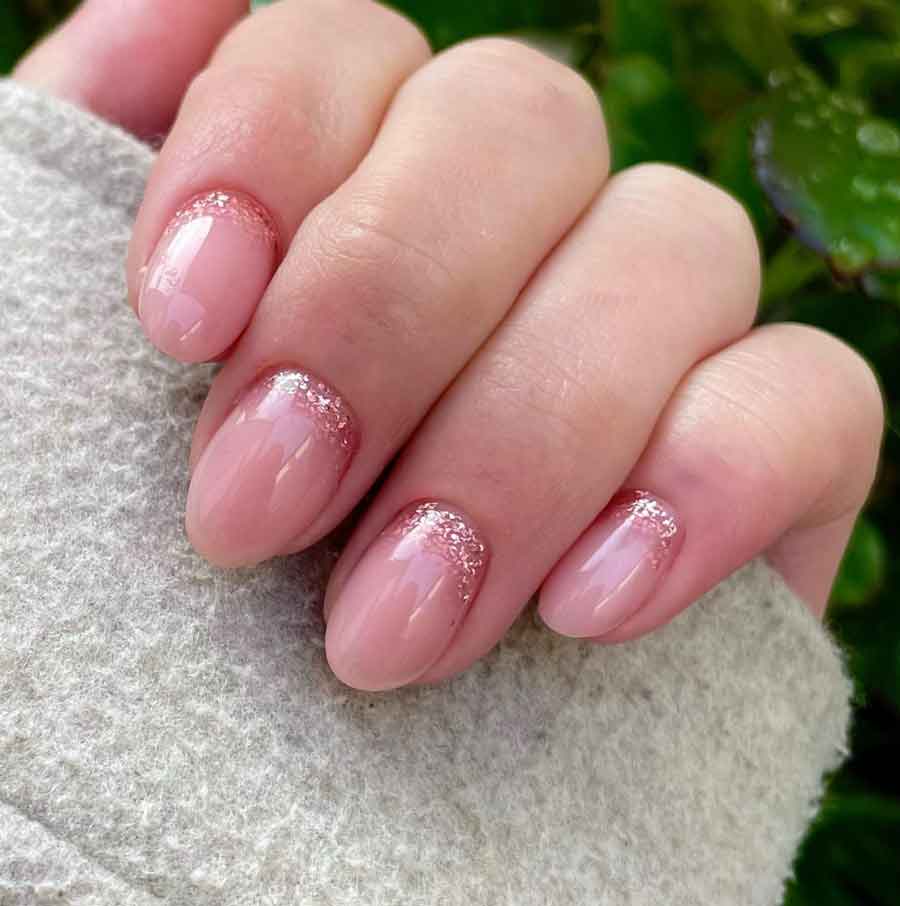 .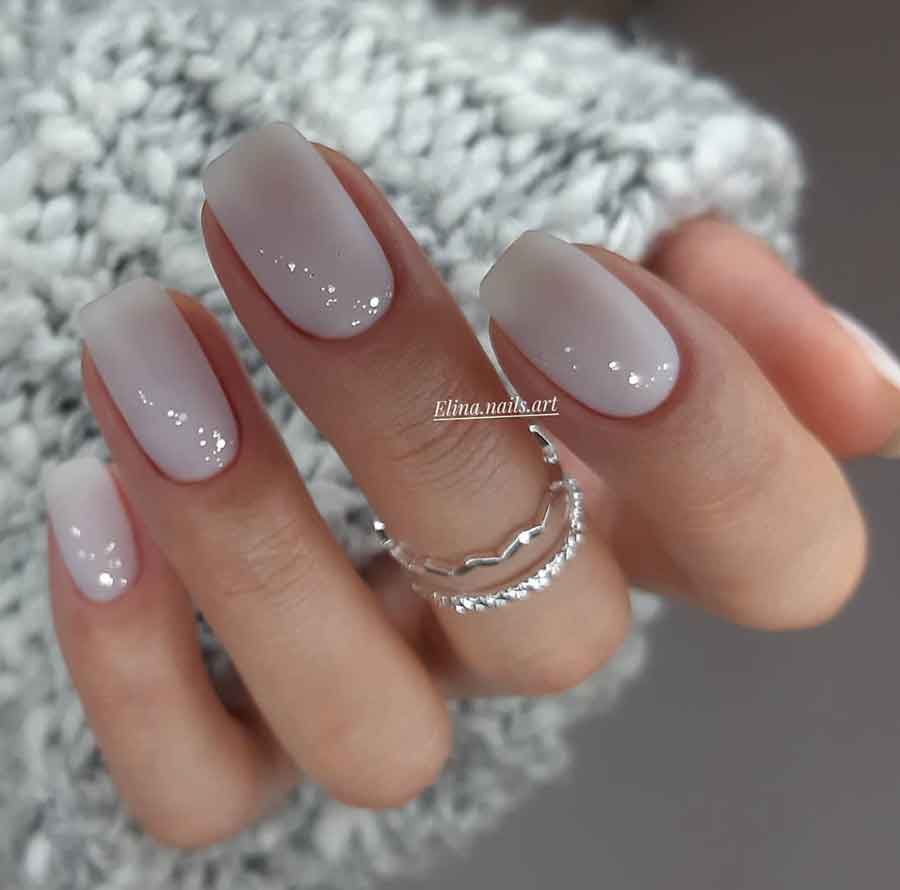 .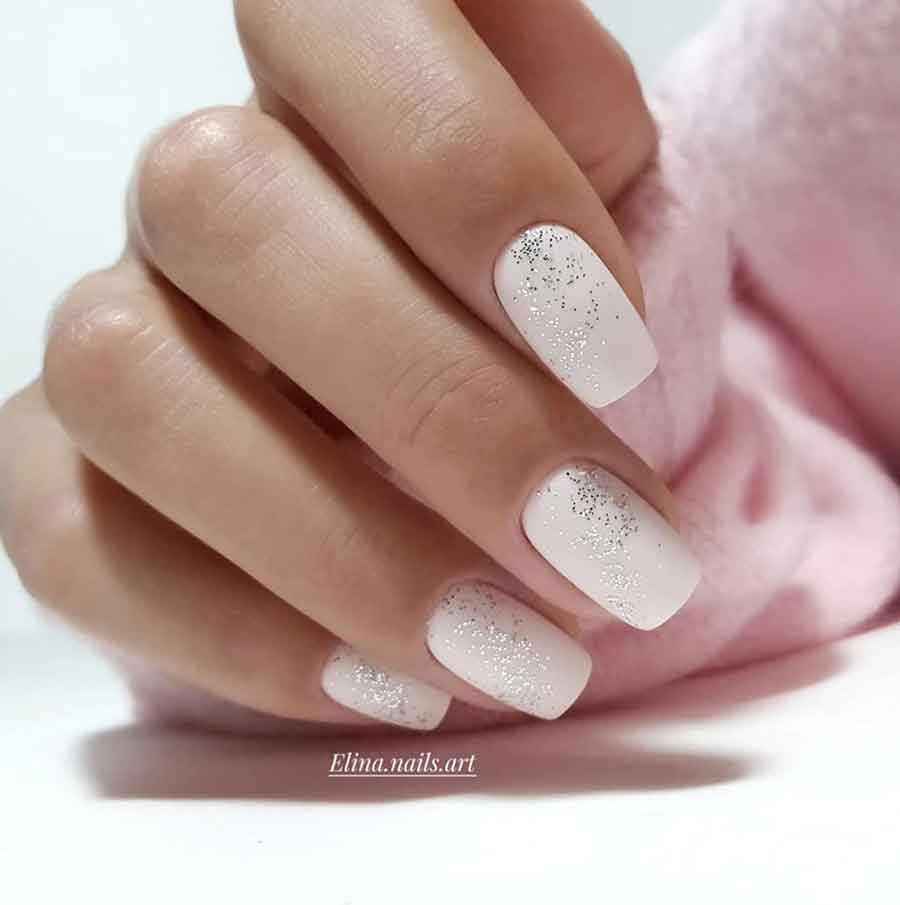 .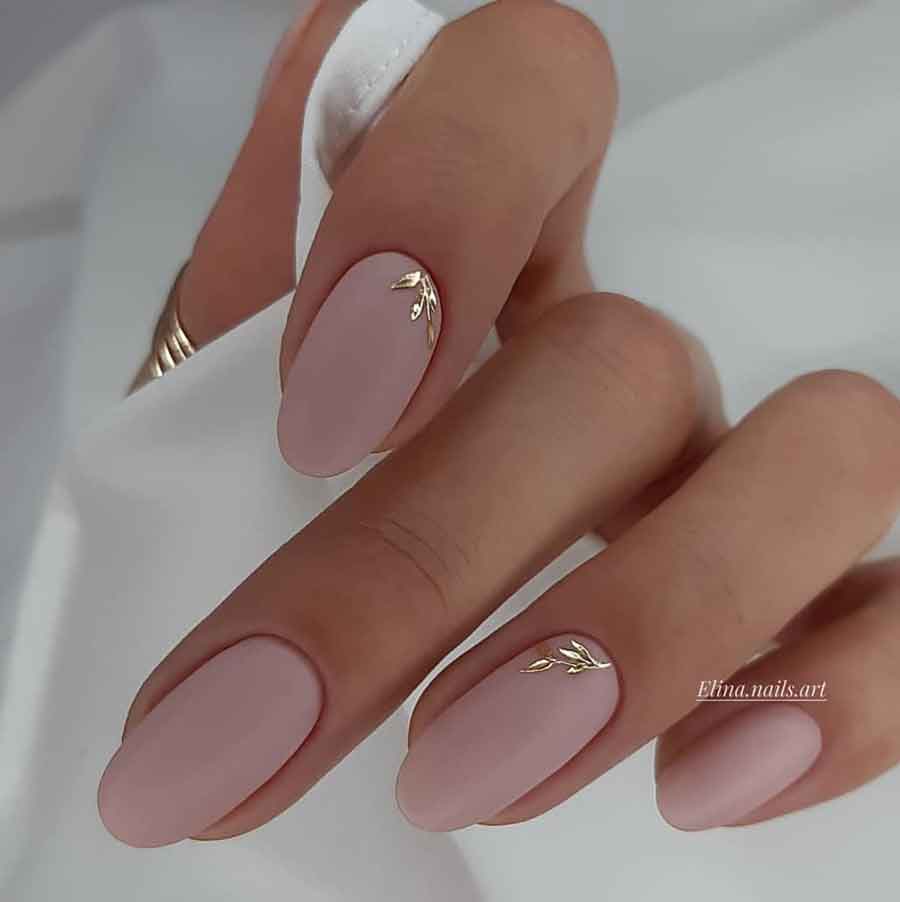 .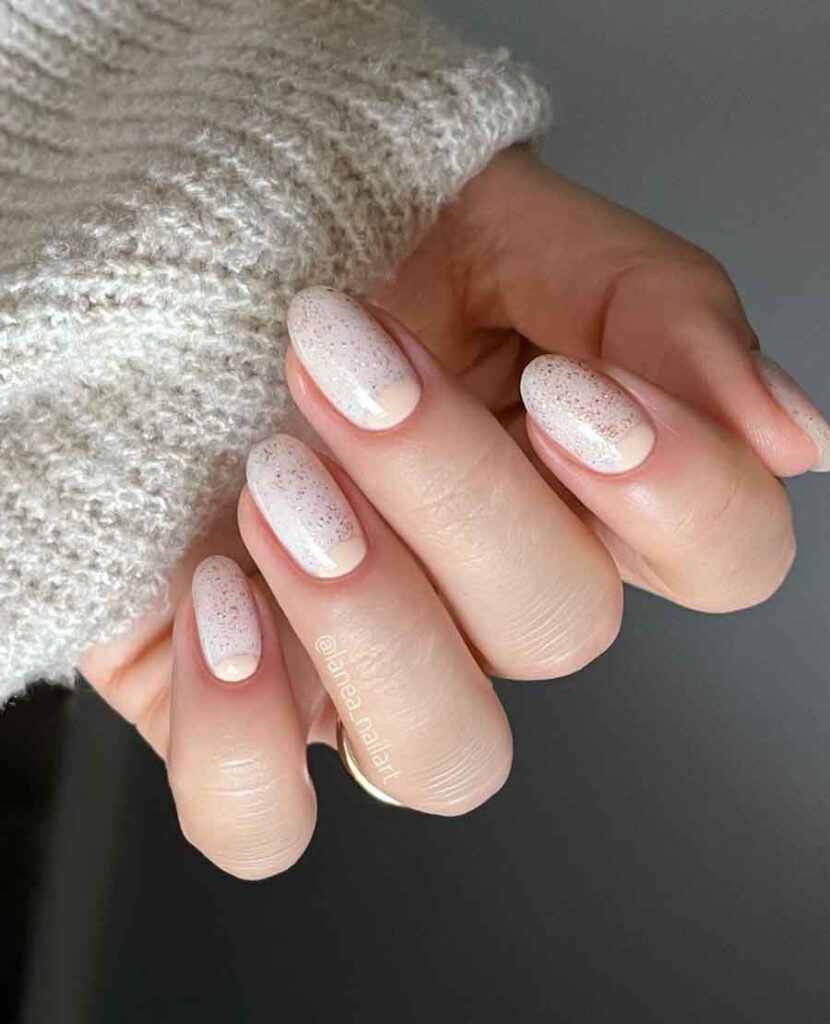 .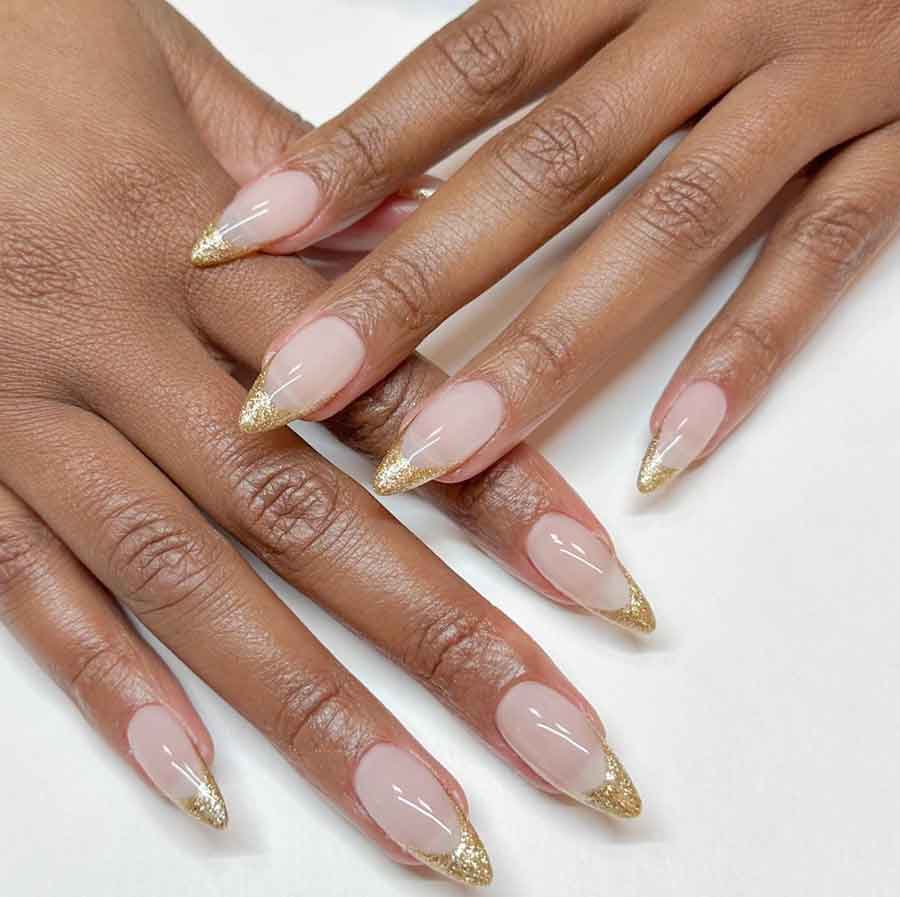 .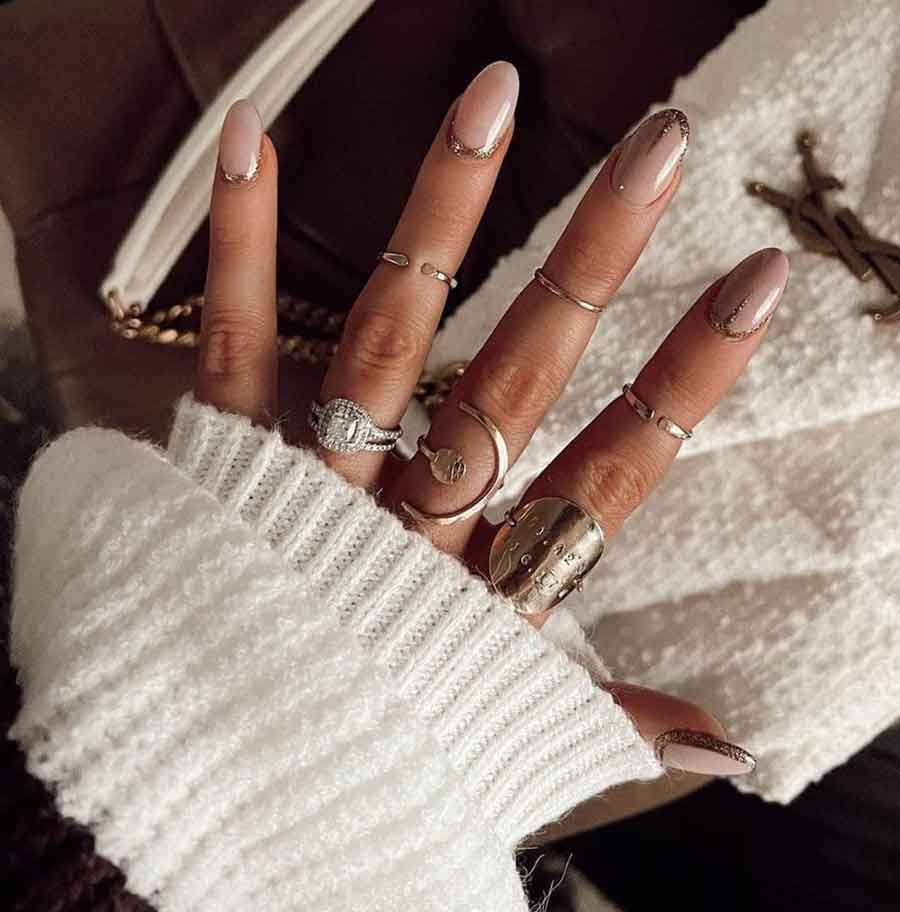 Ombre Winter Nails
Glittery long ombre is another level,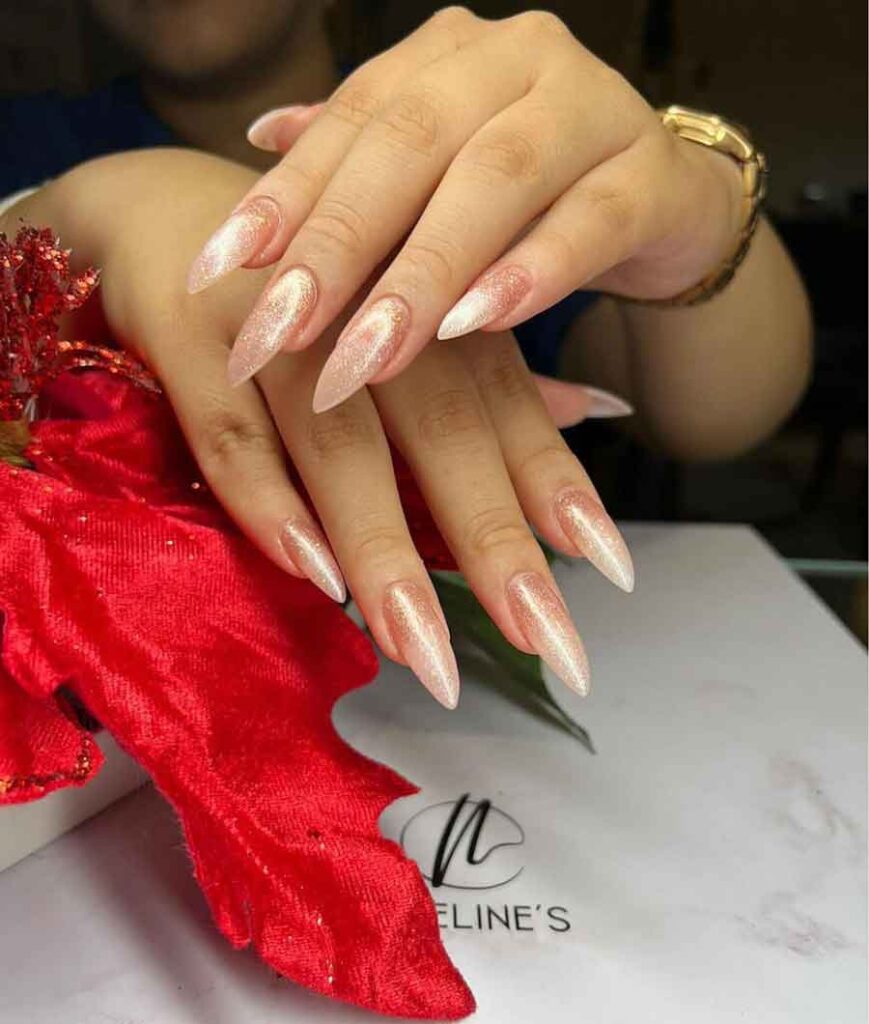 white and nude ombre with festive glitter and sweater effect that also evokes a snowy enchanting vibe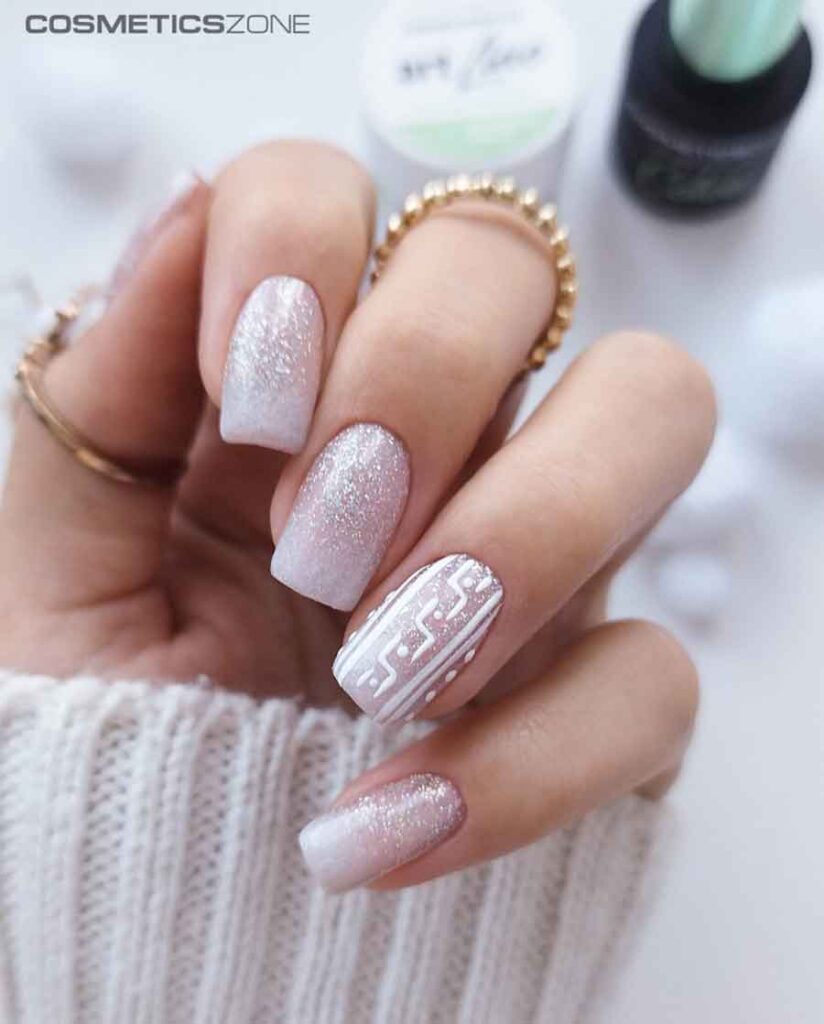 I love this white ombre with a gold foil mixture.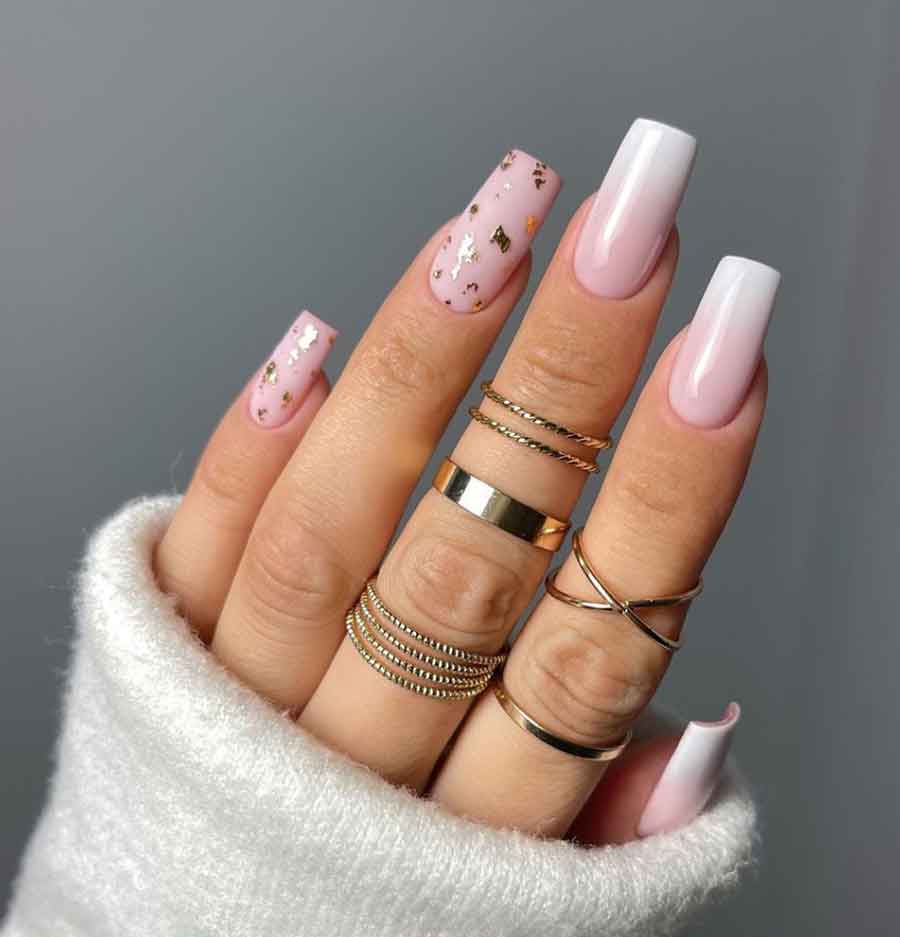 Transitory Holiday Winter Nails
If you love winter but are still too attached to fall, why not mix things up?
Unique Aesthetic Winter Nails
I found some absolutely gorgeous pieces of art painted on nails when I create this post and had to share them.
The Van Gogh-inspired nail design below evoked winter vibes in me.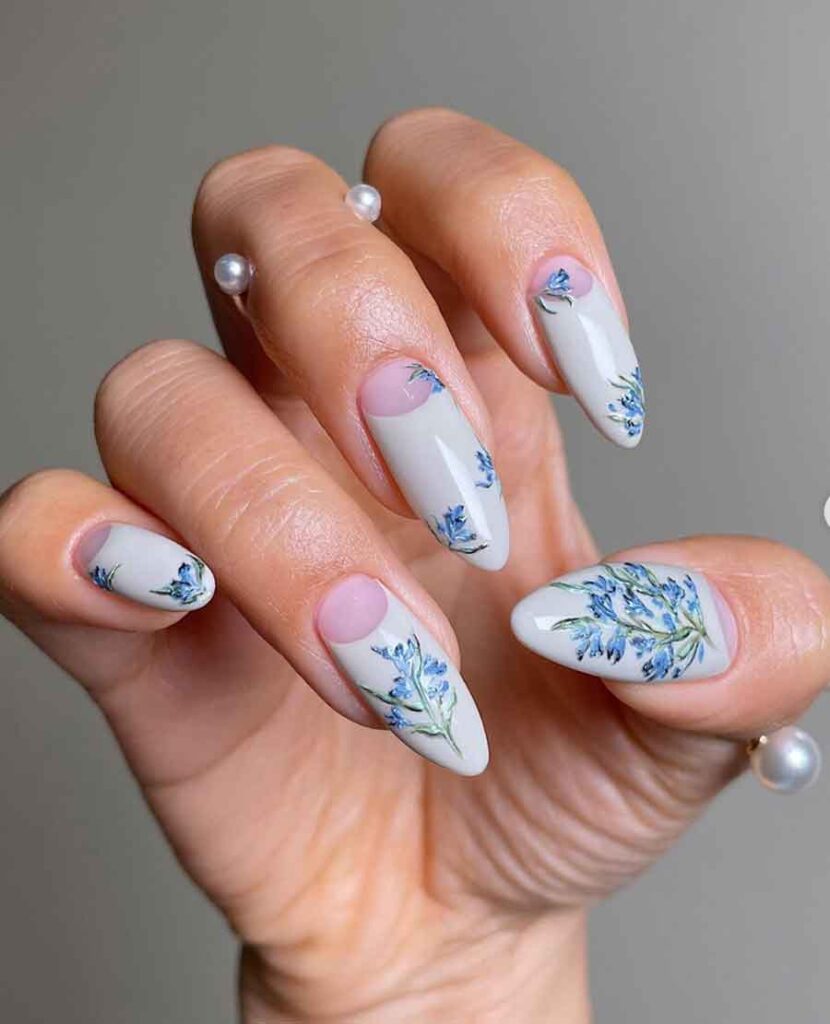 These extravagant swirls and gems art is a super luxurious winter nail alternative.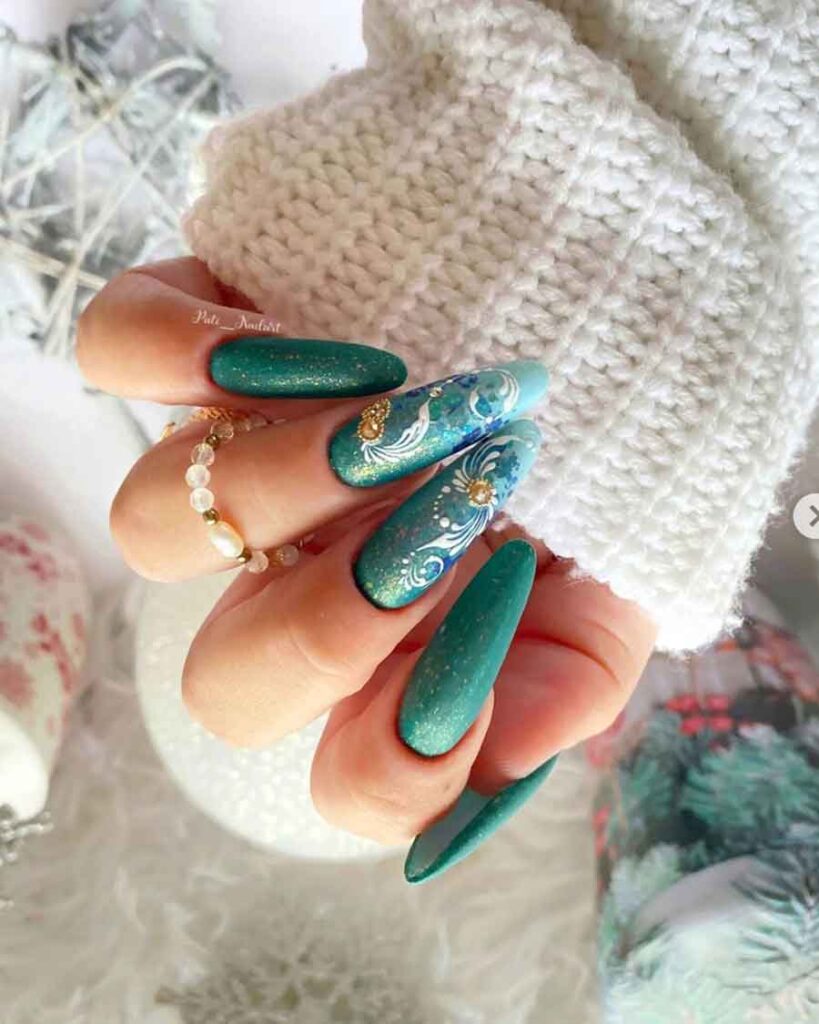 My favorite is this lovely Scandinavian winter-inspired mani.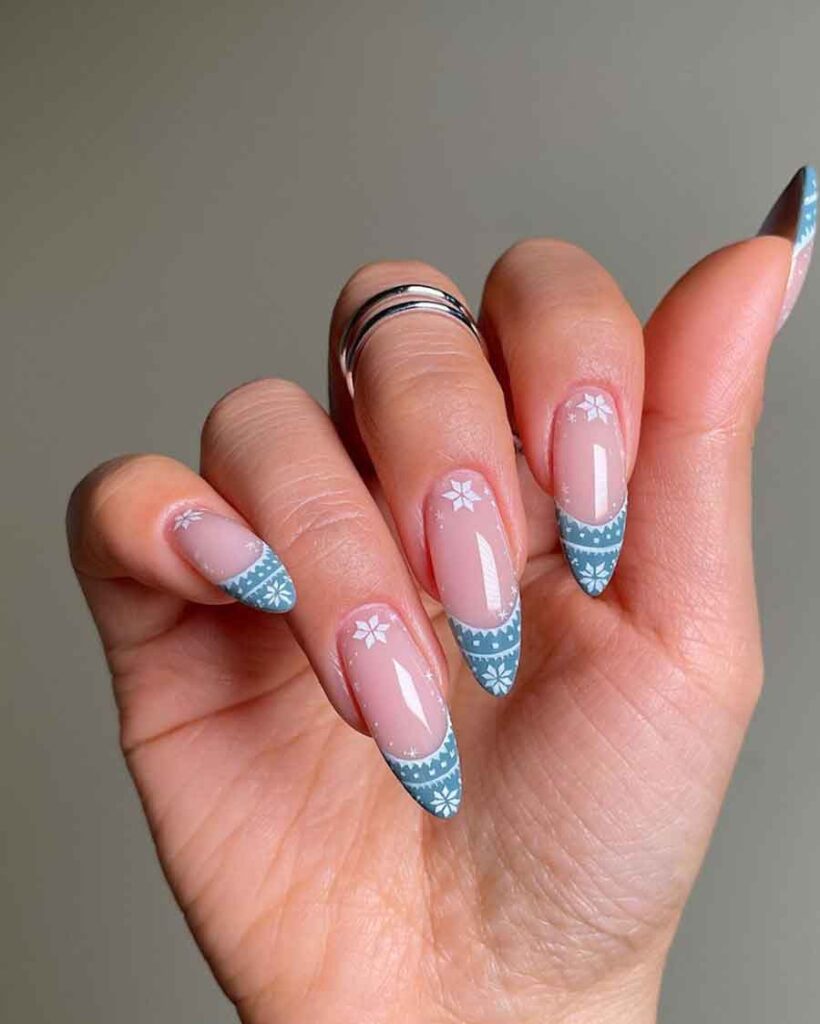 The perfect nail design exists. This white marble with foil detail is flawless.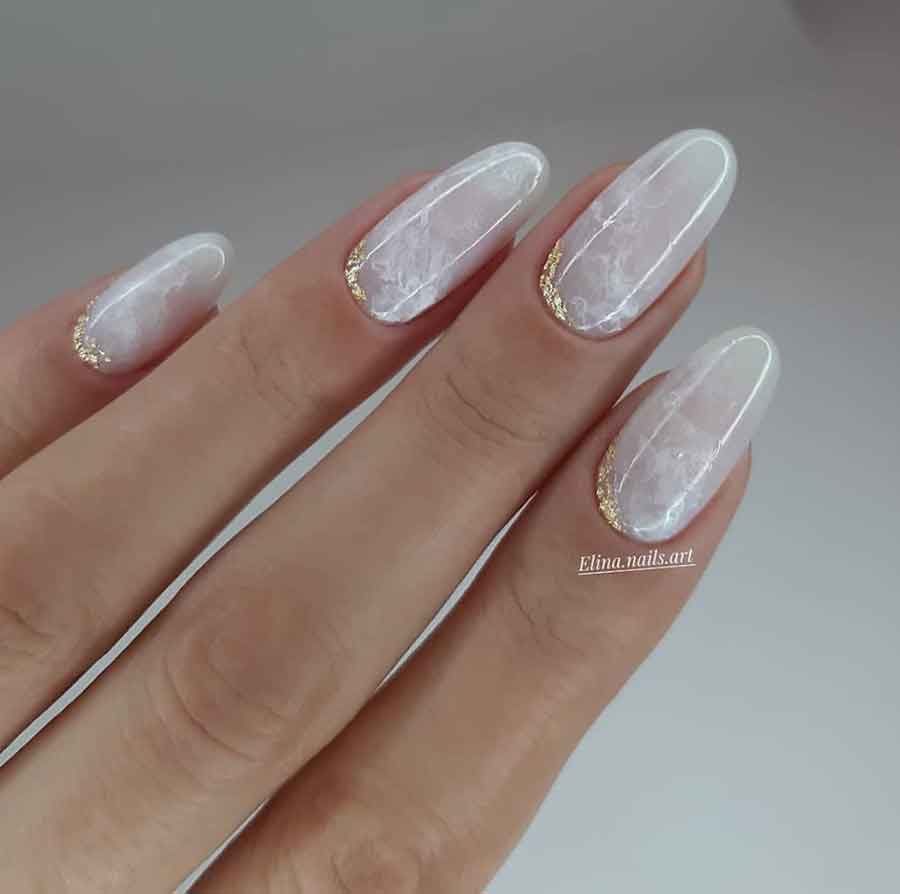 To finish, this gorgeous abstract Christmas aesthetic nails that is a superb and chic fit for the whole winter.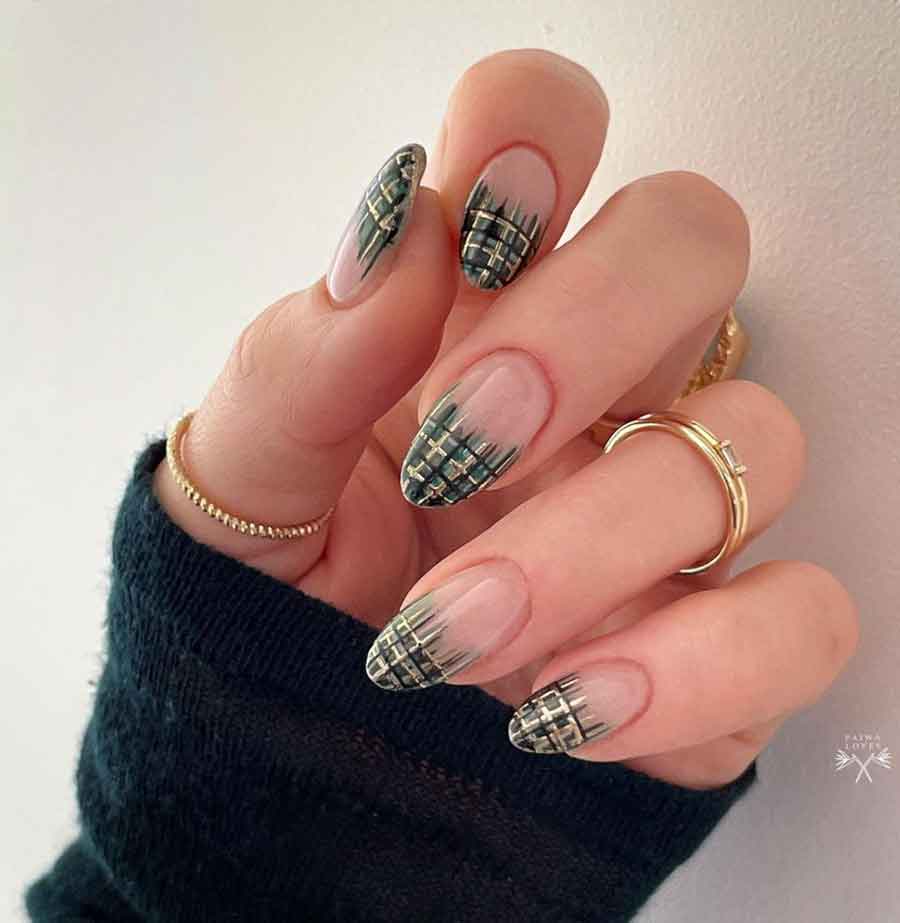 Winter nails tutorials
The ultra-talented @heygreatnails shares stunning nail designs on her Instagram. I picked my favorite winter nail tutorials to share here!